Nature Makes Its Way to Science Building's Green Roof and Rain Garden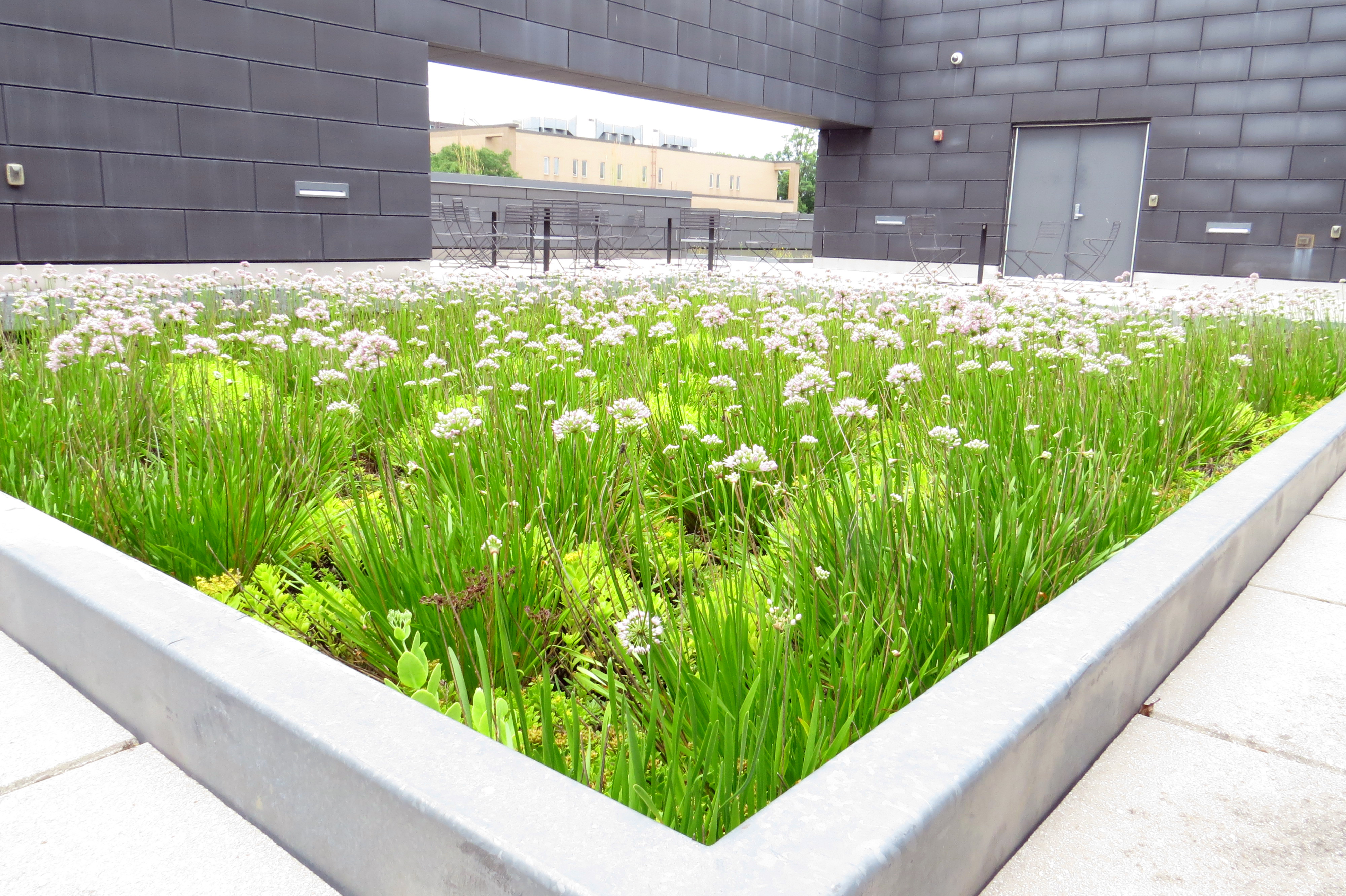 Rooftop central garden. Photo by Emily Nietering.
As a relatively new student at Henry Ford College, I was surprised to learn that the Science (J) building has a "green roof." It is now part of the Integrated Energy Master Plan (IEMP) since it promotes sustainable energy. The IEMP coordinator/sustainability coordinator, Nicholas Paseiro, aims to establish global best practices in energy management and education, establish a culture of sustainability, and increase the reliability of energy measurement and physical plant performance.
Zynab Al-Timimi: Please share your role as the Integrated Energy Master Plan (IEMP) coordinator/sustainability coordinator.
Nicholas Paseiro: My role is to work as the liaison between the college and its performance contract partner, "Johnson Controls", to implement the IEMP. It is a list of energy facility improvement measures on campus for us to reduce energy use by sixty percent, water use by forty percent, and greenhouse gas emissions by fifty percent. Once the implementation is complete, it will be my responsibility to look for areas on campus for continuous improvement and verify that these energy conservation/ performance goals are met satisfactorily.
ZA: What is the college currently doing to improve the campus from an environmental perspective?
Paseiro: The main goal of the college is to reduce energy use through the IEMP. Any reduction in energy and water use is going to have a direct environmental impact. It includes a whole new Energy Plant and District heating network, heat transfer stations, Cogeneration Units, and a new energy-efficient chiller. We are also adding heating, ventilation, and air conditioning (HVAC) Upgrades that are either: refurbishing existing HVAC systems and rooftop units or completely replacing them with more energy-efficient units. Meters have been installed to monitor energy and water use by building, and upgraded controls allow building operators to have more precise decision-making ability. Lastly, we upgraded the lighting and domestic water use on campus. For instance, we swapped out the fluorescent lights throughout campus for more energy-efficient LED lights and we swapped out our campus water fixtures from traditional high-flow to low-flow fixture retrofits on toilets/urinals, showers, and sinks. That amounts to a total of 12,979 lighting fixtures replaced with an associated savings of 2M kWh/yr, and a total of 932 water fixtures replaced with an associated savings of 5.9M gal/yr.
ZA: What improvements are being planned to improve the college's energy consumption?
Paseiro: As the construction portion of the IEMP is coming to a close. We are looking to capitalize on other energy improvement measures that weren't covered as part of the IEMP. Even though the new thirty-three-kilowatt solar array was installed as part of the IEMP, other opportunities on campus could be home to more solar installations (i.e building roofs and parking lots). We are also performing building envelope upgrades such as replacing/ improving doors, roofs, and windows, to ensure that the building has proper insulation-thermal qualities to keep hot or cold air in, depending on the season.
ZA: Are there "green" initiatives you would like students to be aware of?
Paseiro: I would like students to be aware of the changes in building E towards the back entrance where the Pole yard is. If you walk down that area, you will see that the hallway has been renovated for the students to view the new Energy plant consisting of the boilers and cogeneration units. Another improvement that students should be aware of is the new "Xeriscaping" project. This project transforms the exterior of the campus by replacing the turf with native prairie, species, flowers, and grasses. This saves water, increases biodiversity, and provides habitat for our native Michigan wildlife.
ZA: In 2011, HFCC president Gail Mee in reference to building the new "green roof" on the Science building, said, "This is one of our most important improvements to the college." The green roof was said to be "the project that truly wears green on its sleeve." What is a "green roof" and how does it help the environment? Paseiro: A "green roof" is designed in a way to allow plants to be a part of the building's roof architecture This "green roof" also serves as another part of the landscaping of the campus with the benefits of reducing the campus's greenhouse effect. When there are tons of concrete, it heats up from the sun and causes the area to become extremely hot. But plants take away from all that built-up heat when there are plants present. It also serves as a habitat for wildlife, I have seen pollinators as well as geese that nest on top of the green roof, so it is definitely getting used.
ZA: Have you visited the green roof on the Science building since you have become the Integrated Energy Master Plan (IEMP) coordinator/sustainability coordinator? Why is there what appears to be an untended nature garden, which I assume is part of what makes the roof "green"? Would you know how the plants help?
Paseiro: Yes, I have. Usually, green roofs are designed with plants that are intended to be low maintenance. That means less fertilizing and watering than you would find in traditional gardens.
ZA: There are outdoor tables and chairs on the green roof and what looks like could be lovely quiet outdoor spaces for students to study. Are you aware of any plans for the green roof to be open to students or the college community?
Paseiro: I am not aware of any plans for the green roof thus far. I do know that the green roof has been inaccessible to the college community since I took this position in early 2021. I do love that we have the green roof on campus and I think it is an important improvement to the college that people should enjoy. ZA: There are solar panels by the Technology Building. What is their purpose?
Paseiro: When I first went to the campus, there were two windmills and two sets of already existing solar panels. But those solar panels did not contribute to the energy use of the campus. I don't know how they evolved as far as their use goes, because they did not serve any purpose, and were not adding any energy to the grid. Since then, we have installed a new set of solar panels to put energy back into our system to be utilized by the college. Once again, it is monitored as a learning tool, so that students will be able to see how much energy we are producing, what it is being used for, and how the system actually works.
ZA: What are some ways that the college community can make an impact on improving the campus from an environmental perspective?
Paseiro: From the information, we gathered when developing statistics regarding the top users of energy on campus, a lot of it came from plug load. This plug load comes from people plugging in their adapters to charge their phones, and plugging in their personal fridges or heaters. All these things are a big pull on the energy for the campus. Therefore, we can limit these types of activities to when it is most needed, or when critical environmental conditions dictate such. For example, if a building is operating correctly, most occupants will feel comfortable, and it would not be necessary for someone to plug in a fan. This is something that the college has taken notice of, more so for faculty and staff, to help save energy. For students, there used to be a volunteer group taking care of areas on campus, such as the vegetated gardens. The first that comes to mind is the one managed by the Science Department, which is the area between the J building and H (the gym) that currently does not look pleasant because it has not been maintained since COVID. In the past, there were student volunteers who were willing to help organize and clean the area, take out the invasive species, and let the garden serve the purpose it was intended to serve. Now, if students were to take on the same project, it would look as good as new. I encourage students to take this idea and fulfill the job once and for all.
ZA: What do you hope to see happen in terms of the college's ability to operate without harming the environment in the near future?
Paseiro: I hope to see the college continue to operate its buildings in the most energy-efficient way possible by investing in the latest technology, and creating a culture of sustainability and environmental awareness for the entire college community. With the implementation of the IEMP, we are exceeding the current standards that you would find at any college in America. If we keep echoing that message, I think it will be clear how much progress we have made at HFC.
Plants on the green roof of the Science building help with stormwater runoff. Photo by Emily Nietering.

Rain Garden bench. Photo by Emily Nietering.


Henry Ford College's Rain Garden Helps with Stormwater and Biodiversity
Between the Science building (J) and the Athletic building (I) is what few may realize is an important green space on campus known as a rain garden. Emily Nietering, a retired Biology faculty member shares the history of this beautiful rain garden. Nietering is currently the President of the Southeastern Chapter (Detroit area) of the Michigan Botanical Club and is involved in several conservation activities and organizations in Michigan. She has toured Hortech, the company that grew and installed the green roof on the Science building.
Zynab Al-Timimi: Where did the idea for the rain garden come from?
Emily Nietering: When the addition to the Science Building was built in 2011-2012, the Leadership in Energy and Environmental Design (LEED) certification that was sought during the building process required several sustainable building practices, including how to manage stormwater runoff from the roof, surrounding cement walkways, and parking lots. The rain garden was installed to help with stormwater management. It is located between the Science Building and the Athletic Memorial Building. When it rains the water from the roof and sidewalks drains into the rain garden, and it accumulates in the low-middle portion, becoming a temporary pond. This water then slowly filters through the soil into the groundwater. Otherwise, the water would just drain into storm drains and lead directly into the Rouge River. When a major rain storm happens, this water causes flooding in the river and potentially in city streets and basements. The rain garden was originally planted in the fall of 2011 and still functions in this way.
ZA: Please share how you became involved with the rain garden.
Nietering: When the rain garden was planted, there was no plan for its maintenance, such as weeding and planting additional species or encouraging student involvement. Several years after it was planted, unwanted weedy flowers and trees began to grow. So, a committee was formed to maintain the garden and educate the campus community about its purpose. At that time I was an Adjunct Faculty member in the Biology Department. I was involved at the beginning of that committee because I have a B.A. in Biology and an M.A. in Botany, so I knew the plants in the garden. We began a series of volunteer work days removing invasive plants (those not native to Michigan) and planting additional species for biodiversity. We specifically encouraged flowering plants that attract pollinators like bees and butterflies. We made signs about the plants, insects, and birds for people to read as they walked by. Lastly, we got the Student Environmental Association involved in rain garden projects, like building birdhouses and picking up litter. I retired from the faculty in 2019, but I continue to be involved in maintaining the rain garden and green roof.
ZA: What are the benefits of the rain garden?
Nietering: According to Dr. Linda Brandt, a [retired] faculty member in the Biology department at HFC, she explains the benefits in her letter that states: The native plants in our garden serve many purposes in improving environmental quality, including nitrogen fixation, soil improvement, water recycling, and biodiversity enrichment. The rain garden will improve not only our water but also will improve air, land, and of course a very genuine way of improving biodiversity at all levels. With this rain garden, we stand side by side with Michigan University-Dearborn and many other colleges and universities that maintain rain gardens on their campuses.
ZA: How can students help with the rain garden?
Nietering: Dr. Brandt also states that students can help with the rain garden by joining the Student Environmental Association (SEA) which enjoys benefits from access to the HFC rain garden. The motto for the SEA is "We Take Care of the Earth that Takes Care of Us." The rain garden is an excellent resource for teaching members how to do this. This valuable resource teaches members of the SEA about several issues including invasive species, water runoff, and flooding from impervious surfaces, as well as gives students an avenue toward on-campus involvement. Members have taken the information that they have learned on campus and been able to use this knowledge and skills within Dearborn and the neighboring communities, representing HFC well. This knowledge, volunteering, and learning both on campus and beyond has already deeply impacted SEA members both during their tenures at HFC and their futures as well.
For information on how students can join the campus group "Sustainable HFC" contact Hala Al-Siyaghy, at htal-siyaghy@hfcc.edu, or Mary Parekunnel at mparekunnel@hfcc.edu. Parekunnel can also help students who want to volunteer to help maintain the rain garden on campus.
Swamp milkweed and monarch. Photo by Emily Nietering.

Rain Garden in 2019. Photo by Emily Nietering.

Beginning of KingFisher Trail. Photo by Zynab Al-Timimi.