College Students, Beware the Multi-level Marketing Scheme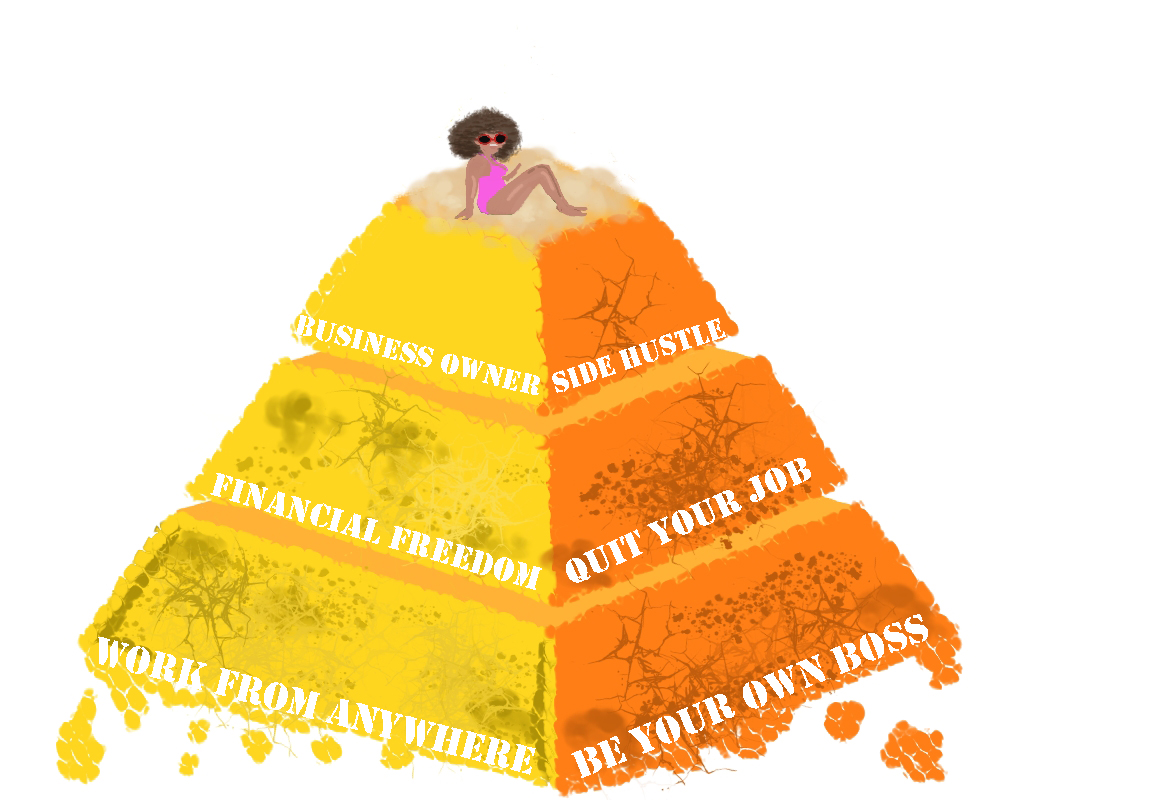 Pyramid Word slogan by T'Ara Stamps
What is the American dream? Some say it's owning a home in the suburbs with a white picket fence. Others say it's a career at Ford with a pension plan. And then, some swear it's owning your own business. Whatever your version is, the American dream has been sold for years on end, even by snake-oil salesmen. Since the age of smartphones, The Great Resignation, and COVID-19, the allure of entrepreneurship has been more attractive and possible than ever. Not every business idea is a good one, and not every business is a legitimate one. Owning and operating a small business is more than a full-time job, especially if it's your first time around. Sold to many college students, immigrants and stay-at-home moms, multi-level marketing opportunities are often disguised as legitimate business opportunities. As the saying goes, if it seems too good to be true, it probably is.
What is multi-level marketing? According to the Federal Trade Commission (FTC), a multi-level marketer distributes products or services through a network of salespeople who are not employees of the company and do not receive a salary or wage. Instead, members of the company's salesforce usually are treated as independent contractors, who may earn income depending on their own revenues and expenses.
Typically, the company does not directly recruit its salesforce, but relies upon its existing salespeople to recruit additional salespeople, which creates multiple levels of "distributors" or "participants" organized in "downlines."
A participant's "downline" is the network of his or her recruits, and recruits of those recruits, and so on.
You may have heard of Herbalife or IM Academy. These are just two out of the thousands of MLMs that exist. MLMs will also target the financially stable, by selling them the opportunity as a side hustle.
Herbalife's product line includes shakes, teas, protein bars and other health supplements. Unfortunately, Herbalife has legal trouble that dates back to the 1980's. There was a court order to stop making false or misleading representations about its health benefits. ABC News had two undercover journalists go through the process of becoming an Herbalife distributor.
One distributor told ABC's Brian Ross that a woman overcame a brain tumor thanks to Herbalife. At a new recruit training seminar, distributors claimed the product helped with heart disease, anemia, headaches, and even helped one woman get pregnant.
Another speaker at the seminar talked about the potential "business opportunity." She went on to describe how Herbalife members can recruit their way to a $500,000 yearly income. There is income to be made by signing up other distributors to help sign up more distributors. The more people signed up, the bigger the "downline" will become. A member's income also increases as their downline sells products.
Income data was pulled last year from Herbalife's income disclosure on their website states that within their first year, the top 50 percentile of Herbalife distributors can expect to make about $190 per month. The top 10 percentile makes about $1,636 per month. Other members, who make it past one year, in the 50 percentile make about $241 per month. Staying past one year and being in the top 10 percentile will yield about $3,925 per month.
Multi-level marketing members are notorious for reaching out to people by the hundreds, every day. Whether it's social media direct messages, family/friend interactions, or standing in line at the gas station, members will do anything to recruit.
Some will rent high-end Airbnb's for "business meetings." This approach is extremely successful as it appears that current members are wealthy, when really the members at the very top are paying for the high-end Airbnb to help recruit more "downlines." Sometimes called parties, conventions or seminars, prospective members are sold a dream.
In reality, trying to make a living in a multi-level marketing business can be a nightmare.
The popular company called IM Academy has convinced everyday people that they too can become rich, just by following their advice. IM Academy is a training company that teaches people how to trade on the foreign exchange market, stock market, and digital currency market.
Anyone that follows any of these markets knows how unpredictable they can be. People go to school for a long time to end up on Wall Street, and they still make plenty of mistakes.
IM Academy has a lot of fancy words to entice prospects from joining. Someone joins and automatically becomes an Independent Business Owner or an IBO. How's that for stroking an ego? Members will join Zoom meetings for their investment or business meetings. A simple search on Instagram will show you IM Academy members that have "Investor" or "business owner" in their biography.
In theory, the type of work sounds very attractive. Work from anywhere, work when you want, all you need is a phone and an internet connection. Even better, you can sign your friends and family up too.
The income claims and lifestyle posts of living lavishly are illegal yet common among MLMs and especially IM Academy. They got so bad that CEO Chris Terry took to Instagram to address it. "We're going to end up getting shut down by the feds. We're being watched, we're being watched very very closely," he said. What kind of money can IM Academy IBO's expect to make? According to their 2020 income disclosure, 67 percent of people make an average of $165 per year. Only 16 percent of members make an average of $869 per year. A very small 0.40 percent of IBO's make $35,117.
Those at the top of multi-level marketing companies are narcissists. They will tell you to try harder and stop giving up so easily. IBO's will be told to start with "your warm market" which are "your family and friends," regardless of relationships being destroyed by MLMs.
Members will push downline IBO's by saying that "you lack dedication" and aren't sacrificing what it takes to be successful in "your" business. People lie but numbers don't. Only those at the very top of the pyramid will make money to become as "financially free" as they claim. A simple Google or YouTube search will give you first-hand examples of the aforementioned claims.
The American dream can be a lot of things, but it's certainly not joining an MLM.