Kendrick Lamar Album Review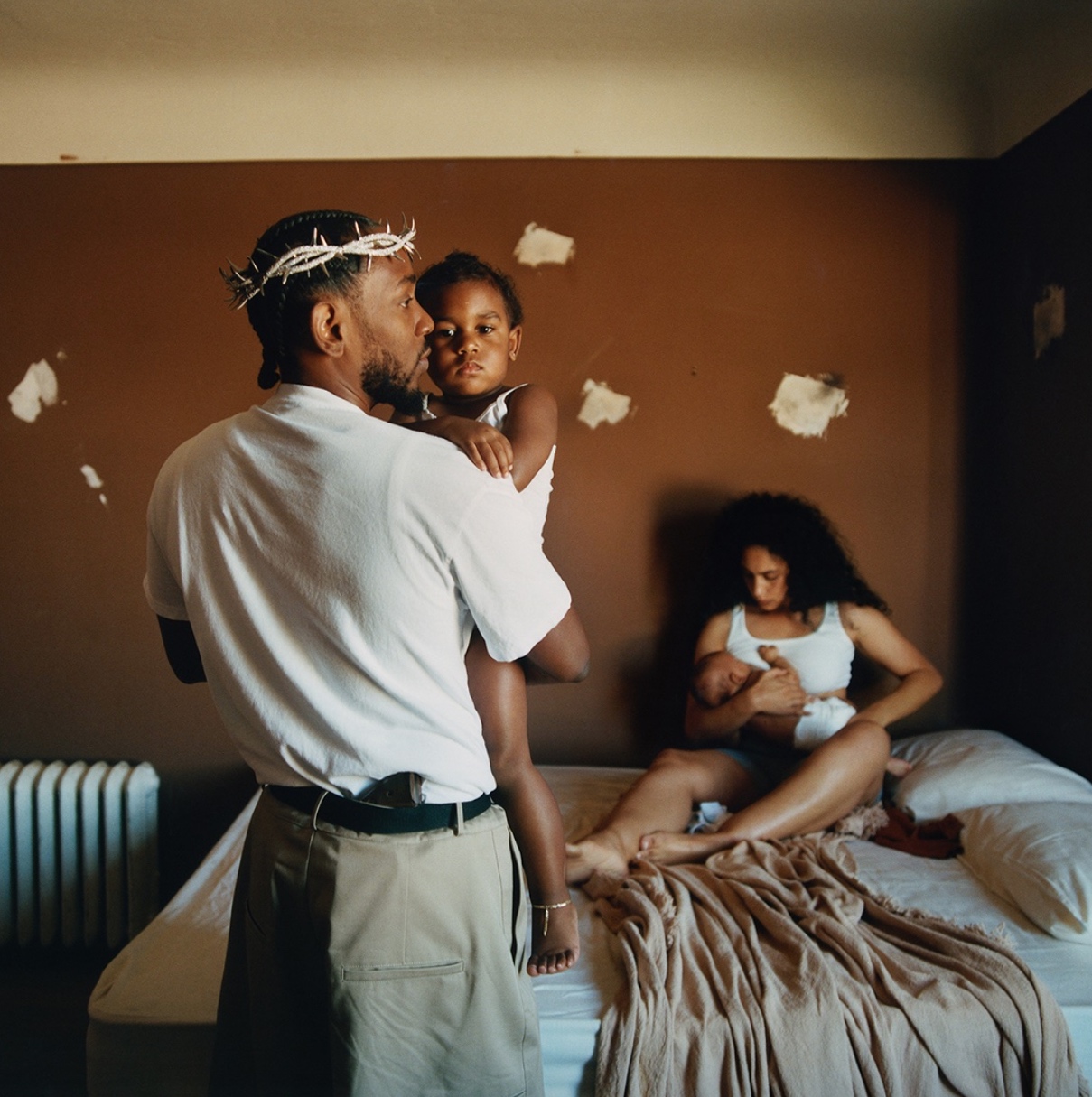 Mr. Morale & The Big Steppers album cover photo by Renell Medrano courtesy Top Dawg Entertainment
Grammy award-winning hip-hop artist, Kendrick Lamar, released his long-anticipated album, "Mr. Morale & the Big Steppers," last May. The album debuted at number one on the US Billboard Top 200 list and features the Wu-Tang Clan's, Ghostface Killah, and Kodak Black.
Lamar stated in a blog post earlier in the year that this will be his last album with his long-time record label Top Dawg Entertainment. Regarded by many as one of the most influential rappers of his generation, Lamar won a Pulitzer Prize for music for his 2017 album, "DAMN." He is the first non-jazz or classical artist to do so. Lamar also appeared on Time Magazine's "100 most influential people" in 2016 and Rolling Stone's "100 Best Debut Albums of All Time" for his 2012 album, "good kid, m.A.A.d. city."
Lamar is well known for his unorthodox approach to making music and has previously collaborated with such colorful characters as George Clinton (of George Clinton and Parliament Funkadelic), producer and "Brainfeeder" indie record label founder, Flying Lotus, and the enigmatic bass guitar master, Thundercat. Lamar, formerly known as "K.Dot," has made a reputation as a lyrically "street conscious" rapper. Borrowing from two subgenres of hip hop, the term could mean one part "street" or "gangster" rapper, characterized by lyrics about gang activity and violence drawing from his personal experiences growing up a disadvantaged black youth in Compton. And the other part "conscious," referring to lyrics concerning knowledge or understanding, and often commenting on deep introspective, social, or political themes. When you add in some eccentric high quality music production, you have all the trapping of one of the greatest artists of all time.
"Mr. Morale & the Big Steppers" begins with a voice singing, "I hope you find some peace of mind in this lifetime. I hope you find some paradise." An urging woman's voice can be heard repeating, "Tell them the truth." The sound drops out and a piano is revealed playing short chords. Over a simple melodic motif with lots of open space Lamar speaks in a low monotone: "I've been going through something. 1,855 days. I've been going through something. Be afraid."
Launching in a pitter patter of rhymes Lamar asks a series of somewhat unclear rhetorical questions, occasionally offering cryptic answers like, "What is a rapper with jewelry? A way that I show my maturity." Showing some vulnerability right away Lamar informs the listener that he "got himself a therapist," as a sporadic busy beat nicely matches his confused scattershot thoughts. Lamar makes his discontent clear, "the world that I'm in is a cul-de-sac," and "I wake in the morning, another appointment, I hope the psychologist listening."
There is an abrupt change and a starkly different feel and rhythm take over. Two minutes into "United in Grief" and suddenly the listener is being led down a totally different sonic road in the same song. It is a potentially risky move from a musical coherence perspective, but it somehow works. The album is full of musical experiments like these, like breaking the verse-chorus song structure, for example. This should not be surprising to the initiated; Lamar has made a successful career out of bringing a certain avant-garde element to his musical storytelling.
Lamar tells the listener, "I grieve different, everybody grieves different" and begins rapping about his spending habits as an effort to soothe his ills. Lamar shares his receipts over a unique mixed meter busy drum beat with piano and strings. Nothing about the production in this first four-minute song is typical of a hip-hop album, especially the instrumentation mainly featuring piano and strings with some drums. Lamar raps at breakneck speed conveying an urgency, "bought a couple of mansions just for practice," and, "I bought a Rolex watch I only wore once, I bought infinity pools I never swam in." Lamar can also be seen in the album artwork sporting a custom-made diamond encrusted crown of thorns valued at $3 million. Eventually confessing, "the money wiping the tears away."
On "Father Time," Lamar opens up about his troubled relationship with his father and its lasting effects on him. Before the song begins you hear a woman pressing him in conversation, "you really need some therapy," and tells him, "You need to talk to someone," but he declines repeatedly. Lamar describes the expectation to be tough, "A child that grew accustomed, jumping up when I scraped my knee, cause if I cried about it, he'd surely tell me not to be weak." Lamar comments on emotional suppression, a theme well known to plague masculinity, "Hide my emotions, never express myself. Man should never show feelings, being sensitive never helped." Over a contemporary classically styled piano heavy beat with drums, Lamar paints a picture of a hurt and exhausted young man with a tumultuous relationship with his dad: "I'm charging baskets and falling backwards trying to keep balance. This the part where mental stability meets talent, this the part he breaks my humility just for practice. Tactics we learned together, sore losers forever, daddy issues."
On "Auntie Diaries," Lamar reflects on his slow grown acceptance of his transgender and homosexual family members. Over a down tempo minimalistic beat and thumping bass, Lamar in a soft spoken almost sheepish voice tells the listener: "My auntie is a man now, I think I'm old enough to understand now." He wonders aloud about other family members not being as open minded, asking his mother "why my uncles don't like him that much, and at the parties why they always want to fight him that much." She replies simply, "Ain't no telling." Lamar also comments on his transgender cousin saying, "Demetrius is Mary-Ann now. He's more confident to live his plan now." When noting his family's surprise he comments, "they said they never seen it in him, but I seen it." Lamar comments on his efforts to stop using a homophobic slur common from his upbringing (he refers to as the "f-bomb") and his growing capacity to accept people as they are Lamar raps, "I had to be mindful of my good cousin. I knew exactly who he was, but I still loved him."
On "Mr. Morale," Kendrick waxes on the ubiquity of abuse over a groovy synth and bass heavy beat with production by Pharrell Williams. Lamar apparently seeking absolution tells the listener, "Shit on my mind and it's heavy, tell you in pieces cause it's way too heavy." Lamar asks the listener, "What you know about black trauma?" before mentioning R. Kelly, Oprah, and Tyler Perry by name. Lamar references each of their own childhood traumas in turn, intimate information that is perhaps not well known but publicly available. Each suffering from molestation at a young age one can't help but notice the stark juxtaposition. Oprah and Perry became positive influential billionaires and Kelly is now in prison for continuing the cycle of abuse.
Lamar presses the subject further suggesting such atrocities are commonplace, "My mother abused young, like all the mothers back where we from." Lamar implicates countless others in his vocation when he says the abused represent "the face of a thousand rappers using violence to cover what really happens," suggesting who knows how many tough guy personas could be coping mechanisms for people dealing with past mistreatment. Elsewhere on the album Lamar adds, "I know the secrets, every other rapper sexually abused. I see them daily burying they pain in chains and tattoos."
Lamar expands on the theme of abuse and generational trauma on the most hair-raising song on this album, "Mother I Sober." He pours his heart out on the track in a low, spoken word style delivery, part confessional, part declaration. Lamar explains that his mother was beat up while he was present as a child, "I heard it all. I should have grabbed a gun, but I was only five." The cycle of violence continues when Lamar tells us his uncle "said he got revenge for my mother's face. Black and blue, the image of my queen that I can't erase."
Dealing with the emotional toll of his own traumatic childhood experience regarding his mother Lamar conveys his insistence on sobriety, "To this day I can't look her in the eyes, pain is taking over. Blame myself. You never felt guilt until you felt it sober." Beth Gibbons, lead singer of the band Portishead, sings hauntingly during the chorus: "I wish I was somebody. Anybody but myself."
Lamar insists on his sobriety further saying, "I was never high, I was never drunk. Never out my mind, I need control. They handed me some smoke but still I declined." Confessing his one addiction, "I went through all emotions, no dependents except for the one, let me bring you closer, intoxicated. There's a lustful nature that I failed to mention. Insecurities that I project, sleeping with other women."
He laments on its effect on the woman he cares for most, his wife, Whitney, whose name and voice is featured throughout the album, "Broke me down, she looked me in my eyes, 'Is there an addiction?' I said 'No,' but this time I lied, I knew that I can't fix it. Pure soul, even in her pain, know she cared for me. Gave me a number, said she recommended some therapy." Lamar's voice grows in intensity and volume as he declares that he "sets free" the whole host of characters discussed in the monologue: himself, his wife, mother, cousin, and children. Lamar with his voice in a steady crescendo proclaims, "So I set free the hearts filled with hatred, keep our bodies sacred. As I set free all you abusers," ending the song with a cathartic exclamation point: "This is transformation!"