Bringing ACE Women's Network to Henry Ford College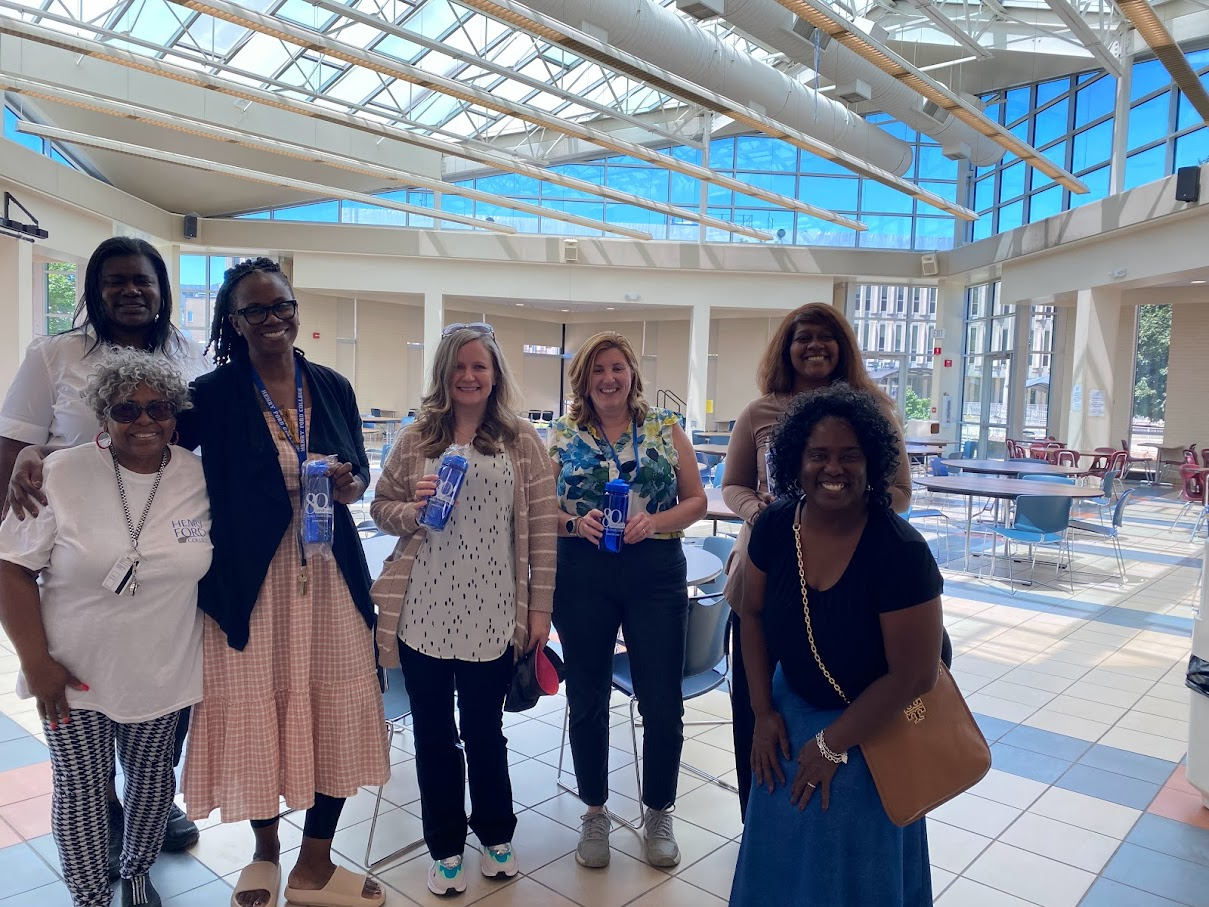 Women's Network members with their water bottles courtesy Shai James Boyd
ACE Women's Network is a nationwide organization that helps women in education develop their professional and leadership skills. Beginning in the summer of 2022, Henry Ford College Institutional Representative Shai James Boyd set out to keep the Women's Network connected by starting Walk and Talk events for staff to get together and socialize while also discussing the most important issues women in the field of education are facing. The Vision Statement of the Michigan ACE Women's Network reads: "We envision an open and just higher education environment in which women and men share their talents and voices equally in management and policymaking to improve the quality of higher education. Therefore, we focus on building a substantial network of women in Michigan higher education by providing leadership, resources, and services such as professional development, networking, partnering with women's networks in other professional fields, and engaging in public advocacy to empower our members to achieve career success and gain a greater voice."
Mirror News: What can you tell me about the history and the mission of the ACE Women's Network at Henry Ford College?
Shai James Boyd: Michigan ACE was formed in 1978, and it was initiated at the national level, so "American Council on Education" is what it stands for. Every state has their own chapters that are formed at colleges and universities. After it was birthed at the national level, there were some women who decided, "Hey, we want to make sure that we're represented here in Michigan, because it's so important." Michigan American Council on Education, the Women's Network, it's a professional network for women in higher education. We work in connection with the national office, so whatever the platform and agenda is for the year, those are those things we try to trickle down into each of the chapters across Michigan. What makes it so unique is every campus is different, so we're going to be different from U of M next door, or another community college up the road. Not every institution has a Michigan ACE program, because some have really robust women's networks already so they may not feel the need. It's an award-winning network and it's nationally recognized. I'm really excited about what we're doing here on our own campus.
MN: How are the Walk and Talk events connected to the mission of the Women's Network?
James Boyd: The Walk and Talk, that's just one of our programs. I am your Institutional Representative. All of the chapters are all interconnected. What we do is we meet to figure out, "What are best practices for women in higher education?" The HFC Women's network is for professional women in higher education. The idea and the premise are to train and fortify women for the workforce. However, we also try to understand how the personal side of work can sometimes impact how you do your work. Women bring their whole selves to work every day to help students and to make sure they have what they need. I try to create programs that make sure that I'm filling their bucket so they have what they need to do their best work. We've been in a pandemic for two years. If the pandemic has taught us anything, it's taught us that connectivity and relationships are important. When you're on a campus like Henry Ford, everybody is so dedicated to doing their job, and sometimes we forget to breathe and exhale. I was contemplating, "What can I do, where people can come and not necessarily have to wear a mask, reconnect with their colleagues, help their mental well-being as well as their health?" This is what came to me, "We're going to walk and talk." When I first said it out loud, it sounded really, really corny. The more I thought about it I said, "No, we're going to walk and talk." If five people show up, great. If 25 people show up, great. If you showed up you needed it. I'm really pleased about the program. We're actually hosting the final Walk and Talk of the year this week on Thursday, September 22.
MN: Are these events targeted primarily towards staff or are students also welcome to attend?
James Boyd: The programming that I do is for, primarily, staff. We wouldn't tell a student, "You couldn't come." However, it's not really geared toward students. If the programming is appropriate, students will always be welcomed. There was a program called Young Leaders Strong Leaders, and it was for female student leaders on campus. There's been some chatter about bringing that back in the future. I will keep you posted.
MN: If a student did want to get involved in the ACE Women's Network or if they were interested in bringing back Young Leaders Strong Leaders, what would be some ways that they could show interest?
James Boyd: Unfortunately, that's not the purpose of the organization. If there were a group of female students that really wanted some more leadership training, I would reach out to Mrs. Fluker and look at starting a student club. I would love to be able to bridge the gap in the capacity of a mentor or advisor. To do specific programming for students really is not under my purview. I wouldn't want to operate outside of the guidelines of the organization. When they provide the framework at the national level, I will also plan accordingly for the students here at HFC.
MN: What is some of the positive impact that you've seen within the staff while doing these Walk and Talk events?
James Boyd: As I've mentioned, it's so much bigger than just a Walk and Talk. Walk and Talks break down silos. It causes people to have relationships with one another. The program is also a confidence booster, and there's something powerful about being with a diverse group of women - white women, Black women, Hispanic women, Arab American women, but the commonality is that we are all women and there are certain things that connect us: Children, caring for elders, wanting to make sure that when you come to work you're being your best self, but then also working through those things that, sometimes we can be petty, and working past issues. When we can come together at a Walk and talk or luncheon, we have space to talk about equity issues and equal pay. We talk about all of those things. The Walk and Talk is just one of those many things that we do to break down silos and encourage people. Walk and Talk, that just happens to be one of the programs used to bring the women of HFC together.
For more information on the Henry Ford College chapter of the ACE Women's Network, contact Institutional Representative Shai James Boyd at sjames25@hfcc.edu. To inquire about starting a student club, contact Director of Student Activities Cassandra Fluker at crfluker@hfcc.edu.