Ramadan Suhoor Festival in Dearborn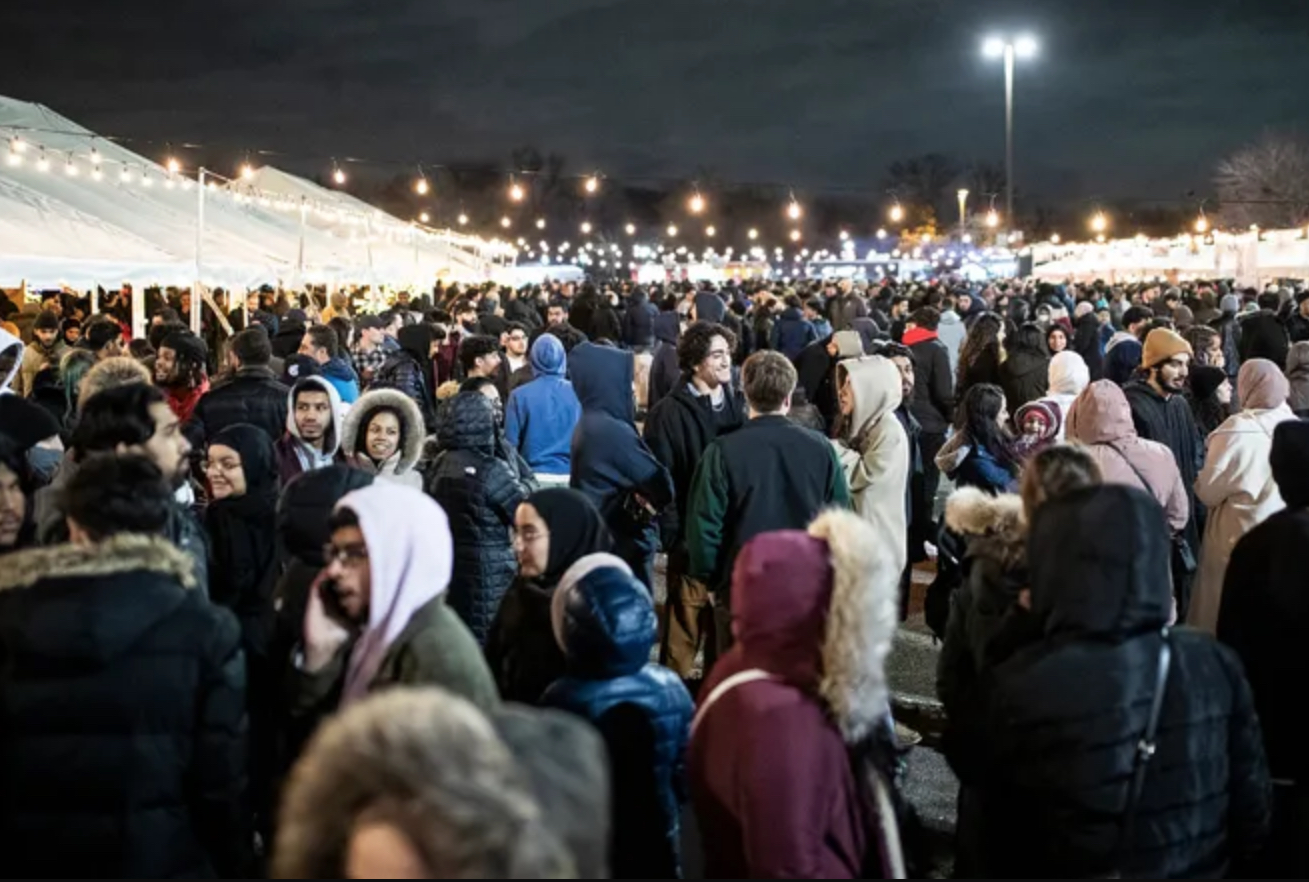 Ramadan Suhoor Festival at the Fairlane Town Center on Saturday, April 9, 2022. Junfu Han, Detroit Free Press
After being shut down for two years due to the COVID-19 pandemic, the city of Dearborn's Ramadan Suhoor Festival returned with nearly 55,000 in attendance during the first weekend in April. Food trucks and vendors set up at the Fairlane Town Center each weekend to bring people together during Islam's holiest month of the year.
Proceeds from the one dollar cash cover charge are donated to the Amity Foundation, which feeds thousands of families in need.
For those who are unfamiliar with Ramadan, it is a month when Muslims seek to be closer to God by praying and fasting from dawn to sunset for 30 days. In Dearborn, which has one of the largest concentrations of Muslims in America, the festival is focused on "Suhoor," which is the meal Muslims eat before sunrise to help with their fasting and being able to sustain themselves until the meal that comes after sunset, "Iftar."
The experience of attending a beautiful gathering such as the Ramadan Suhoor Festival is truly enchanting. The lights, food, and people create a captivating environment that give a sense of warmth throughout the event.
At the entrance is a tent of intertwined fairy lights that sparkle brightly above displayed items representing the Islamic culture. The items include a cardboard cut out of a mosque, lanterns, crescent moon decorations, and Middle Eastern rugs with detailed designs symbolizing the month of Ramadan.
Over 50 food stands and vendors circle the area along with several white tents in the middle. Some tents had people selling glow sticks, books, and lottery tickets to win a new Sony Playstation 5. Other tents had long tables that people could stand and eat at with family and friends. There were also a few activities such as face painting and basketball.
Food trucks park alongside each other with lines of people stretching on for what seems like miles. Jenna Siblini and Haider Nabeel work at a stand called Lebanese Street Snacks. Siblini said, "This is our first year open. We prepare everything at home and make it fresh here at the festival like the apple juice, carrot juice, and our hot drinks too." Their stand also offers Mediterranean Mezza, a mixed platter that includes fava beans, termos, carrots, and lemon.
Siblini already sees what they want to improve. Siblini said, "It's definitely a learning experience since this is our first time trying something like this out. There's certainly things we could've done differently in terms of the options our stand offers and what sells versus what doesn't appeal to the younger generation." Siblini added, "But again, it's a learning curve, for sure, and we're very thankful to have had this experience."
Sibilini explains that overall business has been going well for them. There are times she feels when it gets a bit overwhelming with all the orders they receive, and there are times where business is slow. "It mostly depends on the weather because people are more hesitant to come to the festival when it's colder. I would say overall, it was a great turnout!"
The festival brings a diverse community together. The festival is not limited to those who celebrate Ramadan. Everyone from all different backgrounds is welcome to enjoy the intimacy of celebrating such an important month for Muslims around the world. The Dearborn Suhoor Festival is a place where Muslims and non-Muslims can engage and learn from each other while bonding over food.
I recommend wearing layered clothing. Michigan weather can be unpredictable and the night tends to become progressively colder. Check the forecast before arriving.
The Ramadan Suhoor Festival runs from 11 p.m. to 3a.m. every Friday and Saturday through April 30. More information and updates, including a list of vendors can be found on the event's Instagram and Facebook page @RamadanSuhoorFestival.