Pixar's "Turning Red" Spurs Controversy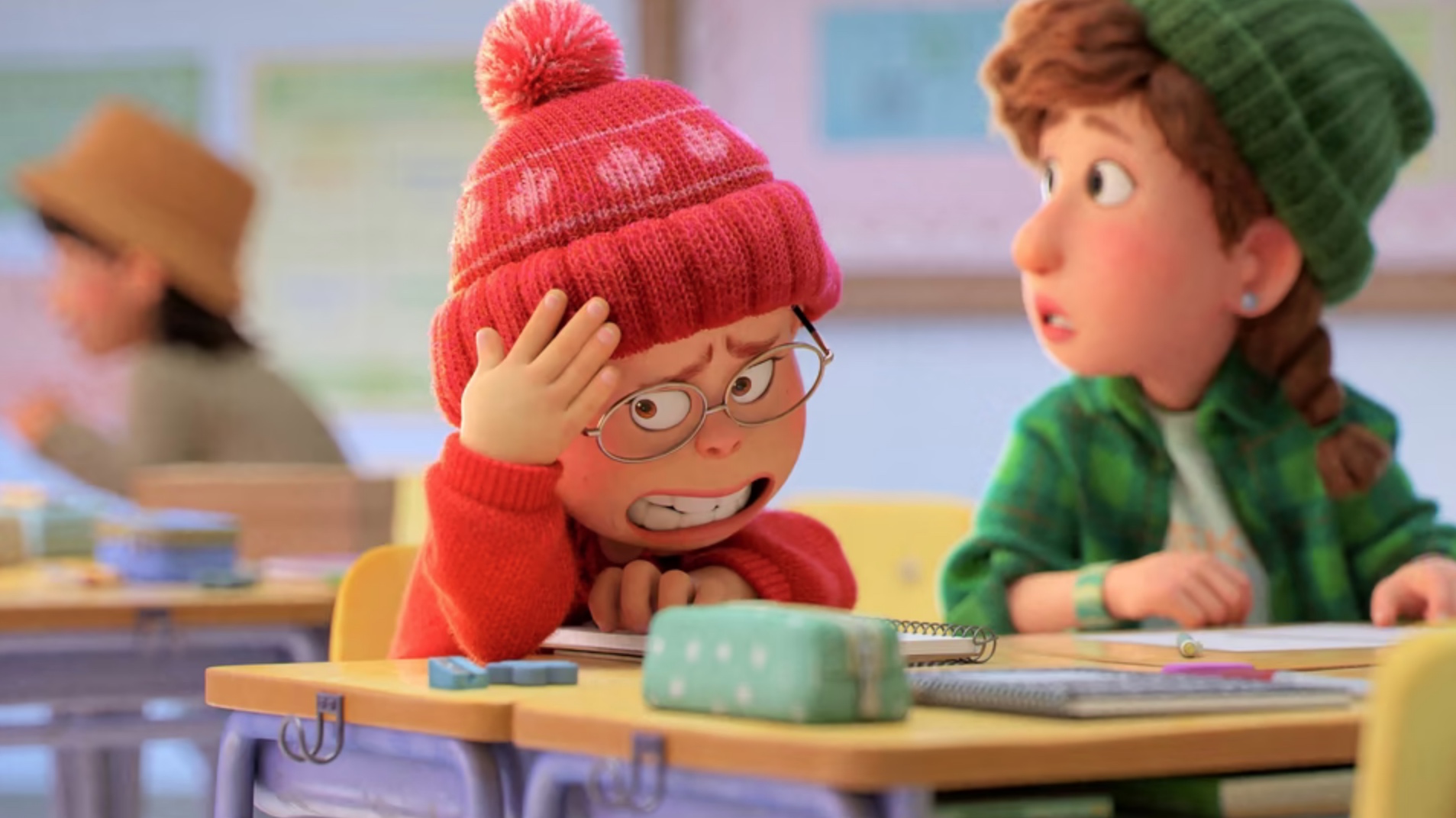 Mei (Rosalie Chang) with her best friend, Miriam (Ava Morse). Courtesy Pixar
Disney Pixar's "Turning Red" has had many achievements since its release to DisneyPlus on March 11. Its director, Domee Shi, is the first Asian woman to direct a Pixar film. She is the first solo woman to direct a Pixar film. "Turning Red" is also Pixar's first film set in Toronto, Canada, which, according to The New Yorker, is where Shi grew up. "Turning Red" may also be one of Pixar's most controversial films to date.
"Turning Red" follows 13-year-old Chinese-Canadian girl, Meilin "Mei" Lee. Mei, voiced by Rosalie Chang, is a spunky, confident, boy-crazy middle-schooler who grapples with being the perfect daughter to her mother, Ming (Sandra Oh). Mei desperately wants to become more independent. As she hits one of life's biggest milestones, puberty, she is cursed with a major problem: any time she experiences a strong emotion, she transforms into a giant red panda. Mei has to learn how to suppress her emotions until she can perform a spiritual ritual to trap the panda into a charm. At the same time, Mei and her eccentric group of friends obsess over sensational boy-band 4*Town, who will be on tour in Toronto.
Shortly after "Turning Red" was released, CinemaBlend released a review denouncing the film. The review was written by managing director Sean O'Connell, who said the film was not made for a universal audience. "I recognized the humor in the film, but connected with none of it," he said. "By rooting 'Turning Red' very specifically in the Asian community of Toronto, the film legitimately feels like it was made for Domee Shi's friends and immediate family members." He went on to say that the "target audience" for the film "feels very specific and narrow," and that the film was "exhausting."
According to Vox, O'Connell's review quickly faced public backlash for its ethnocentrism. CinemaBlend removed the review from its site, replacing it with a more positive review written by Sarah El-Mahmoud. O'Connell has since released an apology post on Twitter.
The removal of O'Connell's review and subsequent apology did not end the film's controversy. Viewers and critics alike argue that the film is "too mature" for Pixar's typical viewing audience. Naturally, as Mei goes through puberty, she is faced with menstruation. The film amplifies the representation of menstruation by the blatant presentation of pads by Mei's mother. Critics argue that the discussion of menstruation and puberty is "insanely inappropriate." Vox shared that a Rotten Tomatoes audience viewer, Jon K, said, "Please leave the explanation of puberty to us parents and we'll leave the family entertainment…to you."
There have also been criticisms of the film's use of cultural stereotypes. Ming, Mei's mother, is argued to be an unhealthy stereotypical representation of an Asian "tiger mom." Ming seems to have made Mei's life very regimented, making Mei check in several times a day. Mei gets straight A's, is in band, and works in the family temple after school. Jane Hu, a critic for The New Yorker, writes, "Chinese mothers are overbearing, sure. But they are not typically overbearing in this way." Hu also argued that the "parallel representation" of puberty and Chinese culture in "Turning Red" make puberty a "Chinese person's problem," rather than something everyone experiences.
Tabitha Yuen, a 14-year-old who contributed an op-ed to TeenVogue, wrote, "Even though my own mom has high expectations for me, she isn't overbearing and controlling like Ming," Yuen adds, "While there may be controlling mothers in some Asian families, it's important to note that not all Asian mothers are tiger moms."
While the tiger mom depiction may have been stereotypical, Yuen wrote, "With her giant red panda confidence, Mei is an inspiration for me as I learn to take up more space as an Asian American girlboss. Like Mei, I wear what I want, say what I want, and am not afraid to let everyone know!" Yuen also appreciated the multicultural representation in Mei's school. She said she saw characters that are "rarely seen on screen," including "characters wearing hijabs and characters with diabetes." Yuen said, "Interacting with people of different backgrounds is what real life is like, and this film celebrates it in a refreshing way."
Many viewers appreciate the open discussion of growing-up and puberty within the film. Fletcher Peters wrote in The Daily Beast that "there's no underselling what it's meant for young girls to finally see someone who looks like them in a movie like this." Rosalie Chang, the voice actor or Meilin, said, "the core messiness and change is someone everyone can relate to."
The film features the musical talents of Billie Eilish and Finneas O'Connell, who wrote the songs for boy-band 4Town, and Ludwig Goransson, who composed the score. According to Variety, Eilish and O'Connell wrote three catchy tunes for 4Town: "Nobody Like U," a major hit, "1 True Love," which is a "quiet ballad about heartbreak," and "U Know What's Up," a "rousing stadium crowd pleaser." Not only did Finneas O'Connell write the songs for the band, he also performed as one of the band's members.
Shi's goal for the boy band was for it to be "taken seriously." In an interview with Slate, she said, "It's a coming of age for a lot of girls to obsess over their first boy band," and that's just what Mei and her friends did. Shi said that Billie Eilish and Finneas O'Connell readily took on the challenge of creating boy-band music. "They were so on board with the idea, because I think they were Mei and her friends at some point," Shi said. "We were very specific with our task and they were amazing in that they covered our entire wishlist of things that we needed the songs to do, but still made them their own."
"Turning Red" is streaming now on DisneyPlus.