New Antenna for Henry Ford College's Student-run Radio Station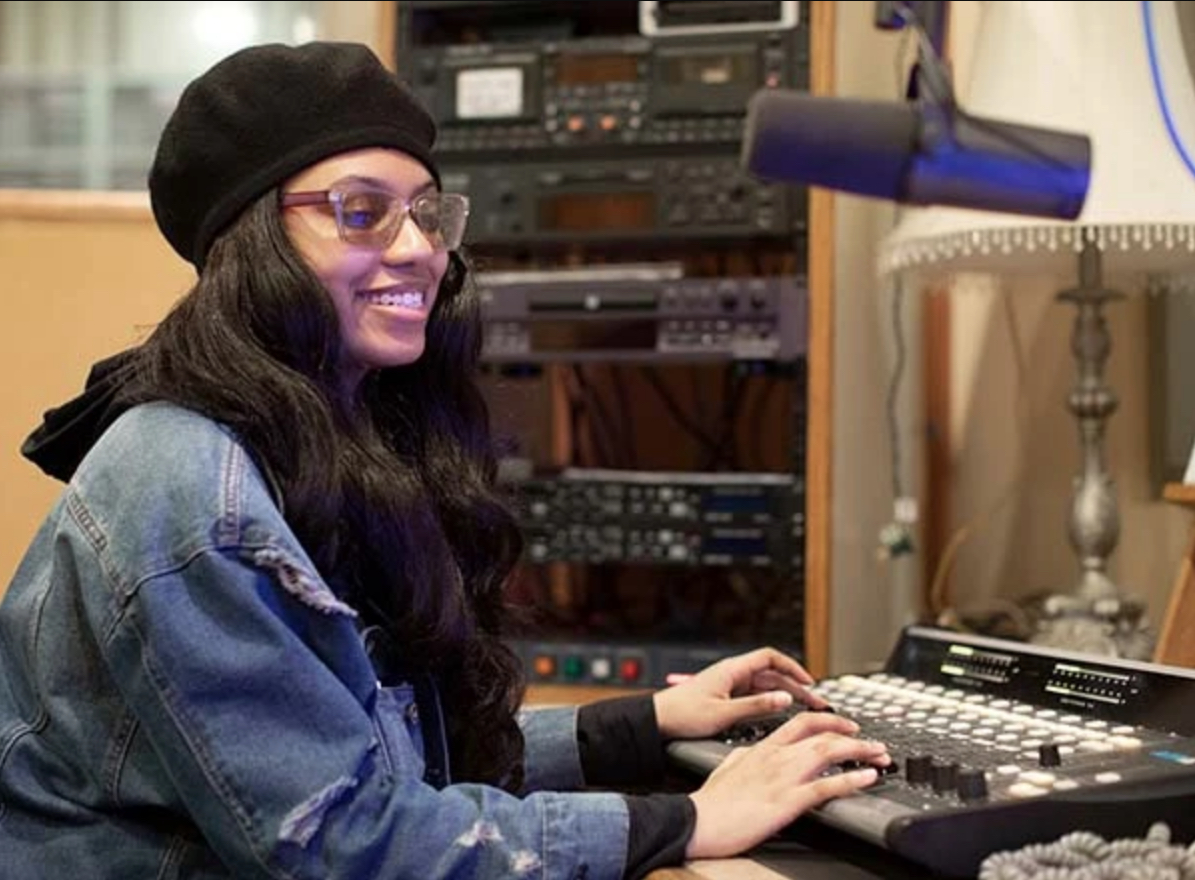 A Henry Ford College student operates the board in the studio at WHFR. Photo courtesy of HFC Marketing
Henry Ford College has its very own broadcast and internet radio station, WHFR.
Several months ago, the station was having major issues with its signal broadcast operation. The WHFR team discovered that, along with the major broadcast transmitter and antenna being very old, there was some faulty wiring and cabling with their radio antenna, which is connected to the tower on the Liberal Arts building. There had been serious technical problems with the signal for months, causing the station to "go dark" at a certain point. As a result, the station had to tap into its rainy day fund to resolve the issue, along with the college contributing around half of what was needed to purchase and install a new antenna, transmitter, and related equipment for a complete upgrade. According to Susan McGraw, the current general manager of WHFR, with a new antenna replacing the outdated twenty-year-old one, the station is now sounding "better than ever."
McGraw added, "I think this was the most significant improvement in the history of WHFR. Our listeners love it; they're thrilled."
McGraw continued, "We couldn't have done it without our rainy day fund, and the rainy day fund comes from our 'Loyal Listeners.'"
McGraw said, "One project that we hope to do once we get this other stuff completely done is a studio computer upgrade."
According to McGraw, "The computers are getting old and not compatible with the new technology of a digital music server to air new music that gets sent into the station."
The roots of WHFR go as far back as 1962, when it was a small student radio club at Henry Ford Community College. The initial club occupied a small closet-sized studio in the Student Center building. In the beginning, the radio club had a little PA system, which they used to make announcements and play music. "I've been general manager of WHFR for over 20 years," said McGraw. "My background is in broadcasting, and while I was a student at HFC in the 80s, I had the pleasure of working with the radio station at that time. We weren't a broadcast station like on the actual radio; we were just a station that played music over loudspeakers in the Student Center building in the pavilion."
According to the whfr.fm website, "the club's mission since its start was to start a real over-the-air broadcast station, serving the unique music and information needs of the community, as well as the students of the College."
Over the years, the influence of the club began to grow, and the college administration eventually recognized this. Near the end of the 1970s, the college administration, acknowledging the dedication of the club, applied for a broadcast license through the Federal Communications Commission. The license was finally granted in 1979, allowing the station to go on air.
McGraw recalled, "It took a lot of money, a lot of time, and a lot of convincing in administration to go live on the radio. It wasn't until 1985 that we actually started broadcasting over the air."
In 1985, the station began going live with only pre-recorded shows. McGraw said, "We recorded programming on video cassettes that we then played over the airwaves. It was safer than the challenge of going live and gave us a chance to prove ourselves to the administration. So, we started with 6 hours a day, a few days a week, and then we got to do more and more. And so, by 1987, when I came around, we were ready to actually go live." In 1987, the station was live for about three hours a week, upgrading to about 12 hours a day. In 1988, the station moved to the Fine Arts building.
Since 1997, the station has run a 24/7 broadcasting schedule, plus internet streaming, with the help of student and alumni volunteers.
In 2002, the renovation of the Student Center included a state-of-the-art radio studio, allowing the station to return to its original building, where it is currently. As a non-commercial station, WHFR has to find creative ways of raising money in order to keep itself running. Radiothon is one of the biggest fundraising events that the station holds each year. The station recently held this year's Radiothon. "We are in our 37th year of broadcast. We have been doing Radiothons for as long as I can remember, and it is a one-week out-of-the-year event. Every spring, we take to the airways and ask our supporters to contribute financially," said McGraw. "The purpose of Radiothon is to help supplement the budget that we receive from the college to run. Fifty percent of our budget comes from creative fundraising events, including the biggest one, which is Radiothon."
McGraw said, "Our listeners are amazing; we call them our 'Loyal listeners' because they are just that. They come through every year, and it's tremendous." Aside from Radiothon, the station has other exciting methods of raising money. "We have an annual radio record show event that we hold on campus. We haven't done it for a couple of years because of the pandemic, of course, but it's coming back in October; we're very excited," said McGraw. "We bring in around 60 vendors and they sell records and movie posters and all sorts of cool stuff." The record show will be held on Oct. 15, 2022.
WHFR diverges from traditional radio stations in the sense that it doesn't feature popular music like a lot of other stations. "We do not play current popular hits at WHFR," said McGraw. "Since most other stations are already doing that, we try to be eclectic and different for our listeners so they have alternatives to the popular music being played elsewhere. It works well, and listeners like the options."
Not only does the WHFR radio station provide diverse music for its listeners, but it also provides opportunities for its student broadcasters. "We exist to provide real-world lab experience for student broadcasters," said McGraw, "I'm very excited to have been a student broadcaster, and now, to be able to use my position to help future student broadcasters get to where they want to be as professionals."
To become a staff member of the WHFR radio station, you must first enroll in a single-credit telecommunication course, TCM-189: WHFR Staff Training. As of now, the station has about 40 HFC students and alumni as staff members.
Lucas Paulovich is a student DJ for the WHFR radio station. Paulovich graduated from Henry Ford College in 2021 with an Associate's Degree in Telecommunication. Paulovich said, "My main interests are music and film. My job at WHFR is that I host a show called 'Punk N' Junk' on Tuesday nights from 10 p.m. to midnight. I play and discuss the punk rock genre; I will also play hard rock and maybe some grunge just to mix it up a little bit. That's where you get the N' Junk' portion of the title."
Once they've gone through the staff training class, if a student wants to host their own show, they can fill out a show proposal form and come up with a concept for what they'd like to do.
Paulovich said, "I haven't hosted any other shows but my own; but some of my favorites would be 'Soundtrack City,' 'Play It By Ear,' 'Spirits Rejoice," and 'Classical 24.' Sometimes the classical show just fits the drive home oddly enough." Paulovich also has hopes for guests on his own show, stating, "There are so many people I would love to have at the station that it's hard to pick just a few. But if I could, I would love to have Wayne Kramer of the MC5, Negative Approach, and Mike Watt perform on the show."
Student DJs can take requests from listeners. Paulovich said, "I take requests as long as the station or I have that specific song or artist. There were times when I had to borrow a CD from someone or put the song on a flash drive because I didn't have it previously. But I am more than open to requests."
There are many different ways you can listen to the WHFR radio station. "You can listen on the FM radio dial on 89.3 from an 8-10 mile radius of the college. You can stream live from anywhere with internet access. You can listen on your phone, on streaming apps, and even on Amazon Alexa. We have an Android app that's free and we're in development on an Apple/IOS app," said McGraw.
"We are required to do programming that helps our community to maintain our FCC license, but we'd do it anyway," said McGraw. "We need to be a bridge for our listeners to the various organizations, ideas, and events on our campus and also in our community at large to provide opportunities for artistic expression and learning. That's what we call 'serving our community.' Most importantly, we represent the Dearborn Metro-Detroit community as a voice of something different, creative, and eclectic."
Check out the WHFR website (whfr.fm) for more information on the upcoming vinyl record show as well as other events, show notes, programming updates, merchandise, studio guests, archives, photos, making requests, and contact information.