"Moon Knight" Brings Marvel to Egypt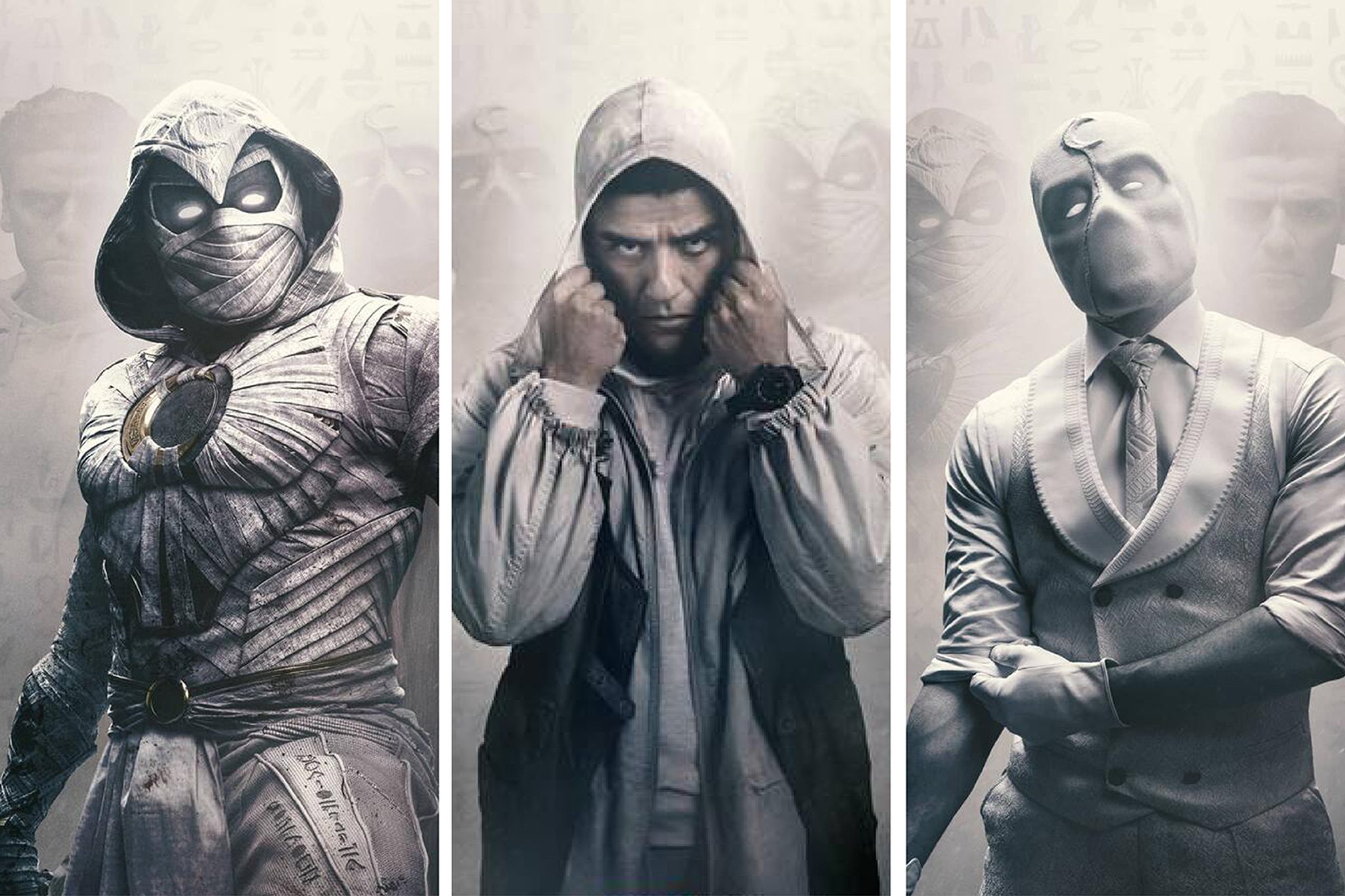 Oscar Isaac as "Moon Knight" (Left), Mark Spector (Middle), and Steven Grant/Mr. Knight (Right) courtesy Marvel Studios
Last month, DisneyPlus released its latest Marvel superhero series, "Moon Knight." Disney's streaming service has had much success with the Marvel Cinematic Universe, from the sitcom-styled "WandaVision" to the time-hopping "Loki," and the action/political dramas of "Falcon and the Winter Soldier" and "Hawkeye." "Moon Knight" is based on a lesser-known Marvel superhero.
"Moon Knight" centers around Steven Grant (Oscar Isaac "Star Wars: The Force Awakens," "Dune"), who has dissociative identity disorder, or what used to be called multiple personalities. Steven Grant is a gift shop employee at a museum in London, who suffers from blackouts and a sleep disorder. Steven Grant's life changes when, after a series of blackouts, he discovers he is also Marc Spector, the killer avatar for an ancient Egyptian god of the moon, Khonshu.
"Moon Knight" uses non-linear storytelling, which is meant to resemble Steven Grant's shifts in and out of different personas. In contrast to the frenetic Steven Grant is the villain, Arthur Harrow (Ethan Hawke "The Good Lord Bird," "Training Day"), an even-tempered cult leader who recruits followers to set free Ammit, an ancient Egyptian "devourer of souls," which sets Khonshu and Marc Spector, and the reluctant Steven Grant, after him.
The "Moon Knight" comic book started in 1975, created by writer Doug Moench and artist Don Perlin. Moon Knight was originally a mercenary against a werewolf villain. After the success of the character in the two-part comic, he became a regular supporting Marvel character before gaining a full comic book run in 1980. Moon Knight was supposed to appear in the 2006 live-action "Blade: The Series" before that series was canceled.
Recently, the DisneyPlus "Moon Knight" series has been the victim of "review bombing," when a fandom, or group of people, show their disapproval of a project by inundating review sites with negative reviews. In one episode, "Moon Knight" acknowledges the Armenian genocide in World War I when an estimated 1 million Armenians died due to death marches through the Syrian Desert as a means of forwarding the Turkish Nationalist Movement. The Turkish government maintains that the death marches were a legitimate deportation of the Armenian populace that cannot be described as genocide. However, 31 countries, including the United States, have recognized the actions as such. Turkish citizens who don't acknowledge the genocide have been bombarding sites with negative reviews to rebuke the show.
Despite the "review bombing," the series has earned a 94 percent audience approval rating on Rotten Tomatoes. Richard Trenholm from CNet says, "'Moon Knight' is weird, wild and so much fun." Adam Beam of Slate says, "'Moon Knight' shines as a promising new hero."
Oscar Isaac gives a convincing performance dealing with the psychological disorders that Steven Grant has. Isaac creates a sympathetic character whose mix of confusion and skittishness help to make the darker horror elements of the show hit hard while also providing comic relief. Dr. Paul Puri, a board-certified psychiatrist and an assistant clinical professor at University of California, Los Angeles, was on set during filming to keep the show's portrayal of dissociative identity disorder within a loose realm of possibility.
The supporting cast includes Egyptian-Palestinian actress May Calamawy ("Ramy") whose portrayal of Layla El-Faouly helps to break Western stereotypes of Middle-Eastern women, and Syrian-American actor F. Murray Abraham ("Amadeus" Best Actor Oscar) as the voice of Khonshu.
With much of the film set in Egypt, director Mohamed Diab told ScreenRant that "as an Egyptian," he had seen "us always portrayed in the wrong way" as "exotic" and "it dehumanizes us." Diab shows modern Cairo and how diverse Egypt is.
Diab wants "Moon Knight" to be appreciated on its own. Diab told ScreenRant, "I am proud that a lot of people are telling us that if you cut the Marvel logo, no one is going to know that this is a Marvel show. I'm happy that we pushed the envelope enough that it feels like it's something that is unique on its own."
Disney announced the making of "Moon Knight" in August 2019 during the D23 conference as part of Phase 4 of the Marvel Cinematic Universe. It is unclear how the series fits the MCU, or even if it needs to since perhaps the show should be enjoyed on its own merits.
The full season of "Moon Knight" is available on DisneyPlus.