Theatre Returns to Henry Ford College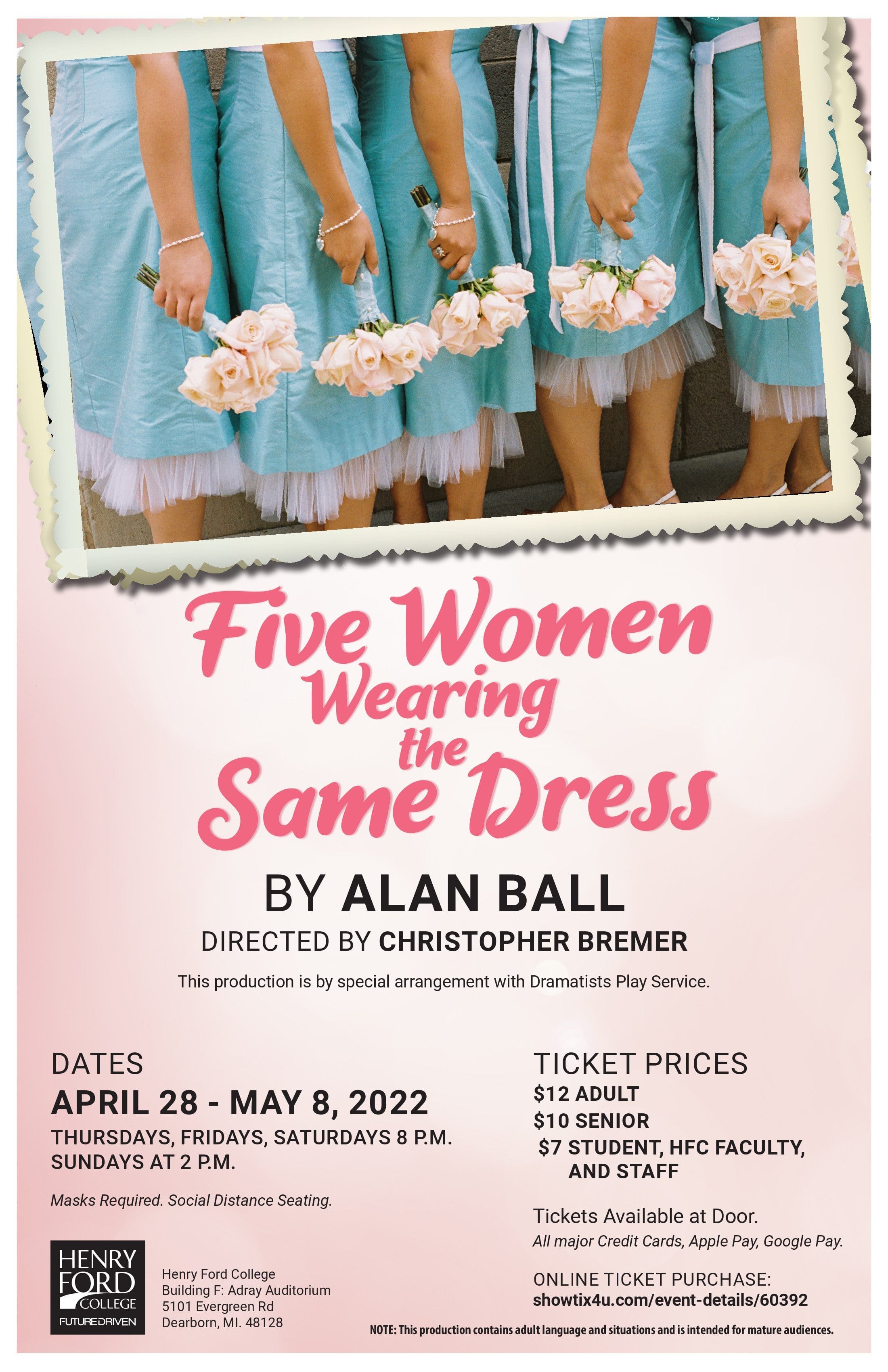 Five Women April 28 - May 8 poster HFC Theatre
Henry Ford College's Theatre program will open its first show since the start of the COVID-19 pandemic.
During the shut down and the limits on in-person classes and events, students in the HFC Theatre program felt lost and uncertain about what would happen with their classes and degree. The future of HFC Theatre was already in doubt with the retirement in 2017 of the full-time director of the HFC Theatre program, George Popovich, who had run the theatre program from 1985 until his retirement.
From April 28 - May 8, HFC Theatre will present "Five Women Wearing The Same Dress," a play by Oscar-winning writer Alan Ball ("American Beauty," "Six-Feet Under," "True Blood"). The play debuted in 1993 at the Manhattan Class Company Theater, an off-Broadway theater company in New York City.
"Five Women Wearing The Same Dress" is a comedy set at an estate in Knoxville, Tennessee, in the 1980's during the ostentatious wedding reception of newly-married couple Scott and Tracy McClure. Five reluctant bridesmaids – Frances, Mindy, Georgeanne, Trisha, and Meredith – all of whom are identically dressed, hide out in Meredith's upstairs bedroom. Each of the bridesmaids has her own reasons to avoid the festivities. As the day wears on, these five women come to realize that despite their differences, they have more in common with each other than they do with the bride in this wickedly funny, irreverent, and touching celebration of the female spirit.
Directing HFC's production of "Five Women Wearing The Same Dress" is Christopher Bremer, who has been involved with the HFC Theatre program as both a cast member and then director for over twenty years, including directing "Mamma Mia" in 2020. Bremer has directed shows for Meadowbrook Theatre, University of Detroit-Mercy, and he served as the managing director of the Jewish Ensemble Theatre. He has performed in 44 of the United States, and in Italy and Greece and has been selected as one of the five best directors in metropolitan Detroit by the Detroit Free Press.
As the college's first production since the onset of the pandemic, even with mask restrictions being lifted in Michigan, safety precautions are being taken. During rehearsals, everyone is required to wear masks. Performers are going to be unmasked during their stage time. Audiences will be asked to wear a mask for the full duration of the play, and seating will be socially distanced: one seat between each audience will be kept empty as well as the first three rows of seats.
One of the leads of the play, senior Eve Leigh, spoke about her time with the HFC Theatre program. Leigh has been part of the Theatre program for five years, starting with an acting class, and she hasn't stopped performing since. Leigh plays the character Mindy McClure, the "odd-ball sister-in-law of the bride." Her character is progressive and brings up topics of inclusion and mental health, but does so in a positive light. In keeping with her character, Leigh says, "I hope the people and staff start to take a lot more attention to the arts. It helps with mental health, it helps with emotions. It's an expression."
Leigh has been eager to return to the theatre. "During COVID it felt like something was missing. And now I know." For Leigh, that has been performing on stage. Leigh says, "I hope more people give theater a chance, even if acting is not going to be part of your career in the future. Just to help with anxiety or to make new friends."
Leigh learned that the college is in the process of hiring a new director of the theatre program, to which she said, "I hope there'll be a bigger theatre program when I leave."