Interview with Local Music Artist Israa Finalist on the FOX show "Alter Ego"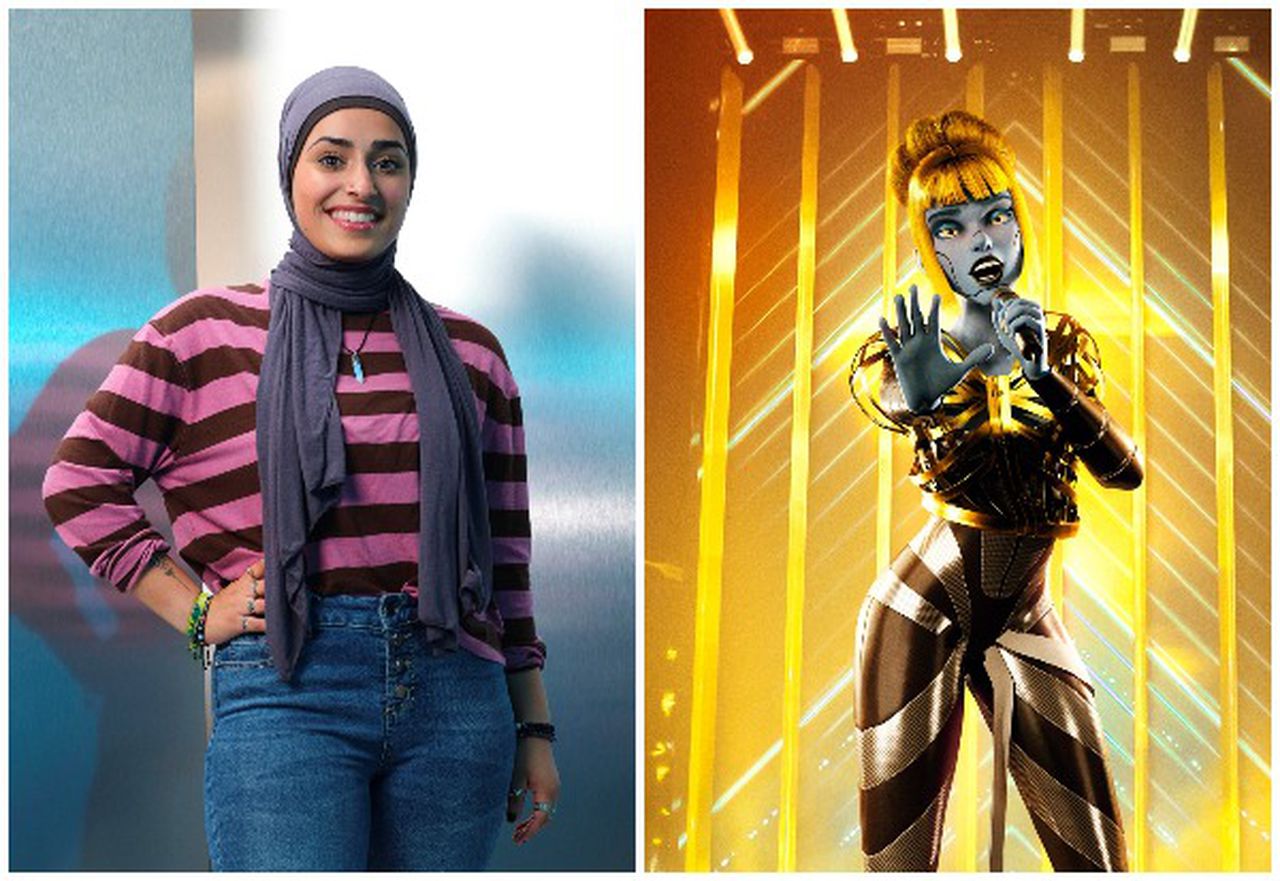 Israa (left) and her alter ego Night Journey (right) photo courtesy FOX Media LLC
Musical artist Israa Darwich of Dearborn Heights, Michigan, was a finalist on "Alter Ego," the first ever avatar singing competition series, which aired on FOX last fall. "Alter Ego" featured judges Grammy-winning singer Alanis Morissette, singer and actor Nick Lachey, Canadian musician Grimes, and was hosted by Emmy-award winning TV personality Rocsi Diaz. Israa Darwich, who goes by "Israa," who was among the youngest contestants at 19-years-old, competed as the avatar, "Night Journey."
Mirror News: Tell me a bit about your background and your experience growing up in Dearborn Heights.
Israa: I grew up with a single mom in Dearborn Heights. I have two sisters; they're my best friends. I went to Crestwood School District. I was a band kid in school so I was super nerdy. I didn't really get into music until I was 15; that's when I picked up guitar. I was going through a lot mentally and so it helped me as an outlet. It saved my life. Ever since then, I've really invested in music and it changed my life completely.
MN: The Dearborn and Dearborn Heights communities were rooting for you when you competed on "Alter Ego" in the fall. What was the audition process like? Israa: It was so cool. I was actually scouted off of my Instagram videos that I post. I post videos of me singing and one of the producers from the show had reached out to me and they were like, "You should really apply for this new singing competition coming out." So I did, and from there it was just submitting videos and then having Zoom interviews and then they flew me out to California for the final audition. It was so dope.
MN: What were some of your inspirations for your alter ego, Night Journey?
Israa: I think my inspirations came from a lot of self-expression and I wanted her to be a warrior because of all the things that I've gone through and I wanted her to represent something strong and fierce, and so I wanted her to look like that. So that's kind of why we went with armor for her. I dress pretty edgy so I wanted her to look edgy too, so it was really fun.
MN: You made it all the way to the finals in season one of "Alter Ego." What were some of your favorite moments from your time on the show?
Israa: My favorite moments? That's so hard because there are so many. I think, honestly, making friends was one of the huge ones. There are people from "Alter Ego" that I met, like other contestants, that I talk to daily now. So meeting new people and building those connections is probably the number one takeaway from the whole show. Alanis Morisette told me that she wanted to hear more music from me and so that was super meaningful.
MN: What would you say are your biggest artistic inspirations when it comes to your music?
Israa: I'd say I write from a singer-songwriter perspective. When I write songs, I think about what story I'm trying to tell rather than what sounds good. Obviously, you go for both but you know what I mean. I'd say being a storyteller, that's what I want to give.
MN: You being on the show really opened up a conversation about representation for Muslim and Arab-American women. How would you say that your identity and your experiences as a Muslim and Arab-American woman impacts your art?
Israa: It's definitely challenging at times, especially because being one of the people who's trying to break a stigma on my religion and on my culture. It can be hard because there are a lot of people who don't understand other perspectives. It can be hard for sure. There are people who look at me and they just assume that I'm not a good person because of the way that I look or the way that I dress. That gets difficult for sure, but I think it's also really cool being able to be one of the people that's changing what the industry looks like. I've never met another musician that looks like me. Being one of the first, I feel like that's doing something outside of the usual is really cool because hopefully one day there will be a younger Muslim Arab-American who's wanting to make music and who can look at me and be like, "Well, she did it, so I can too."
MN: You released an EP last month, "Slip Away." It was your second EP after you released "Skeletons" in the fall. Did your creative process and your inspirations differ between the two EPs?
Israa: I actually started producing and sound engineering my own music during the "Skeletons" EP, so that was my first project that I ever did completely on my own. I'd say I've definitely grown between the two EPs. I released them not too far away from each other, because I've just been on a roll with writing so I just wanted to get stuff out there. I'd say the things that changed the most are: I've become better at creating music in a professional sense, like learning how to sound engineer my own stuff has been a huge challenge but it's also been super cool and it makes me feel a lot more independent as an artist so it's been really fun. I'd say that's the biggest difference. I mean, obviously, my life is just like anybody else's, life is constantly changing, so that goes along with the music I'm creating. MN: Can we anticipate an album soon?
Israa: For a little while, I think I'm just going to keep releasing singles and EPs and then hopefully in the future I definitely do want to release an album. For now, I think I'm going to focus on getting more singles out there more quickly, that way I have material that's constantly coming out.
All episodes of FOX's "Alter Ego" featuring Israa as Night Journey are now streaming on Hulu. Israa's music is available to stream on YouTube and all music platforms, including Pandora, Spotify and iTunes.