Remembering the Detroit Shock: Interview with Cheryl Ford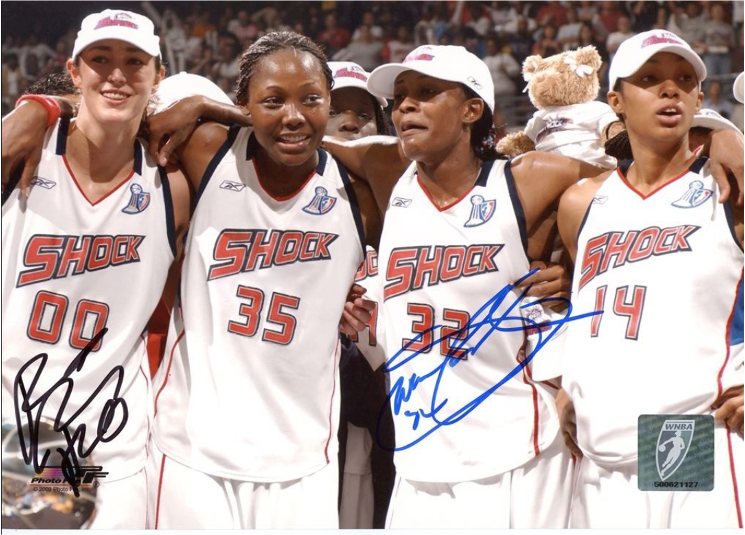 WNBA 2003 Champions from left Ruth Riley Cheryl Ford Swin Cash Deanna Nolan photo courtesy WNBA
As a first year basketball player at Henry Ford College, I was surprised to discover that many of my classmates did not know that Detroit used to have a WNBA championship team. According to SportsTeamHistory.com, the Detroit Shock were a WNBA team founded in 1998 and based in Auburn Hills, Michigan. From 2002-2009, they were coached by Pistons legend Bill Laimbeer. In 2003, the team shocked the league by going from last to first and winning the WNBA championship. They went on to win the 2006 and 2008 WNBA championships.
On October 20, 2009, the Shock was sold to Bill Cameron and moved to Tulsa, Oklahoma, to play in the new downtown arena, the BOK Center. Former men's college coach Nolan Richardson was named the team's new head coach. The Shock's team colors, which were originally blue, red, and white, were changed to black, red, and gold. In 2015, Cameron moved the franchise from Tulsa to Dallas, where the team is currently known as the Dallas Wings. The team's colors are now blue and yellow.
According to the league website, the WNBA was created in 1997 by the National Basketball Association (NBA) Board of Governors as a sister league to the NBA. The first eight WNBA franchises were located in a city that was also home to an NBA team. The WNBA expanded the league the following year. The Detroit Shock were owned by Bill Davidson from 1998 - 2009, who also owned the Detroit Pistons from 1974 until his death in 2009. The WNBA now consists of 12 teams compared to the NBA which has 30 teams.
Cheryl Ford is a former professional women's basketball player who played as a forward for the Detroit Shock. Ford rose to fame in part because she was the daughter of former NBA legend, Karl Malone. Her mother is Bonita Ford. Cheryl Ford attended Summerfield High School where she played for the girl's basketball team. She was a WBCA All-American in high school. When she went to college, she decided to play for Louisiana Tech University, where she was named to the Associated Press All-American Honorable Mention team and won the Western Athletic Conference "Player of the Year." Ford was the third overall pick in the 2003 WNBA draft. She was a member of the Detroit Shock championship teams in 2003, 2006, 2008 and also won the MVP award at the WNBA All-Star game in 2007. She is now retired, a mom, and coaches a high school team in Louisiana.
Mirror News: What made you sign with the Shock? How was it playing in Detroit?
Ford: I got drafted their number 3 in the 2003 WNBA draft so I didn't really have a choice as to where I would play straight out of college. Playing in Detroit was different for me coming from a small town in north Louisiana called Summerfield and I went right down the road to play college basketball at Louisiana Tech because my mom was my biggest supporter and never missed a game so I wasn't going to go far away from her to make it hard for her to get to see every home game. So playing in Detroit miles away from my mom was really hard for me but it made me grow up and kind of "cut the cord" from mom and it was a huge adjustment not having her in the stands every home game cheering me on, but I did talk to her right before every game and right after every game. MN: What's your most memorable moment while playing for the Shock?
Ford: My most memorable moment playing with the Shock was winning the 2003 WNBA championship against the Los Angeles Sparks with standing room only in the Palace and my mom was in attendance. We were from worst to first in the league that year. Truly a memory I will never forget as long as God keeps my memory.
MN: Looking back, is there anything that you would have done differently?
Ford: There is not a thing I would have done differently because at that time of my life that's the chapter in my book that God had written for me.
MN: What are your thoughts on the WNBA now? Has it changed ? Any favorite players?
Ford: Thoughts on the WNBA? Yes, it has changed tremendously especially with the ladies getting more money and more recognition (the old players paved the way and owners of the teams worked hard to get to this point). They are on more TV commercials, also on NBA2K, more NBA players are supporting the WNBA (we didn't have that when I played). My favorite player is my sister/friend Slyvia Fowles of the Minnesota Lynx.
MN: What's your message to female athletes all over the world today?
Ford: My message to female athletes all over the world is to continue to work hard and be coachable. Be willing to listen and work hard and anything is possible. Never give up on your dreams.