Children's Garden II Opens on Henry Ford Campus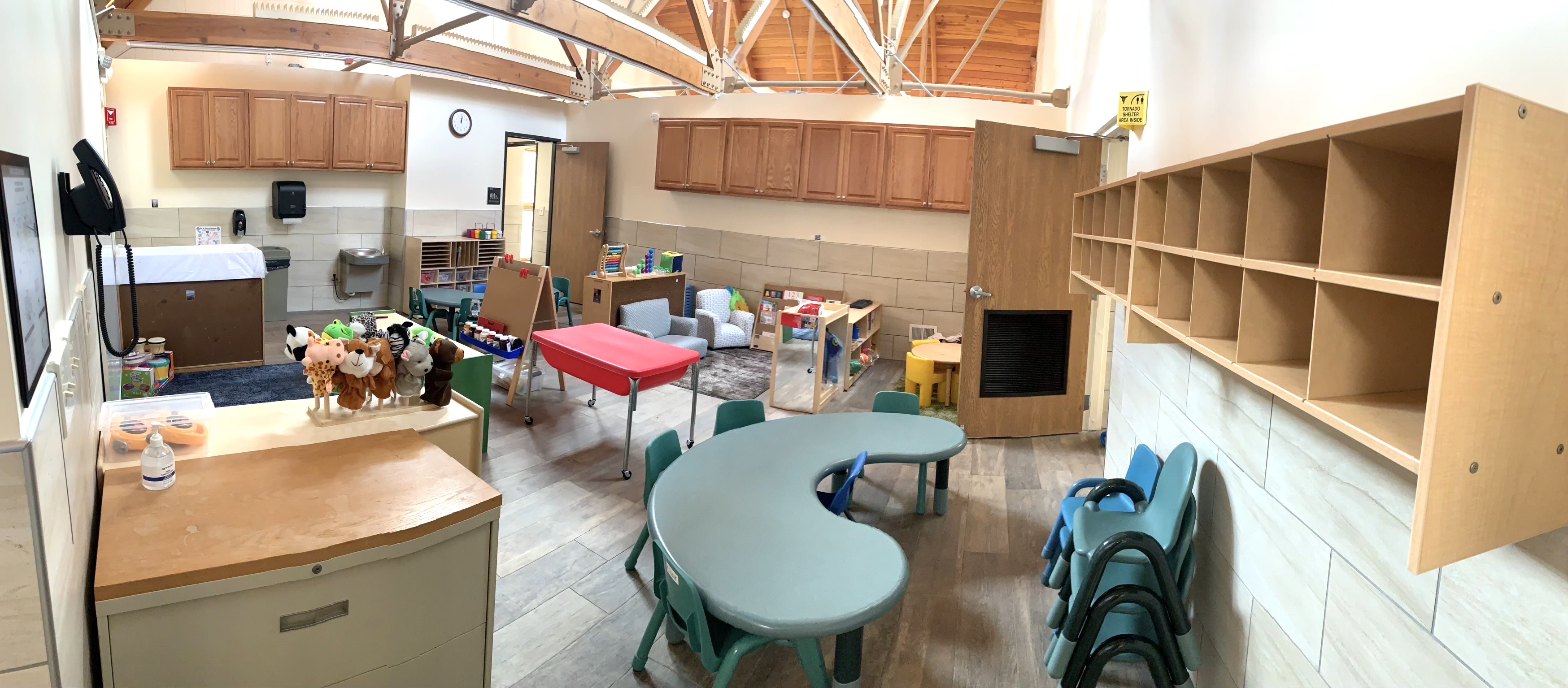 Photos courtesy Children's Garden II
College life can be difficult, especially when you are a parent. The challenge of taking care of your children, working, attending classes, doing homework, and studying can take its toll. A significant concern for parents going back to school is the lack of having quality childcare. The doors at Children's Garden II opened up on Nov. 8 on the Henry Ford College campus, and this will be a welcome option for many parents in search of a safe place for their children to go while they attend school or work.
Children's Garden II is in HFC's former Child Care Center, which closed in 2015 after being operated by the college for nearly two decades. The center is now under the private ownership of local daycare provider Children's Garden and completely renovated.
Located on the main campus in Building "I," it is a convenient location for students, faculty and staff with children. There are seven classrooms, each having a private bathroom and a full kitchen. Children's Garden II offers an enclosed outside area with two playgrounds: one for ages two and a half and up, and the other for the younger children. There is a small bike trail for the kids to ride their bikes and a bathroom with outside access.
The director of Children's Garden II on HFC's main campus, Tegina Matta, said, "It was a long process to open up. Getting the licensing and pre-approval for everything took time. When you have a childcare center, you need to ensure everything is done by the book. It took us about two years to do everything, and we were about to get things opened up, and then COVID hit. We ended up losing another year from that."
The facility can accommodate up to 86 kids from infancy to 5 years. Home-cooked meals are made fresh daily and served family-style. Children's Garden II provides breakfast, lunch, dinner, a snack, and fresh fruit. The parents get weekly menus to sign off on and track what their child is eating for the week. Parents can join their Remind notification app, which will send them pictures and updates of their children. Security is paramount, and Children's Garden II takes it seriously. There are security cameras both inside and outside.
Children's Garden II partners with HFC for students requiring credits for their child development and teaching programs, although COVID has put that on hiatus temporarily. When the college's COVID policies permit, students will be able to earn credit hours through them. Children's Garden II complies with the Michigan Department of Licensing and Regulatory Affairs (LARA) guidelines. Due to the pandemic, operations have had to be adjusted to follow LARA and keep the children and staff as safe as possible. Limiting outsiders from coming into the building, parents must bring their child to the main door entrance, and a staff member will take the child to their class and bring them out to their parents at the end of the day.
Children's Garden II adheres to the HighScope curriculum, which centers on an activity-based learning style. The HighScope program was created in Ypsilanti, Michigan, in 1962. Since then, tens of thousands of preschools, pre-k, and daycare centers in the U.S and worldwide have used the program in their schools. The teachers at Children's Garden II never force the kids to write or learn but offer encouragement instead. The HighScope curriculum makes learning fun and engaging for the child while developing skills that will benefit their future learning and potential.
Children's Garden II is also a part of the Great Start Readiness Program (GSRP), a state-funded preschool educational program for four-year-olds. Children's Garden has two designated GSRP classrooms. GSRP ensures that children at a higher risk of academic failure receive the same high-quality education as those from different backgrounds. The child must turn four by December 1. There are many factors GSRP will consider for eligibility. Call (833) 368-7932 to see if your child can qualify for the free preschool program and for more information.
Children's Garden opened their first location at 12720 Ford Road in 2006 and have been operating it ever since with great success. Children's Garden holds a five-star rating through Great Start to Quality, which only two percent of daycares have in the state of Michigan. This year, Children's Garden will start the process to get a five-star rating at the HFC campus location, which takes around six months to complete.
The new location employs three HFC students, including Hailah Saeed, who is attending her second semester at HFC and is considering majoring in teaching. She has only been working at the center for over a week now but said, "I really like working here and playing with the kids." It is convenient for HFC students to work right by their school. Matta stated, "We are able to work with their schedules, which helps them a lot. Even if they can only work three hours a day, we might need those three hours here."
Going back to school after having a child is no easy feat. Students face a lot of challenges with having to figure out childcare. Lindsey Cotton Tate, 27, was unaware of the new daycare facility on campus. "This is my 3rd semester at Henry Ford. I quit my full-time job to go back to school. I only work part-time, and I take care of my daughter. It is really hard to balance schoolwork and being a mother. I will definitely need childcare once I have to do in-person classes, like clinicals for my respiratory therapy program. Currently, I am taking 100 percent online classes due to the lack of childcare and how expensive it is." With most classes being taken online since the start of the pandemic, parents have been able to stay home with their kids while doing school. With things starting to get back to normal and more students going back to in-person learning, the daycare will be essential for many parents. Children's Garden II offers HFC students, faculty and staff a 10 percent discount at their new location.
If you are looking for a summer camp, Children's Garden and Children's Garden II are both offering a summer program for kids ages 5-13. They have fun activities throughout the summer, and they have special days where the staff will take them out for day trips. The summer camp program opens on June 20.
Matta says, "It's a different atmosphere here. Let me tell you, the teachers are amazing, and I know that everyone says that, but here, the teachers work from their hearts. You can see it in all they do. When you see a child that has only been here for one day and then runs to their teacher they have only seen once; that means we are doing something right." She went on to add, "It is a nice place for the kids to be. We are all a team here and work together helping each other out." Children's Garden II is accepting students from infancy to five years of age. They are currently enrolling kids in the summer camp program. You can set up a time to check out their facility and get a private tour; for more information, call 313-789-8896.