Athletic Training is Concern for Some Athletes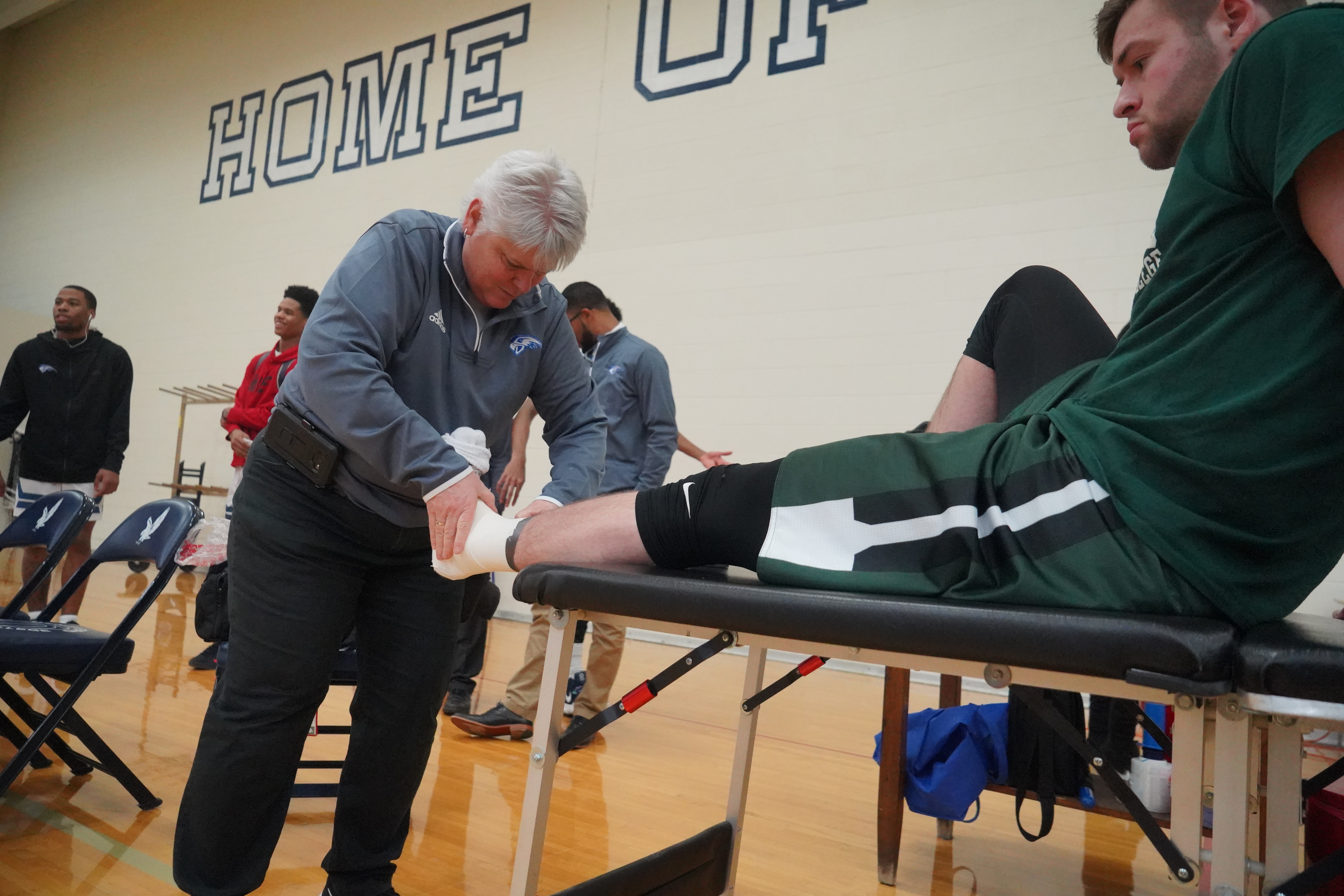 Jan Lauer HFC Athletic Trainer tending to athlete in gym, Henry Ford College main campus, Dearborn, Michigan, photo courtesy Hawks Athletics
Athletes and coaches alike share a constant fear of injuring themselves or others during practices or games. With Henry Ford College accommodating between 120 and 140 athletes across 7 sports each school year, the anxiety remains prevalent throughout the athletic department.
In the unfortunate event that an injury occurs and follow-up care is necessary, Henry Ford College has a secondary medical insurance policy that covers all athletes, coaches, and managers officially involved in the program. HFC athletic director Rochelle Taylor explains that the athlete's "primary policy would be applied first." Taylor clarifies,"Anything the primary policy doesn't pay, we pick up. If we have a student-athlete that has no primary insurance, we will pick up everything." There have been three injuries that have gone through an insurance claim so far this school year.
The athletic department also has an athletic trainer, Jan Lauer, who is present at all home competitions (except golf matches). Lauer is co-owner of Tri-Rehab, an out-patient rehab facility with offices in Dearborn and Canton. She is also president of the Athletic Trainers Association. "She continues to stay current in her craft," Taylor said. "I feel confident that she knows what she's doing and she's taking great care of our athletes." Taylor stressed that Lauer's expertise is the most valuable resource provided to the athletes. The necessity of her expertise is apparent, as she has treated approximately 250 injured athletes over a four year period.
For the first time, starting this school year, Lauer's athletic training services are being provided to HFC's athletes more than just on game days. "Starting this year we set up a training room to have the trainer here two days a week to see any student that may have been hurt over the weekend at a game or during practice," Taylor said. Lauer is scheduled to be in the training room every Monday and Wednesday from 4:00-6:00 pm. "I think adding the additional hours for our student athletes to come and see the trainer on non-competition days is an added plus for this year," Taylor said.
Many injured student-athletes have had a positive experience with HFC's athletic training. Women's basketball and softball player, Lauren Gannon, was recently injured during a basketball practice. "I had a really bad high ankle sprain," she said. "We were playing 5 on 5. I jumped up to deflect the ball and came down on it and it must have just given out."
Gannon indicated great appreciation for the treatment she received following her injury. "When I got injured, Jan, our athletic trainer, was amazing," she said. "She offered to get me into her rehab facility. She gave me crutches and a TENS unit to help with the swelling." Gannon felt that, overall, HFC athletics did a lot to help with her injury.
HFC volleyball player Allyssa Sanner had a different experience with HFC's athletic training. Sanner was injured in the first competition of the 2021-2022 season. "I was at Siena Heights University on August 23rd," she said. "I went on the right side to hit. I jumped up, swung, and when I came down my left knee popped and went outward and then I fell." The Siena Heights athletic trainer diagnosed her with a "sprained knee" and said she "was going to be fine within a week or two." When Sanner came back to Henry Ford College, she said her situation was handled "very poorly." She reportedly lacked primary health insurance at the time of her injury, so she needed to utilize Henry Ford College's athlete insurance coverage to see a physician. But in order to receive HFC's insurance card, an incident report needed to be filed and processed.
"Once you get hurt, you're supposed to file an incident report, which is supposed to go to both schools," she said. "They filled out my incident report and somehow it got lost. I don't know how they lost it."
It wasn't until "two or three weeks" after the initial injury that her incident report was finally processed. "I wasn't able to see a doctor until after those 2-3 weeks because I didn't have health insurance," she said.
Sanner felt as though she had little guidance from the athletic department on how to handle her injury. "I had no guidance whatsoever on where to go and what to do," she said, "especially because I didn't have health insurance."
Sanner was unable to play for the remainder of the season and ended up getting knee surgery in November. She is currently in the recovery process. Hawks volleyball player Ellie MacDonald also did not think her needs were met when she became injured. Macdonald got injured during the last game of the 2021-2022 season. Lauer provided her with crutches and recommended she see a doctor, who diagnosed her with a "partial MCL tear" in her right knee. MacDonald said, "I had to wear a full leg brace and use crutches for about a month or two."
MacDonald went to see the trainer to inquire about physical therapy, to which Lauer indicated the days and times she would be available in the training room. "I went the following week and she never showed up either day," MacDonald said. "I waited a couple of weeks and went back and she still wasn't there at the hours she told me. Eventually I gave up and did things on my own."
Sanner and MacDonald agreed that their experiences with HFC's athletic training were subpar. "I think they could do better at getting everything under control," Sanner said. "It's crazy that I got hurt in August but wasn't able to get surgery until November." MacDonald believes the college's athletic training could improve their communication and available hours.
It is a consensus among athletes and the athletic department that having a full-time athletic trainer would be crucial to the wellness of our athletes. Gannon said she wishes HFC had a full-time trainer, as it "would've been nice" to have had a trainer there when her injury actually took place.
"I think we need a full-time, committed trainer," Sanner said.
"Four hours a week total on Mondays and Wednesdays," MacDonald added, "is not enough for all the teams at HFC."
"I would love to have a full-time athletic trainer," Taylor said. She also wishes HFC had a "more robust, full athletic training room."
Taylor observed, "In a perfect world, I'd like to see all of our facilities upgraded to where we could provide even more and better services. But based on the resources we have, I think we are maximizing what we can do."