Local Animal Shelters Face Serious Crisis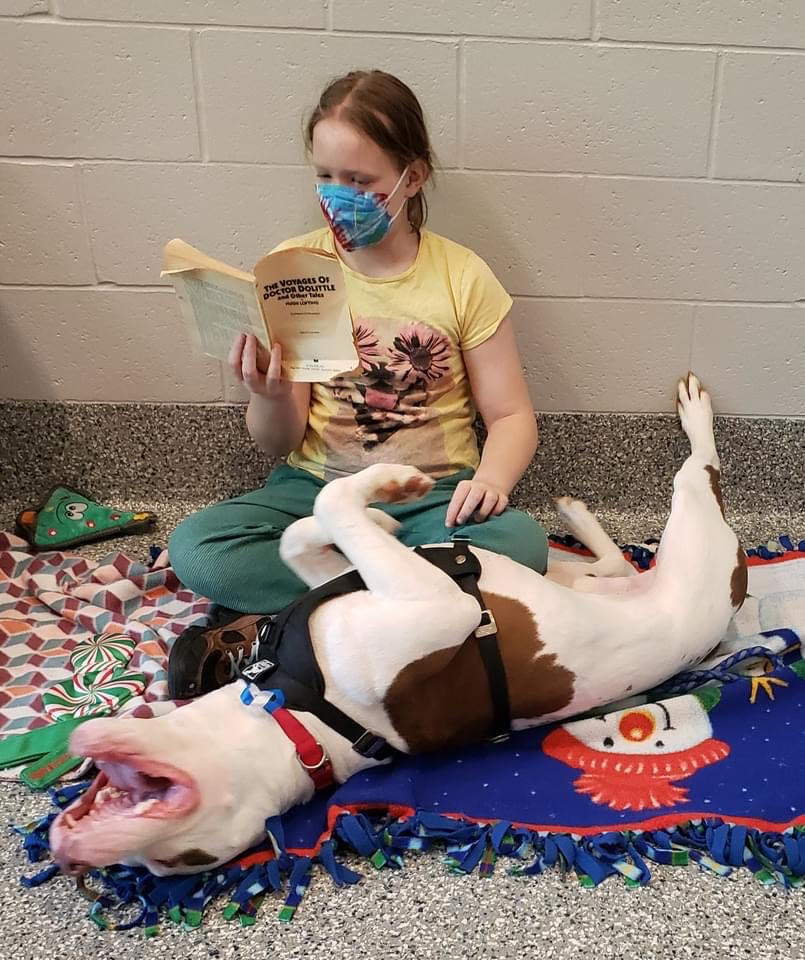 Elizabeth reading to Doug at Read to Rover program. Photo courtesy Friends of Animals Metro Detroit
Animal shelters in the metro Detroit area are facing a major overcrowding issue. The ongoing COVID-19 pandemic has impacted countless people and organizations around the world, and Michigan animal rescue efforts are no exception. Sara Rood, Director of Marketing & Development at Dearborn-based Friends of Animals of Metro Detroit (FAMD), said in 2020, FAMD faced significant fundraising setbacks due to COVID-19 safety measures. The shelter's two biggest fundraising events were unable to be held in person in 2020, which Rood says had "a huge impact" on FAMD's "ability to raise funds."
As COVID restrictions began to ease in 2021, FAMD was able to host two events in person with safety measures in place, which allowed the shelter to fundraise in a safe and cost-effective way.
One area where animal shelters did not suffer during the pandemic was the number of people looking to foster a furry friend. "With more people working at home," said Rood, "this allowed us to get more animals out of the shelter and into foster homes."
Michigan State University reported that the number of pets in foster care in Michigan increased by 19 percent from March 2020 to March 2021. FAMD alone received over 150 new applicants for foster volunteers at the start of the pandemic. Fostering is the perfect solution for anyone looking to take care of a pet who is unable to commit for the course of that pet's lifespan. Fostering a pet anywhere from overnight to a few months' time helps alleviate overcrowding in animal shelters and gain a better understanding of how certain pets act in a household environment, making it much easier to place them in a home that is a good fit. Pet adoptions and foster volunteering were on the rise at the start of the pandemic. Rood observed, "people were home and looking for a companion." Patrice Martin, executive director of Shiawassee Humane Society in Owosso said that the significant uptick in dog surrenders at the Owosso facility was "due to people having to relocate because they have either lost their job or their unemployment ran out and they weren't able to get a similar pay scale."
In September 2021, Detroit Animal Care and Control (DACC) had 170 animals in their care at a facility with only 84 kennels. Director Mike Kumpf stated that the organization needed to place 15 to 30 animals a day just to keep up with the rate at which they were coming in. FAMD currently has 206 animals in its care across its two facilities, 69 of which are in foster homes.
Another reason that animal shelters are struggling to keep up is the overpopulation of dogs and cats. The Michigan Humane Society says on its website: "A single unspayed female cat, her mate and all their offspring can produce a total of 370,092 kittens in just seven years, and the cumulative offspring of one female and one male dog can number well into the thousands in the same time period." The Michigan Humane Society offers affordable options to sterilize pets and can be found at four locations in Detroit, Westland, Rochester Hills, and Howell.
Rood said, "One of the biggest ongoing issues with the pandemic is our animals are staying at the shelter longer, as there is a very limited amount of spay/neuter surgeries. This is from local vets being overwhelmed with people interested in getting their pets spayed/neutered." Rood said vets are having trouble keeping up, "because of staffing issues or offices running on skeleton crews or being closed entirely due to covid outbreaks amongst staff."
With the help of grants and donations, local animal shelters have been able to host events where adoption fees are either drastically discounted or completely waived. FAMD is currently hosting the "New Year, New Friend" adoption event, where all adult dogs currently have an adoption fee of only $50. There are also certain pets with waived adoption fees because they have been sponsored by a volunteer or supporter of FAMD. "This is another way someone can help if they fall in love but cannot adopt," says Rood, "they can sponsor the adoption fee of an animal or animals." Sponsored pets have their waived adoption fee noted in their bio on FAMD's website.
Rood says, "When you adopt an animal from a shelter, you are saving a life, and giving an animal a second chance. Not only are you saving the life of the animal you adopt, but you are also saving the life of the animal that is able to take that open space at the shelter." Rood added, "There is a great misconception that all shelter animals are 'broken' or 'damaged', or that to get a pure-bred animal you have to look to a breeder. According to the AKC, 5 percent of dogs in shelters are purebred."
According to The Michigan Humane Society: "Every single puppy and kitten born contributes to the tragedy. Even when pet owners have 'found homes' for an entire litter, each of those animals deprives a dog or cat waiting patiently in a shelter of what is likely his last chance at life." By decreasing the demand for puppies and kittens, breeders and puppy mills will be forced to produce less supply. Adoption is also the more affordable option, and all animals adopted from FAMD come spayed/neutered, up-to-date on their shots, heartworm-tested, and microchipped.
Besides adopting/fostering a pet or sponsoring their adoption, FAMD accepts cash donations, as well as donations of essential items such as food, toys, and leashes. Items can be donated remotely by shopping FAMD's Amazon wish list for items to be shipped directly to the facility. Volunteers can also help run fundraising events, and even host their own events. Even simply following FAMD's official social media accounts and engaging with and sharing their posts helps raise awareness for the shelter.
On Jan. 17, animal lovers and fans of late actress Betty White were encouraged to participate in the #BettyWhiteChallenge. The challenge in question was to donate $5 (or an amount of one's choosing) to a local animal shelter in White's name to honor the Golden Girls star on what would have been her 100 year birthday. Fans chose to honor White in this way because of her famous lifelong love of animals. ASPCA president and CEO Matt Bershadker wrote that Betty White "demonstrated a lifelong commitment to helping animals in need, including dedicated support for local shelters and animal welfare endeavors, fiercely promoting and protecting animal interests in her entertainment projects, and personally adopting many rescued animals."
FAMD received over $19,000 in donations on the Jan. 17 alone, more than 19 times what the organization usually receives in a day, and is continuing to receive donations in the days following. Rood stated that the viral challenge was an "absolutely fantastic way to honor the late actress and animal welfare warrior," and hopes that it will become a yearly tradition to donate to animal rescue initiatives in memory of the beloved actress.
Anyone interested in donating cash or essential items to Friends of Animals of Metro Detroit can visit their website for more information: https://www.metrodetroitanimals.org/get-involved/donate/.
The FAMD Volunteer Department can be reached by email at volunteers@metrodetroitanimals.org or by phone at (313) 943-2697 ext. 1016.
To foster a pet, contact Trish O'Donnell by email at todonnell@metrodetroitanimals.org or by phone at (313) 943-2697 ext. 6002.
If your cat or dog is not spayed/neutered, please contact the Michigan Humane Society to discuss your options.