Henry Ford Early College wins National Blue Ribbon Award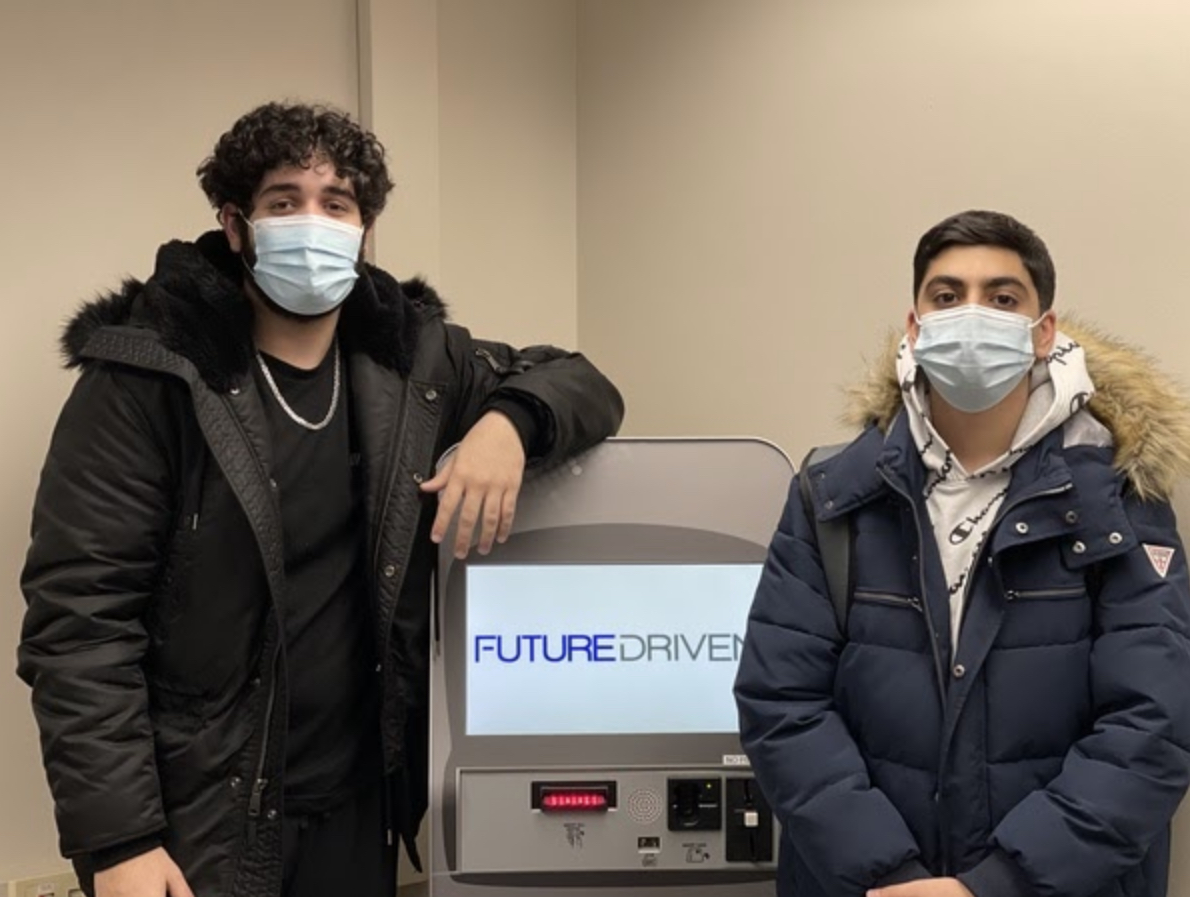 From Left, Hamza Alkahleh, Murtatha Hassan photo by Ali Seblini
On the Henry Ford College main campus in Dearborn is a National Blue Ribbon Award winning program for high school students, the Henry Ford Early College. HFEC was the only Michigan high school to win the National Blue Ribbon Award last November.
This program supplies a chance for high school students to obtain both a high school diploma and a college associate degree within five years. Students earn college credits that transfer to four year colleges and universities, helping them to get a head start on their college degree aspirations.
HFEC was first founded in collaboration with Dearborn Public Schools and Henry Ford Health System. Directed by Principal Majed Fadlallah, the program was originally intended to ease its students into health professions, awarding them with a "certification in an allied health profession." Eventually, HFEC expanded its coverage, adding more specialized schools. The program is split into three schools: School of Health, School of Manufacturing, and School of Education. Each of these schools prepares its students for their respective career paths.
Eleventh grader Murtatha Hassan is a School of Education student who enrolled in 2019. "HFEC is unique for many reasons, but my personal favorite is the freedom we enjoy," Hassan said. The program grants high school students access to many of HFC's resources, such as the library, lab, and cafeteria. Hassan said, "One of my favorite memories at HFEC was when one of my teachers took us around campus and basically gave us a tour."
Hassan's classmate, Hamza Alkahleh, said, "We can use the library to study and print things in case we need to use a computer. We have a Learning Lab that allows us to get all of our work done. We also have a cafeteria that we can go to any time we are hungry, as long as it's not affecting our class time."
HFEC expects students to act maturely. Alkahleh says that he knows that he is expected to "be able to represent the college and not ruin its reputation," along with being "capable of being responsible for both your high school and college classes." One thing the students are always reminded of is that they now represent HFC, which means that there is a lot more responsibility on their shoulders when it comes to being a part of the program. "As an HFEC student you are required to act like an adult," Hassan said.
Even if you are a part of the School of Education or one of the other two career pathways, you still have a choice to pursue careers other than those associated with the pathway. "One thing I noticed from the different schools in the HFEC program is how you don't have to follow that career that your program assists you on," said Alkahleh. "So no matter what program you are in, whether it's Education, Manufacturing, or Health, that doesn't determine your future goal." Students are allowed to choose their college classes. So, even if a student doesn't get into the school that they want, they are still able to study what they want.
Hassan explained that he has "worked with some of the best teachers while in HFEC." Alkahleh agreed. "I believe that we have some of the best teachers in the district," he added, "Ever since I moved to this program, my teachers have changed the way I am as a student. If it weren't for some teachers, it would take me longer to figure out some things that I already figured out now."
Alkahleh has enjoyed making new friends: "My favorite memories at HFEC so far are the memories I created with my friends, whether it was during class or even on field trips. My friends are a key part of my life that I need in order to be the person I am today."
Mr. Yousef Alqamoussi teaches language arts at the School of Education in HFEC. He has also taught other subjects, such as world history. "My experience as a teacher at Henry Ford Early College is overwhelmingly positive," Alqamoussi said. "I work with great staff members, dedicated students, supportive parents, and a collective environment that strives for excellence and success."
"All schools have their own merits, but the real advantage of teaching at HFEC is that the sky's the limit," Alqamoussi said. "Parents, teachers, and students are all on the same page here: aim for the best and be the best you can be," he said, "Students know that we mean business. My experience is that students come to school to work hard, and sometimes harder than comfortable. But they want to be successful and we as teachers want them to succeed. I expect great things from our students across the board. I believe that the students who attend this school are serious about their futures. As a result, we are serious about helping every student succeed and aspire to excellence."
"My favorite part of HFEC is the students. They arrive as high school freshmen and leave as college graduates. Watching that progression over the course of five years is the most exciting part of what I do," said Alqamoussi.
Share it now!