Hawks Men's Basketball Rebounds After Rough Start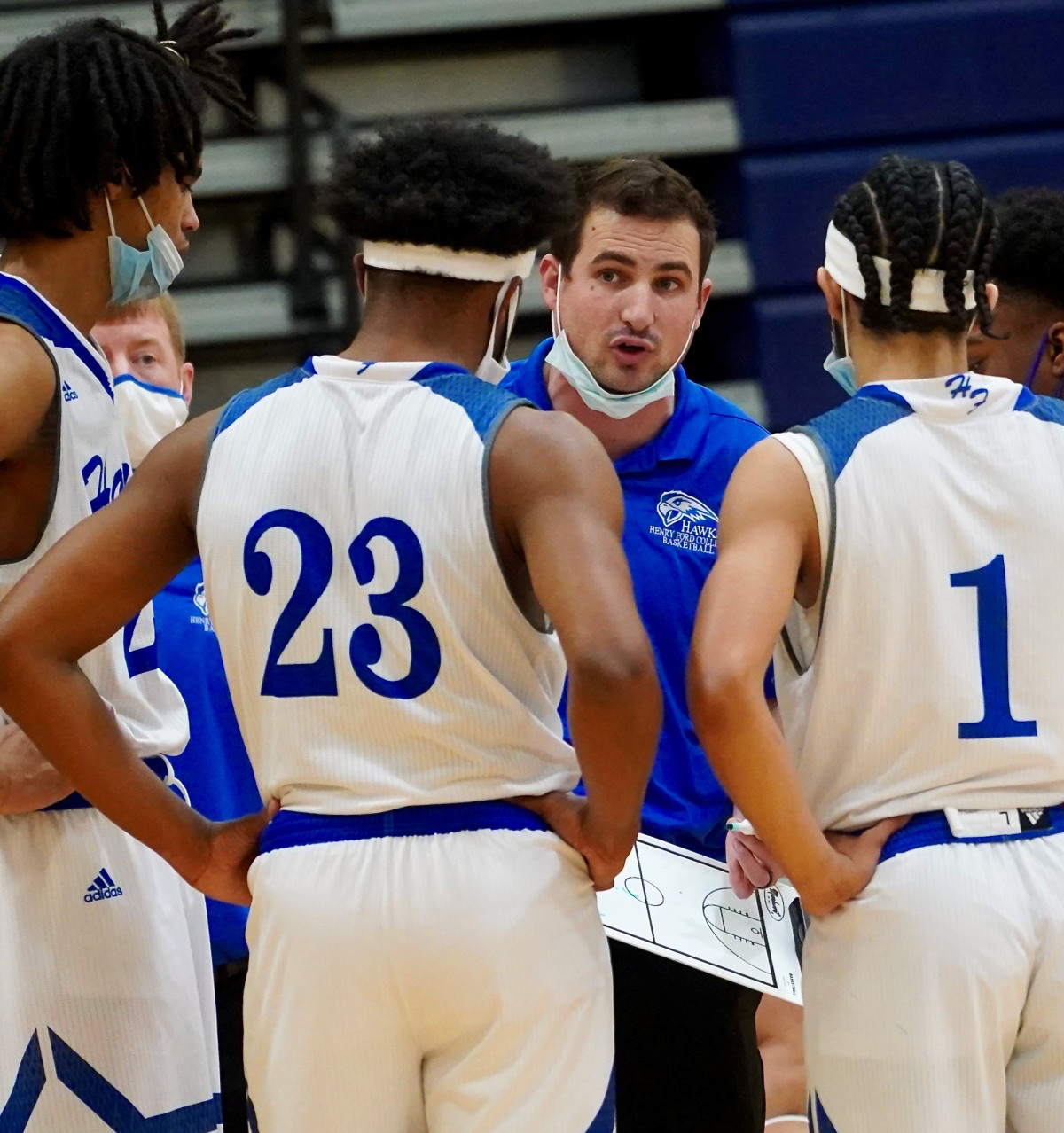 Henry Ford College's Men's Basketball Head Coach Chris Shepard courtesy Hawks Athletics
The men's basketball season has been progressing after a rough start with most of the team affected by COVID-19.
The team had to delay play until after a 10-day quarantine because of a positive COVID-19 case that was discovered among the players. In their league game against Oakland Community College on Jan. 17, the team fell just short with a final score of 82-99.
The Center for Disease Control and Prevention (CDC) decreased the number of days one is expected to quarantine, which may reduce the number of missed practices. According to Head Coach Christopher Shepard, the team has missed some practice time but is hoping that is behind them now.
"We have no weaknesses as a team," Shepard said. Their strengths include sufficiently shooting the ball, using strategic tactics on the court and having elite athletes diligently cooperating side by side. They value shooting when it comes to recruiting students and spend most of their time working on it every day, as it is a significant part of what they do as a program. Nonetheless, Shepard believes that the team must continue to improve their defensive effort to secure victories. Statistically, on offense, the Hawks men's basketball team is proud to be among the best in the country. "We can be the same defensively, we just haven't put it all together yet," Shepard said. The team is practicing to keep everything ahead of them and force long shots.
The team is 5-2 when they play at home, 3-0 at neutral sites, and 3-5 at away games. After a 2-2 start to the season, the men's team rallied to be standing at 11-3 with a 3 game win streak. To credit this strong turnaround, Shepard said, "We are learning every day what it means to compete." Currently, the team's record is 11-7, having lost their last four games.
As for their offensive philosophy, Shepard explained that they spread the floor, play as fast as possible, and run next to none set plays for what to do when certain situations occur.
In the non-league games, the Hawks play one of the hardest schedules in the state. Hawks Athletic Director, Rochelle Taylor, allows the athletes to play the best in the country and out of state. So far this year, they have played in Iowa, Illinois, Indiana, Ohio, and New York.
The Hawks lost two games early to nationally ranked opponents on the road and had two players get injured in the second half while leading in one of the games. Shepard reflected on their loss to Niagara Country. They played a premier team and were up 14 at the half. "We didn't make shots in the second half, and they lived at the foul line," Shepard said. The team had the opportunity to tie it with 14 seconds left, but unfortunately, they were just not able to make it in time. They took this as a learning experience for upcoming games in the future. Shepard also described that when they play the best in the country, they take away what it means to play high-level games and apply that later on, once March rolls around. "We want to win our league but we have done that several times before. We want to win a national championship; you don't do that by playing a soft schedule," Shepard said.
Overall, Shepard's key component that he believes a head coach must possess is work. He mentions that one will be as good as the coaches they hire and the players they recruit. Shepard says, "I have outstanding coaches helping me, and players that make me look smarter than I am."