Dining Not so Fine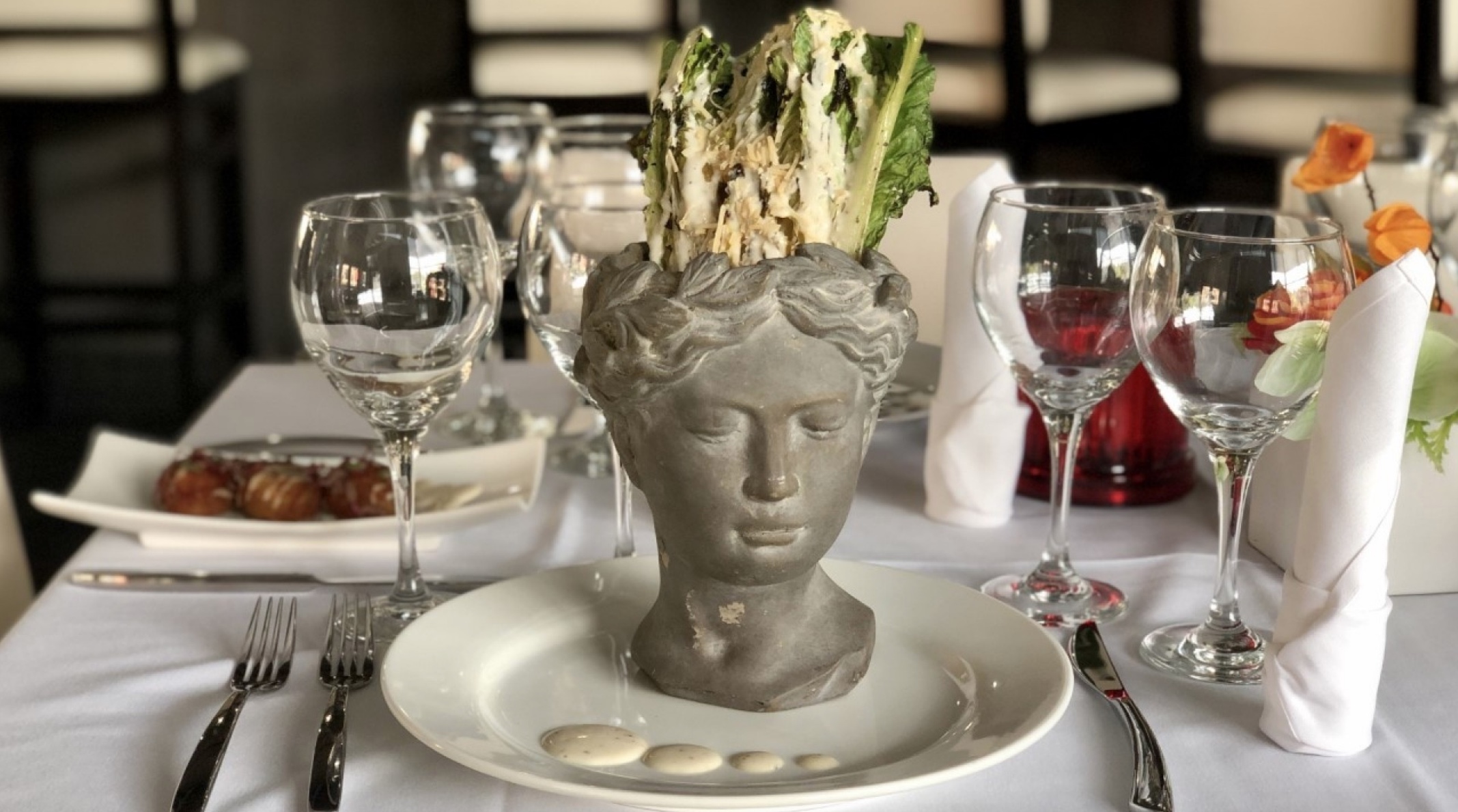 Salad served in a sculpture at Imaginate Restaurant in Royal Oak, MI photo courtesy ClickOnDetroit
Imaginate is a new Black-owned high-end restaurant located in downtown Royal Oak.
Chef Omar Mitchell is the owner and executive chef. Mitchell has spent twenty-eight years cooking in fine dining restaurants. According to Darralynn Hutson in Eater Detroit, "Chef Omar Mitchell is determined to create the 'Walt Disney Experience of Restaurants.'"
Mitchell is an Eastside Detroit native. Attending Joy Middle School sparked his interest in a cooking style that combined foreign meals with American zest. Mitchell was instructed by Chef Margie Gibson, executive Chef Joseph Mucaria, and Claude Thomas at Golightly Career Tech Center. After earning a diploma from Finney High School, Mitchell attended Johnson and Wales University, world renown for its culinary arts school.
Imaginate enforces a strict dress code of business casual and patrons are informed that the restaurant is allowed to refuse anything less. Inside, the restaurant spews elegance and cleanliness, from all white decor, blinging chandeliers, intimate lighting, smiling well-dressed employees, and great attention to detail. Imaginate offers a locally-sourced menu that changes seasonally. The Sunday brunch menu is a Miami style buffet including a cold station, main buffet, Asian station, and desserts. The "committed staff" guarantees a "fantastic experience" for guests.
Based on stellar reviews and since many people I knew were raving over it, I anticipated the most divine time. However, my experience did not quite mirror theirs.
Imagine spending months planning a perfect birthday, but it ends in disappointment. Last month, my friend Dyani, her family, and I dined at Imaginate for her 21st birthday. Our time there began pleasantly. Upon arrival, we were seated immediately due to our $25 per person deposit for our reservation, which we paid in advance. While being ushered to our table, almost everyone commented on the cramped space. The host placed us in between two long rectangular tables; we could barely pull out our chairs without hitting the other ones. The remainder of the restaurant, except for the V.I.P section, was similarly tight-spaced. Ironically, the tight space took away from the intimate aspect of the restaurant's theme. Every table was so close together that you could hear other conversations.
We ordered from touch screen tablet menus. Drinks and complimentary water came promptly. The appetizers came out nearly thirty minutes after receiving the drinks. Our main meals did not arrive for another hour.
The food was very flavorful, and I enjoyed everything but my steak ($65), which was fatty and not prepared as I requested. I enjoyed the dim lighting, the clever uniforms for the staff, the beautiful chandeliers and drapes, and the presentation of the food and drinks. Fries were served inside a bike and truck, the Caesar salad was served in a sculpture, all the plated food looked very pleasing to the eye, and the bill came in a jack in the box.
While the food and presentation were what I'd expect from a high end restaurant, I did not appreciate the unequal treatment. A party of ten, like us, were seated after us but received all their food before us.
Imaginate Restaurant's policy states, "We do not allow balloons, cakes or beverages from outside vendors." My friend, Dyani, called in advance and asked to bring her birthday cake. They declined because of their "policy," yet we saw someone permitted to bring one in.
A magician was supposed to come around every table to entertain guests, but he only stayed in the V.I.P section. After Dyani's older sister finally voiced our frustrations, the manager expressed sincere apologies and kindly discounted us 20% off our bill.
Overall, I would not go to Imaginate again. I did not appreciate the favoritism shown with the cake situation, the V.I.P section, and even tables of the same size being served before us when they arrived after. While I appreciated the apology and discount, that was an experience I do not want to imagine again.