SugarBuzz Bakery Owner Shares Recipe for Success During the Pandemic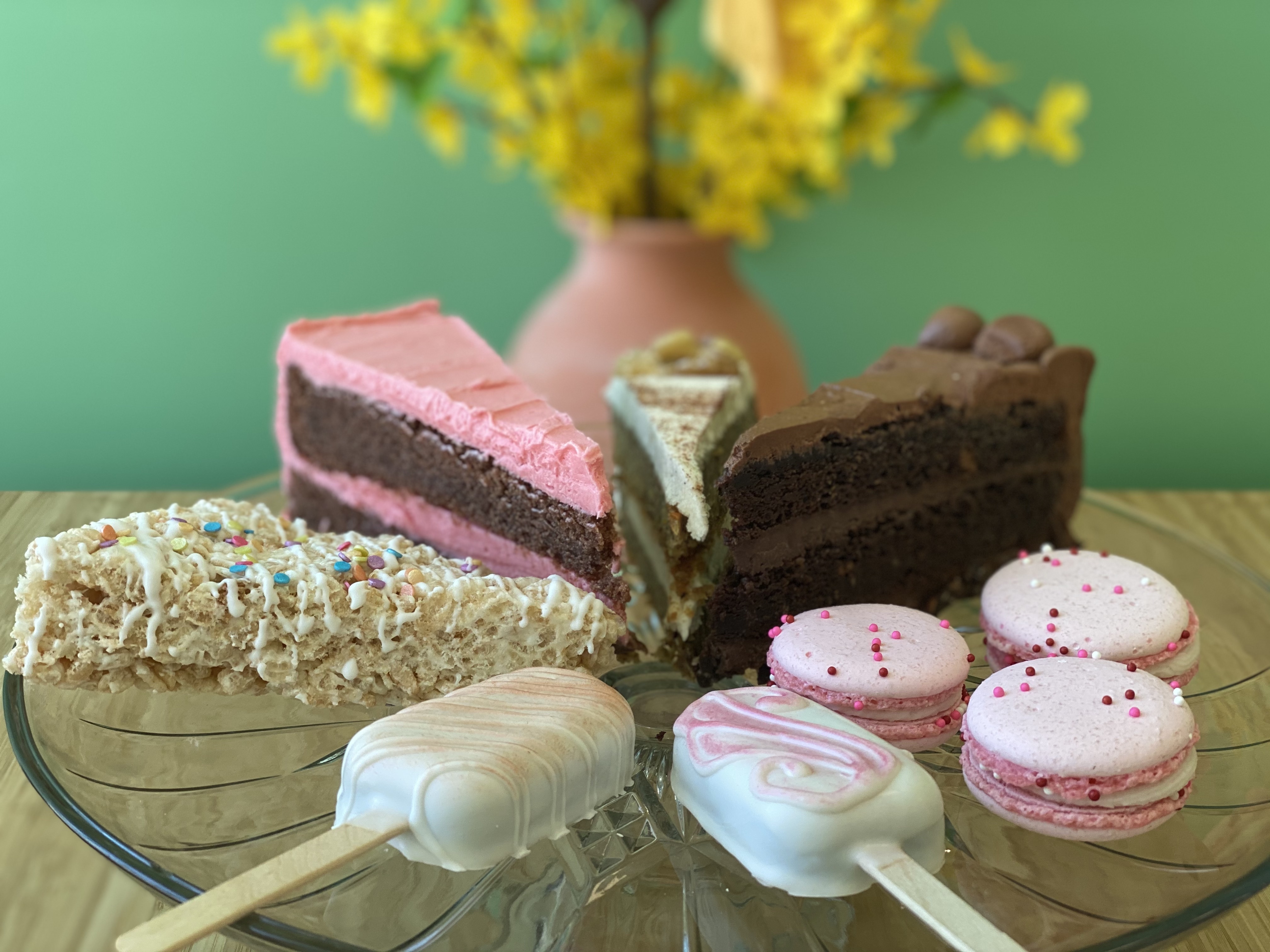 Assortment of Desserts provided by Sugarbuzz Bakery
SugarBuzz Vegan Bakery is one of the first of its kind. Located in Ferndale, MI on Woodward Ave, owner Christopher Pelak opened this completely vegan bakery during the COVID-19 pandemic on Feb. 1, 2021, and business has been "buzzing" since.
The name "SugarBuzz Bakery" has a personal meaning to Pelak. In October 2016, his wife, Katie's father passed away. He was a beekeeper and did his best to educate others on the importance of bees to our world. He was the resident beekeeper at the Belle Isle Nature Center, and they have a plaque dedicated to him there. Fast forward to December 2020, Pelak had a fully built bakery that started from scratch which he had to name.
"I knew I wanted something relating to bees in some way. I wrote down a variety of names, some good and not so good. The words "Sugar" and "Buzz" were in many of the names we were considering. Katie yelled "SugarBuzz" from the other room and it felt right," Chris Pelak said.
Vegan food can be popular with non-vegans as well. Pelak says, "I genuinely believe that vegan food is for everyone. I know some people may think 'Vegan cake? Ew!' but I promise if you give our products a try, you'll be pleasantly surprised. We get regulars who aren't vegan that come in just for those one to two items they are hooked on. As I see them walk in, I'm already grabbing their desserts. On top of that, the vegan community has really shown up for us. We wouldn't be where we are without all of them.
Mirror News: What is the best part of owning a vegan bakery?
Pelak: This is such a hard question to answer. Mostly, it's being around awesome people every day. The heart that each employee puts into their work never ceases to amaze me, and I'm always so thankful for everything they do. Also, the customers that come in, who don't realize we are an all vegan bakery, and then respond with joyous excitement when we tell them "Yes, everything is Vegan," are really special. It just feels so great when someone realizes they can eat everything here, and not just the one or two random things that might happen to be vegan at most bakeries and restaurants.
MN: How long have you been in this industry?
Pelak: Just under two years. I made a big change going from working in HR at a non-profit to running my own business.
MN: What products does your business offer?
Pelak: We offer everything from breakfast pastries, like cinnamon rolls, coffee cake, and Danishes, to cakes such as our Faygo Redpop velvet cake, and Chocolate Death Ray cake. But our best selling item is definitely our oatmeal cream pies. They are always delicious and fresh! Way better than the ones you buy at the grocery store. We opened in February, and at this point, we have sold over 2,500 of them.
MN: What are your favorite items?
Pelak: I'm partial to our cinnamon rolls. I've probably eaten more of those than anything else which reflects poorly on my waistline. Other than that, I really love our gluten free options, like our Snickerdoodle Chickpea Blondies and tiramisu cups.
MN: Why did you decide to open a vegan bakery?
Pelak: I've wanted to work for a vegan company for a long time. I was working for a great non-profit in Detroit called the Capuchin Soup Kitchen, and as much as I enjoyed it there, something inside was pushing me to do something more with my life that involved veganism and ending the exploitation of animals. So I started down this road, and there were a lot of bumps along the way. We signed our lease a month before COVID hit, and in big part, because of that, it took just over a year for us to open. I was too invested to give up on this dream. I changed a few things along that way during that year, found LaDawn Stuben, our Bakery Manager, and we took off.
MN: So, who is responsible for such yummy treats?
Pelak: The staff we have here, as I said earlier, is amazing. LaDawn Stuben moved here about a year ago from Arizona. She's been baking desserts for 18 years and has an encyclopedia of baking knowledge in her head. She's been able to take so many of these treats she's perfected over the years and veganize them in ways that are incredible. With the help of our assistant bakers and bakery clerks, she has created magic, which is why we often refer to her as our "Pastry Wizard." MN: What do you think of the Detroit vegan scene?
Pelak: It's honestly amazing! We have so many amazing options and they are growing. I'm a moderator for the Vegan Detroit Facebook Community where we have almost 11,000 members! The demand for vegan options keeps growing and growing, and I think it's going to mean more opportunities and more options for southeastern Michigan as time goes on. I've been inspired by those that came before me to the scene, like Amber from Cacao Tree, Karen at Nosh Pit, and Pete at Chili Mustard Onions, among many others. I can't wait to see what comes next!
SugarBuzz Vegan Bakery is located at 23131 Woodward, Ferndale, MI and is open 10am - 5pm Monday - Thursday, and 9am - 6pm Friday -Sunday. More information can be found at: sugarbuzzveganbakery.com.