Student Shares How She Overcame Significant Odds to Find Success at HFC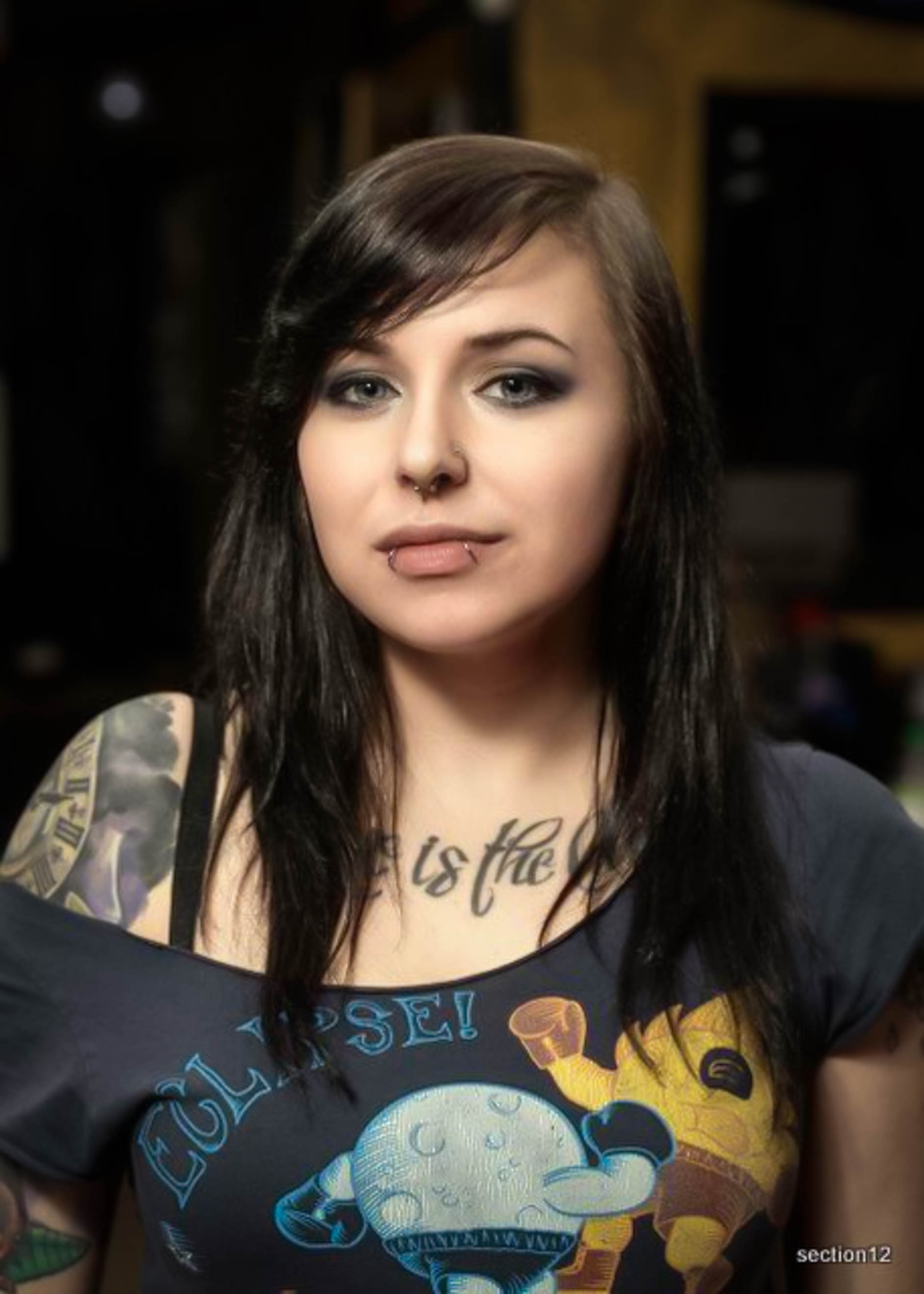 Photo courtesy Ashley Trent
Ashley Trent is the new communications manager for the Henry Ford II Honors Program at Henry Ford College in Dearborn, Michigan. She designed the new logo and will be developing new merchandise.
Mirror News: Where did your journey of loving graphic design begin?
Trent: In the year 2000, I discovered that you could make your own website with GeoCities. So, I got really into building websites. I was like twelve so they were silly. I was really into it but then I realized I needed a logo and then that led me to logo makers, and I wasn't really satisfied with what was available, again 20 years ago. That led to my interests in the greeting card making programs and any programs that I could do on the computer.
MN: When did you know that graphic design was what you wanted to do for a living?
Trent: After I got my GED I enrolled in Devry University for graphic design and my heart wasn't in it. I couldn't focus. Between my anxiety and my PTSD not getting diagnosed until six years later, I was going nuts and I was having panic attacks all the time. I couldn't do school. I decided school wasn't for me and stopped going.
MN: When did you decide that you would try education and graphic design again?
Trent: I ended up trying to go to college two more times but every single time something huge would disrupt. The second time that I tried, my dad passed in 2010. I kind of dropped off there. I got a phone call from a friend who said, 'I'm at this tattoo shop and they really need a website, they said they'll pay you, do you want to do it?' and I said "Yeah!" So I ended up doing the site for them. I tried to go back when I kept getting these requests to make more and more interesting things like a banner for my grandfather's 90th birthday. I tried going to Macomb Community College. At this point I had gone through a lot of therapy, I'd found meds that work, I'd been diagnosed with fibromyalgia which is another reason I wasn't able to go through college. I gave up on the idea that I was ever going to be successful. Between abuse and all that, I thought that I was just going to wing it before I die. My son was born in 2015, and I could no longer give up. So I played mommy for a while and then I said I'm going to go to school and live with my aunt so that she could help with the baby. I went to Macomb and was inspired by Bill Tite. My aunt and I had a disagreement so I moved back to Livonia from Sterling Heights and could not continue at Macomb. After the stuff with my aunt, I gave up on myself for a while.
MN: What made you get back up on your feet again?
Trent: I was given an opportunity for an office job and was really actually doing it. Getting this job was super cool to me because I was like, "I AM capable of something,' and I started to get my spark back. I started looking into college and in December of 2018, one of my friends contacted me and asked me to make a memorial sticker design for his grandfather who had just passed. He wanted things that looked like Harley Davidson and that was my turning point. When a friend hit me up and asked me to do this and wanted to give me this money, it blew my mind.
MN: Did you continue to design logos for people? Can you share some experiences you had doing so?
Trent: My son's sister's mom said to me, 'Someone asked me to design a logo and I don't know what I'm doing. Could you help me?' She showed me what she had and I ended up remaking it. The logo was for a company that makes products of flavored oil that contains THC. This ended up being what I designed. I took a picture of the product and got to play a lot. It was so fun. When I look at this now, I'm like, "this is terrible, I'm embarrassed." The next thing that same girl asked me to do was to remake a website for her husband's fence company: Frank's Fences. He had gone through an agency to make him a website and she asked if I would redo it. The writing was terrible- it was not well done, the colors didn't make sense- it was just absolutely horrible. I said "I'm gonna do this whole thing over again." This ended up being the logo I made for Frank's Fences. I have a lot of Michigan and Detroit pride, and so does Frank. I wanted to try something different since I felt like the Southwest Purity one was off. This was my first branding experience. When I made Frank's Fences this was when I was like- branding is my thing. I started realizing that everything that I'd done for graphic design my whole life was branding; the platforms I used, that was personal branding. I was creating that person's personal brand. I ended up getting a job at a tattoo studio and I ended up doing their logo but then- COVID, so everything shut down and I ended up doing nothing and I was just like, "You know what, I'm going to college. We don't know how long this is going to last and I don't want to go nuts, I want to advance myself, I now know what I wanna do and I'm already doing it. I want to at least get a degree and see what happens." I remember when I was filling out the application to join Henry Ford and was thinking that I'm just gonna keep my head down and pass all my classes. I applied for the fall semester of 2020 and I got super pumped.
MN: What made you want to be part of the Honors Program?
Trent: In my first semester, I got an email from the Honors Program director saying I've been referred- I don't know who referred me. I guess the Honors program was switching hands and they asked me and I said, "yes, send me an application." Two months went by and I didn't get anything. I emailed back and Dr. Hazlett replied back saying it was too late. I then got an invitation to join PTK and thought, "Okay, I'm going to apply." I did, and I got accepted. In the winter semester, Angela King referred me and I filled out the application and sent it in. Dr. Hazlett reached out to me and said we should schedule an interview. We did not get around to scheduling one. The PTK Induction happened at the end of the winter semester and Dr. Hazlett was a speaker there. Being who I am, I kept talking and had a lot to say because there were inspiring speeches and so I got a DM on Zoom from Dr. Hazlett that said, "Why haven't I interviewed you yet?" I guess sharing my thoughts in the Induction Ceremony got me into the Honors Program.
MN: How did you come about redesigning the Honors Program logo?
Trent: Dr. Hazlett and I started talking about his vision for the program and I had my own ideas and this was in the space where I was supposed to be interviewed to see if I'd be accepted into the program and I'm already talking about future plans. I don't remember how it came up because we were fanning ideas back and forth and I was super pumped and was like I'll make a new logo.
MN: Talk about your process of redesigning the Honors Program logo.
Trent: We went through a questionnaire that I asked every client about their business and it helps my clients think about their business in a way that they haven't before. Dr. Hazlett sent me the old logo and I didn't feel that it was up to snuff. The lake looks like a dinosaur screaming at its own tail. The lake is also a tree and I guess that's a campus map in the middle. That doesn't look like Dr. Hazlett's vision. I stuck with the tree because of the symbolism. In every religion and culture the tree is the giver of life, it creates the oxygen we breathe, growth, the changing seasons. There's so much symbolism in the tree. I got to work and pulled up the old logo and looked at our current school logo with the road. So then I wanted to keep the tree and consider the Henry Ford College current logo, I wanted to incorporate the actual name of the program and the four wisdoms that Dr. Hazlett invisons; Fellowship, Opportunity, Honor, and Knowledge. I chose the colors I used based on the old Honors Program logo; gold and blue. The blue was Henry Ford. Their secondary color was the grey of the road- I lightened it so the image would be dark. The silver circle inside is the road and the tree is our growth. The road to that growth is the four wisdoms and the branches reach out to them and the gold in the middle is the leaves. Leaves are usually gold during transitions, and college is a transition. Henry Ford College is at the roots of the tree so this very much encapsulates the Honors Program vision without being super in your face about it. I am so proud of it.
MN: You've proved that even with hardship and a difficult past that you can become successful once you find the courage to stand again, and now you are being given the title "Honors Communications Manager." What are your plans for the future holding this title?
Trent: My next step is to work on Honors swag. As many Honors students know, I created a survey to find out what kind of items everyone would like because college stores always have the same generic stuff and the shirts are always men sizes, or unisex which is infuriating. I want that input and to know what you guys want to wear to represent this important part of their lives that they could keep forever. I plan to design merch swag that people actually want to wear because we are proud of our nerdiness. For the merch specifically I'm going to make a website for HFHonors, and initially it's going to be a place to go buy merch and then later I plan to turn it into something bigger. The Honors Program is a community of like minded individuals and on a less tight scale, so is college in general. This is our community where we are improving ourselves on purpose every day and expanding our breath of knowledge and that road leads to happiness and honor. This whole thing is our big project. Dr. Hazlett being in charge now is such an exciting time to be a part of it because he has such a big vision of bringing life back into the concept. No one will know how much meaning there is of being a part of the Honors Program if we don't show them.
For information on how to apply to the Henry Ford II Honors Program, go to: hfcc.edu/academics/programs/honors-program. For information on upcoming changes to the Honors Program, including launch of the new Honors Program website and where to purchase merchandise with the new logo designed by Ashley Trent, contact the director of the Honors Program, Dr. Adam Hazlett: ahazlett@hfcc.edu.
Previous Henry Ford College Honors Program logo

New Honors Program logo designed by Ashley Trent