Priceless Art in Storage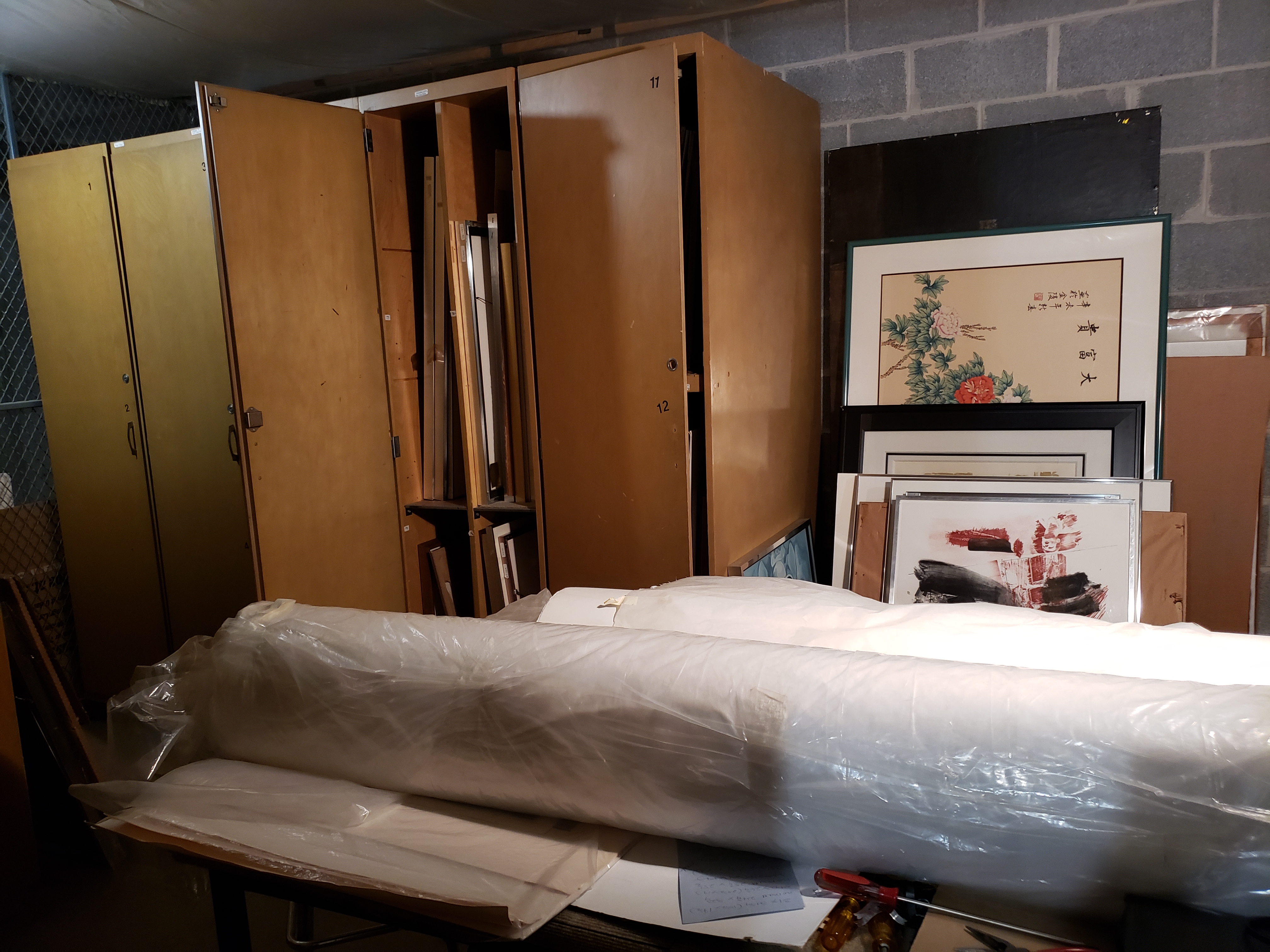 Henry Ford College art collection in storage in the basement of the Fine Arts building "F."
In many of the buildings at the main campus of Henry Ford College in Dearborn there are paintings, prints, and sculptures strategically placed that perhaps do not get the attention they deserve.
The collection of art at the college was started in the 1950s and continued until the mid 1980s. Occasionally art is donated, or loaned from traveling art collections, and a good portion of the art hanging on the walls around the school are artist made prints of limited makes. Art collections provide a multitude of benefits for colleges, they are used for teaching and they raise the prestige of the institute that owns it.
Chair of the Fine Arts department and director of HFC's Sisson Gallery Steve Glazer said, "I became aware of schools having permanent art collections when I was in graduate school, working on my Master of Fine Arts at Indiana State University. One of my art history classes had watched the film on one of Christo's projects, and we were told that the library had a Christo piece on permanent display that belonged to the school. I think it was probably later that day, or soon afterwards, I made my way over to the library, and sure enough, there was one of Christo's studies for a wrapped building on the wall. (Christo never accepted public money for his very public works. He raised all the funds himself by selling his preparatory pieces, the film rights, etc.) Having learned about Christo in undergrad, seeing the film on a different project, I thought it was so cool that the school I was attending actually owned a piece of his! This was really inspiring."
Most of the artists that are a part of the collection are world renowned artists. Though some of the pieces are prints, they are limited prints often made by the artists themselves. Or in some cases, especially with the sculptures, one of a kind pieces. Some of the artists within the collection are Chuck Close, a painter, and Kathe Kollwitz, an expressionist.
Charles "Chuck" Close was an American artist whose specialty was in painting, visual arts, and photography. His most known styles of art are his realistic and abstract portraits made with individual squares of paint. Within the HFC collection is one of his self portraits in a frame hanging in the MacKenzie Fine Arts Building "F" right across from the ceramic room. Look at it closely then move back away from the painting to see how it changes.
Kathe Kollwitz was a German artist who specialized in painting, printmaking, and sculpture. Her work started out as Realism and became associated with Expressionism. There are three prints of hers within HFC's collection: "Zwetretene," "The Conspirator," and "The March of the Weavers." The print of "Zwetretene" is on the left of the Two Dimensional Design and Darkroom Photo classroom F-216. While "The Conspirators" and "The March of the Weavers" are on the left and right of the Art History classroom F-217.
Art collections don't care for themselves. There has to be a caretaker to make sure that all pieces are kept in museum quality condition. A number of professors have been entrusted with this duty since the art collection began, and six years ago the care of this collection was taken over by Professor Grace Serra.
Serra, who has been an adjunct with HFC for over 30 years, has been in charge of the care of not only the collection at HFC, but also the Wayne State University art collection. With a Masters in Arts Administration and in Painting, Serra is well qualified to curate and add to these collections.
Serra said one of the hardships is determining, "Do we keep these pieces in the basement or do we bring them out where the students can see them?" This struggle is constant. The pieces that are currently owned by the college are on the same level of worth and social impact as those presented at the Detroit Institute of Art, but they cannot be kept in the same level of preservation. However this doesn't mean they shouldn't be displayed or appreciated. Deciding which art goes in each building, Serra takes the time to set a feel for what the fields of study are studied there and what pieces of art fit. Some of these pieces are even brought up within classes and can be then viewed by students on their own time or the teacher may bring them out for students to study.
Art student Paige Deon had to learn to appreciate the college's art collection. "I didn't appreciate the HFC art collection until I took History of Modern Art. My professor was Steve Glazer and he made sure to talk about certain pieces the school had as they came up in class," she said. "He was really passionate about what we had hanging up just outside of the classroom; it helped me get more excited to learn about older art as well. It was also much different getting to see the original prints in person opposed to just on a computer screen. It was like we had a mini art museum right in our school. It also really helped me pick up the material we were learning in class and its information I still remember today."
With the Reuther Liberal Arts Building "K" closed and more students being taught inside of buildings they might not have gone in before, there is more opportunity than ever for these art pieces to be seen and explored. Each of the buildings on campus has at least some if not several art pieces from the college's collection on display. These pieces are inspiring and intended not only for art students but for anyone who takes the time to look.
Some other prominent names in the college's collection include: Claus Oldneburg Robert Rauschenberg Tom Wesselman John Cage Chuck Close Phillip Pearlstein Reginald Marsh Richard Lindner Fairfield Porter James McNeil Whistler David Hockney Kathe Kollwitz Francisco Goya Larry Poons Peter Voulkos Jim Narawa (prominent Detroit artist, retired from WSU) John Hagerty (prominent Detroit artist, retired from WSU) Tom Phardel (prominent Detroit artist, retired from CCS) George Bellows Jim Dine Ellsworth Kelly George Roualt (major Fauve artist along with Henri Matisse) and others...