Henry Ford College Welcomes JJ the Mime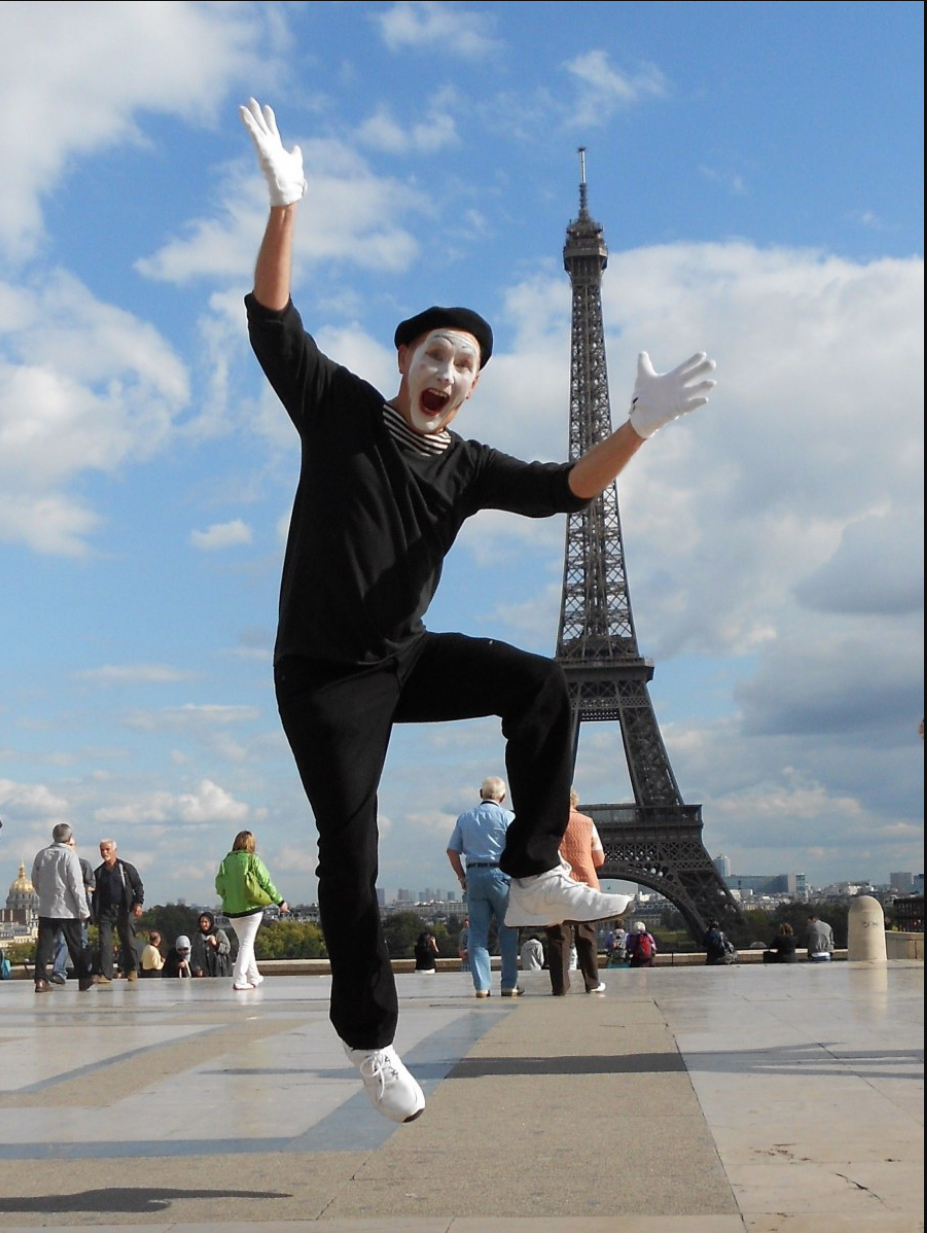 James Jones, American Deaf Mime Artist performs in Paris for the first annual World of Mime honoring Marcel Marceau. September 22nd, 2011. Photo courtesy JJ the Mime.
On Sunday, November 7, 2021, the American Sign Language (ASL) Club at Henry Ford College in Dearborn held a storytelling program showcasing JJ the Mime. President of the ASL club at HFC, Zynab Altimimi, with ASL instructor Jennifer Stewart helped arrange the event, which included an American Sign Language interpreter. JJ the Mime also signed and spoke for himself.
Before performing, JJ shared aspects of his personal life and reasons for beginning a mime career. James Jones grew up in Overland Park, Kansas. He was born deaf but can hear slightly with a hearing aid. He graduated from the National Technical Institute for the Deaf (NTID). Jones's first time participating in a talent show as a mime was at age ten. He has toured as a mime performer since 1977. Jones's favorite mime role models are Red Skelton and Marcel Marceau.
Jones's wife is also Deaf, and they have been married for thirty-two "wonderful" years. Jones has two daughters. His oldest daughter is a certified national Deaf interpreter and is married with a son named Xander. Jones makes YouTube videos with Xander and teaches him how to mime.
Jones's other daughter graduated with a master's degree in speech pathology. After expressing adoration for his family, Jones shared a picture of his first time putting on mime makeup in 1977. Jones explained that he did not have on any makeup during the Zoom virtual performance for HFC, because he only uses it on stage. There is no talking/signing during his performances: The white makeup and white gloves allow the audience to easily see hand movements and facial expressions.
Back in the early 1960s, comedian Red Skelton had a popular T.V. show when Jones was growing up. Jones said it was the only television he watched because Red Skelton pantomimed. Jones was raised orally with no sign language and had hearing aids, so he was really "fascinated" with the show. Jones used to imitate Red Skelton to the joy of his classmates, and that's why his teacher asked him to be in the school's talent show. Marcel Marceau was already famous in Europe. However, Marceau obtained fame in America because Red Skelton invited him on his show.
When Red Skelton visited Kansas City, Jones had the opportunity to meet him in person. One month later, Marcel Marceau visited also, and Jones met him too.
In Paris, France, Jones was the only and first Deaf American representing the United States at the First World Mime Day on Sept. 29, 2011. Then, he traveled to Bordeaux, France and performed for World Deaf Day. Jones performed at different Deaf clubs in London, England the next year. Jones explained what mime is. It is a non-verbal communication like American Sign Language using facial expressions, body language, and gestures.
During his HFC Zoom presentation, Jones taught viewers mime techniques. His first example was being in a glass box. Jones stressed how important it is to keep your hands flat while doing this. It is not that easy, because your hands must make a slight vibration. He demonstrated how hands vibrate on objects by using the wall behind him. People typically don't pay attention to the body, but as a mime you must study every movement closely. Then, he mimed climbing a ladder. It is vital to use the whole body because you must appear as if you are really climbing one. Jones showed what beginners do wrong versus the right technique. My favorite of the several techniques he demonstrated were climbing a rope and throwing and catching a ball which looked so realistic.
After his presentation, JJ the Mime began his actual performance for the HFC audience. The first set was one JJ the Mime performed back in 1978. "Day at the Ballpark" was one of his first mimes. Before beginning, JJ shared that he wanted to be the first Deaf pitcher growing up. Interestingly, he played baseball from little league to college. He said it was not easy pursuing a professional career in the Major League, so he gave up baseball. He got into different sports for fun, such as golf and tennis. JJ dedicated his performance to his father who was a college professor, and to the late Jerry Lumpe who played for the Detroit Tigers from 1964 to 1967.
JJ performed "UFO" next. He asked the viewers to participate a bit and taught different techniques for flying objects.
JJ ended with "Butterflies are Free," a special mime poem dedicated to his mom, big brother, and mime friend Bernard Bragg. He explained that his mom gave up a high paying job to go back to college for a Master's in Deaf education. JJ's brother, Jerry, was the first person to help him learn his very first mime act. Bernard Bragg was the first American mime and he passed away about three years ago. He also taught different methods for mimicking butterflies coming out of a cocoon, caterpillars, big butterflies, and small butterflies.
After his performance, Jones told the audience about his close friend Chuck Baird. Deaf artist and actor Chuck Baird unfortunately passed away at age 55 in 2012. Jones said when he performs this set, he chooses audience members to participate. They pretend they are painting, and Jones "shows" the rest of the audience their paintings.
Jones has performed mimes hundreds and maybe thousands of times. He usually adds more themes to old sets if he goes back to performing them. If he needs to add an act for Deaf Awareness Day, he will.
JJ's favorite place where he traveled was to the Paris School for the Deaf. JJ performed outside in the courtyard with a lot of French Deaf students surrounding him. JJ was invited to perform in Bordeaux, France for World Deaf Day and in London, England.
When he performs for international events, Jones gets taught different ways to sign a word. JJ used to work as a Deaf program manager for a nonprofit organization called The Whole Person. He recorded interviews for many different countries, so that is how he learned different sign language words from other countries.
To prepare for a performance, JJ explained that it depends on the theme and how long his set must be for a show. He sometimes writes them on paper and records himself to perfect mistakes. Different themes can take "one day or one month." In all, his time on a set relies on what the set is.
More information on JJ the Mime can be found at: jjmime.com.