From Burundi to Baobab Fare: Restaurant Owner Shares His Journey to Detroit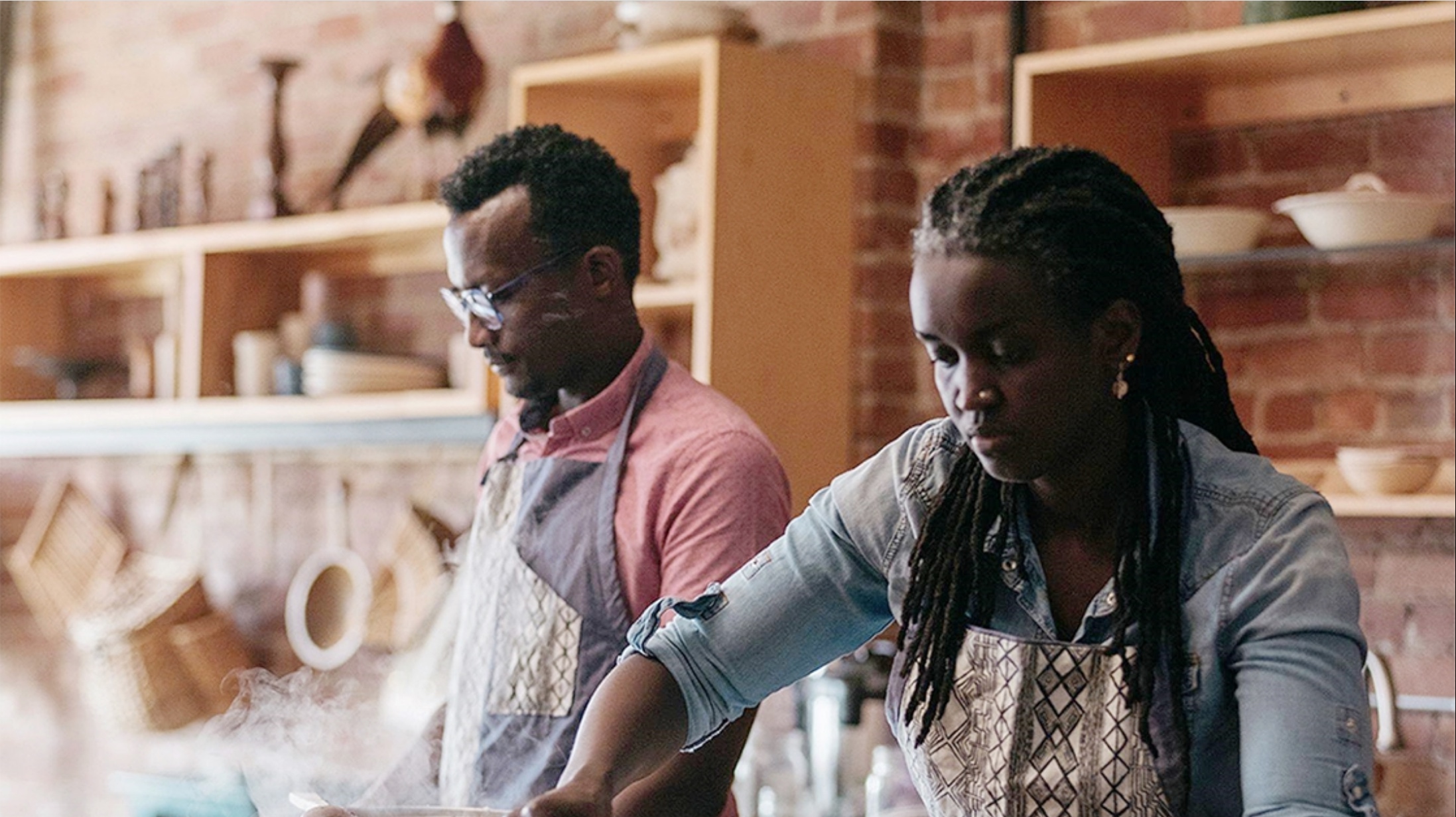 Hamissi Mamba, left, and Nadia Nijimbere draw from recipes from their East African homeland of Burundi. Photo courtesy Deadline Detroit.
On the corner of Grand Blvd and Woodward Ave in the New Center area of Detroit, Baobab Fare opened its doors in February of this year. Baobab Fare, named after the Tree of Life, is a restaurant, juice bar, and grocery store. Its owners and founders are the husband and wife team of Hamissi Mamba and Nadia Nijimbere.
Mamba and Nijimbere are both from Burundi, a country in East Africa. Burundi is one of the poorest nations in the world, and many of its people are suffering malnutrition, lack of employment opportunities and extreme poverty. "Sometimes you don't even eat three meals, you may have only one or two when you get a chance," Mamba said. "Sometimes I had to go to get water." Mamba recalls that the nearest source of clean water required "miles and miles of walking."
Despite the hardships, Mamba says he enjoyed his life there. "There is freedom, you can play a game in the street and nobody's behind you, you can do whatever you want," he said.
Mamba was born into a family of five, but he said the average number of children in Burundi is six to seven. Unlike many others, Mamba had the opportunity to get an education in Burundi. "I was among few who went to school and finished college," he said. "I had to walk miles and miles."
Mamba's parents were both business owners. "My mom owned a small restaurant and my dad was a coffee broker," he said. After graduating college, Mamba said it was not easy to find a job in Burundi. He was able to secure a job in sales in marketing, though, and was eventually promoted to a sales and marketing manager.
Hamissi Mamba met Nadia Nijimbere, a human rights activist, in Burundi and they got married in 2012. When Nijimbere was pregnant with twins, however, she was forced to flee the country. She fled to Michigan in 2013 and found refuge in Freedom House Detroit, a temporary home for asylum seekers. Freedom House provides housing, food, legal support, and other services to refugees from all over the world. Nijimbere's sister was living there at the time.
After two years and two unsuccessful visa requests, Mamba was finally able to join his wife and children in Detroit in 2015. Freedom House assisted him with his transition from Burundi to the United States, but the couple still faced hardships.
Even though both Mamba and Nijimbere had gotten degrees in Burundi, they had a hard time finding work in Detroit. "We couldn't get a job because no one would consider the degree we had," Mamba said. "We were failing the tests because we didn't have good English."
Eventually, they formulated an idea. "The idea was more about how we didn't have a lot of opportunities around," Mamba said. "We said, 'Okay, how are we going to create opportunities for our kids?' We couldn't really get the job that we went to school for."
With Nijimbere's cooking skills and Mamba's business skills, they decided to open a restaurant. The couple missed the foods of Burundi, and wanted to bring their culture to the city. The couple started as a pop-up restaurant and built up from there.
"That's where we started building our own community," Mamba said. "We were new here. The concept we were bringing was new. Everything was new." Mamba continued, "We needed to take time to convince people and then to see if people liked what we were bringing."
Mamba and Nijimbere were pleased with the results. "We started sharing our food and culture with people, and their response was good," Mamba said. They agreed they were ready to open for business in their own venue.
Despite the positive response from the public, Mamba and Nijimbere faced additional challenges in getting their idea off the ground. "Location, funds, all of those things were not easy to get together," Mamba said. Eventually, they were able to convince lenders to get the money and funds necessary to start. It took the couple three years to cultivate everything they needed. "That was three long years," Mamba said.
Mamba and Nijimbere were set to open their restaurant on May 20, 2020, but the COVID-19 pandemic caused a delay in the restaurant's kick-off. They were able to open Baobab Fare in February 2021.
When patrons enter the restaurant, Mamba hopes they feel like they're traveling. He says the concept and goal of this restaurant is for people to experience new things, hear different accents, and eat different flavors.
The restaurant has been successful since its opening. Mamba feels accomplished by the progress both he and his wife have made in their time since arriving in the United States. "We had just come here and had not had a professional job. Now we are hiring twenty-one people," he said. "It's an inspiration, it's inspiring for us and our kids."
Mamba hopes to give more young people a chance to work in his restaurant. Eventually, he wants to open more locations and give his employees the chance to own them. "We want to keep the business the way it is and give them ownership and prepare future business owners and leaders through us," he said.
Mamba and Nijimbere still visit Freedom House, where one of Mamba's sisters lives. He says Freedom House is planning on expanding. More information on Baobab Fare can be found at: baobabfare.com.
Information on Freedom House is at: freedomhousedetroit.org