Vault of Midnight Opens a New Detroit Location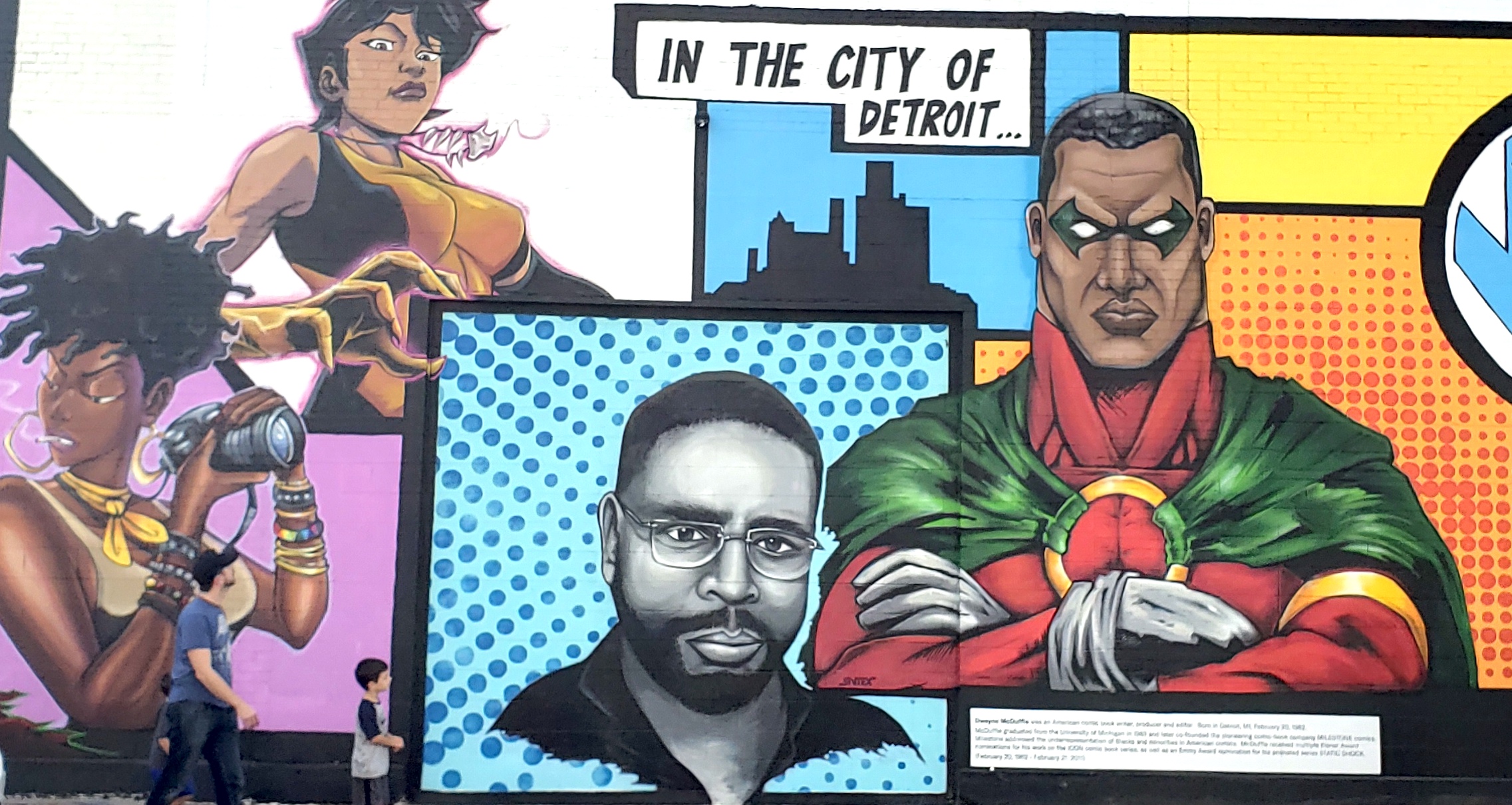 Mural on exterior wall of Vault of Midnight comic store in Detroit. Photo by Katherine Warden
Since 2016 there has been one iconic spot on Library Street in downtown Detroit to buy comics. Vault of Midnight moved this month to a larger storefront on East Grand Boulevard near the I-75 and I-94 interchange.
"This move has been a wild ride," expressed Vault Detroit manager Amanda Aquino. The move brought them from the hustle and bustle of downtown Detroit, where parking was expensive and limited, especially when the streets were crowded with each sporting event. The new location is an artist neighborhood in the historic Milwaukee Junction. With the move, Vault is able to have twice the room.
The new location seems to have benefited everyone, from customers to staff in a variety of ways. Customers get free parking near the store, a larger selection of comics, manga, table top games, and other new surprises. Several employees get to be closer to their homes. Vault has also taken advantage of the new location to sell art from local artists. Patrons can purchase original art from famous creators such as Paul Pope and Tara McPherson, as well as from Vault staff.
Vault Detroit commissioned a mural that spans the length of the building's street side wall. Created by local graffiti artist Brian Glass, who goes by his artist name Sintex, and visual artist Nicholas Smith, whose artist name is Nic Notion, the mural focuses on African American comic book creators, such as Dwyane McDuffie, as well as African American and minority comic book characters. The mural has iconic figures such as Ms. Marvel, Vixen, and Icon. Visitors can also find a mural based around the characters from Saga at the front of the store.
The Vault team has had their hands full with building display cases to show off everything they couldn't before. "It's been a long and arduous journey," said Kienuwa Davis. "We've been really hammering away for the past two weeks. But it's been worth It."
Vault Detroit celebrated its grand opening on Oct. 2. The event featured local artists, vendors and gamers. Food was provided by the "Buddha" food truck, and music was provided by DJ Deadphone.
The Vault team marked the celebration with exclusive discounts, deals and freebies. The feeling of utter joy flowed throughout the event. Parents shared their favorite comics with their children. Employees shared the comics they love most with first time customers.
Vault of Midnight at both its Ann Arbor and Detroit locations will be hosting its annual "Vault of Halloween" on Sunday, Oct. 31. Costumed customers will receive 10 percent off their purchases. There will also be free candy and giveaways.
Vault of Midnight - Detroit is located at 2857 E Grand Blvd, Detroit, MI 48202. Open 11am - 8pm, Sunday - Thursday, and 11am - 10pm Friday and Saturday.
Share it now!