Struggles of a Working Henry Ford College Student During the COVID-19 Pandemic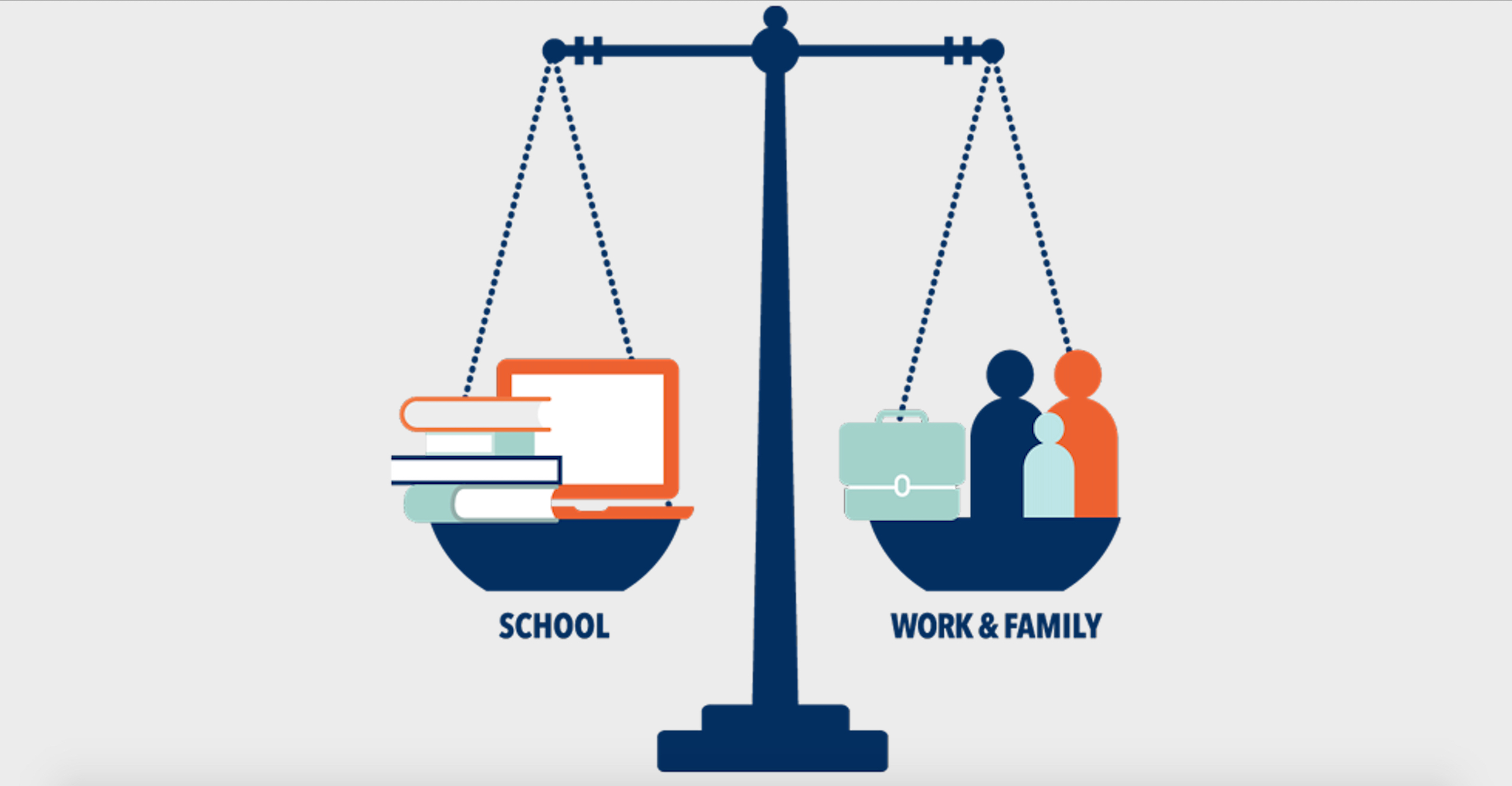 School Work Family Balance stock image
The ability to balance a job, family obligations, and personal relationships all while juggling college studies can make finding time seem impossible, especially when each one of these aspects of one's life requires its own attention and demands that must be met. I struggle with time management and even after working while in school for quite some time now. I often feel like there isn't enough time to complete everything and meet all my other responsibilities as an aunt, sister, and friend. In early March of last year when the World Health Organization (WHO) declared the COVID-19 outbreak a global pandemic, this drastically changed nearly every aspect of my life, especially how I managed my schoolwork and my day-to-day tasks as a healthcare provider.
Adjusting to this new way of life and remote learning was not an easy journey. Although the reduced need to commute from home to work was far more convenient, I struggled to keep up with the coursework and ultimately fell behind in one of my classes in my first year at Henry Ford College. During my first year at HFC, I also was beginning my new job as a Pharmacy Technician at Walgreens. The rise in COVID-19 cases in Michigan greatly impacted how I performed my job and the loss of staff required me to step up and add more work days to my already overwhelming school schedule. As a new employee, my goal was to make a good impression and I desperately wanted my boss and co-workers to like me. However, halfway through the semester I realized I made a terrible mistake and my grades were suffering because of it.
Miscalculating how much I could handle resulted in me failing this class, not to mention an increase of stress, lack of sleep, and poor diet that also contributed to my overall performance in my classes. This unfortunately forced me to make the unwilling decision to work less days. I was still working part-time, but rather than working four days a week, I went down to working only two to three days a week, which was much more manageable for me, but still was not ideal considering my home situation.
According to an article published by Mental Health America, "one study showed that 70% of college students are stressed about finances." Thankfully I never really had to worry about paying tuition because my parents have always been there to support me financially, but recently these circumstances changed when my mother lost her job. Adapting to this new change has been both emotionally and financially stressful. At this time, I was also contemplating my decision to apply to the Henry Ford II Honors Program because of my past struggles with balancing school and work, but learning of my mother's job loss is what prompted me to submit my application to the director of the honors program, Dr. Adam Hazlett.
Upon receiving my official acceptance letter from Dr. Hazlett, I was overwhelmed with joy and suddenly I felt like things were starting to turn around for me. Little did I know that being a part of the honors program came with one astonishing advantage; that my college tuition would be fully covered. To know that this is one less thing my parents had to worry about was such a huge relief and weight off their shoulders. Despite this uplifting message, I knew that the road to success was going to be challenging and I would have to work diligently on my schoolwork to maintain my status in the honors program.
Discovering new methods of managing my tight school schedule and demanding job without neglecting my family duties was detrimental to my success in college. According to an article on School-Life Balance by Johns Hopkins University, one skill that will fundamentally improve your productivity is learning how to effectively manage your time and these are some of the ways you can do that: "plan your schedule, make a weekly to-do list, prioritize your work, break large tasks into their smaller components, set goals and deadlines for projects, avoid perfectionism, and honestly assess the amount time you waste." I have adopted some of these practices into my own academic life and also in the workplace. Keeping my self organized has tremendously helped not only manage my time better, but also has helped me develop into a more well-rounded individual.
Additionally, researchers at Johns Hopkins University have also mentioned some ways of managing the everyday stress of a demanding career, school, and personal life that does not require one to make several sacrifices, but instead helps you to succeed at each one of these aspects in your life. Researchers suggest that some things to keep in mind to relieve this stress is by "not worrying about what you aren't doing and to stay focused on the task at hand, reward yourself for sticking to your schedule or completing your work before a deadline, and remember that you are only human and that nothing will get done well if you are emotionally or physically drained." Researchers also stated that it is important that you don't "focus on getting straight A's" and to learn how to say "no" when it's necessary.
After a year and 4 months of working as a healthcare provider for a retail pharmacy, I have learned that work space stressors and managing the pharmacy workflow go hand in hand. Much like managing my school work load and the stress that comes along with academics, I can not let this stress consume my life and let it steal more valuable time from my family, friends, and academic success than it already has. My productivity and quality of life have greatly increased since I included better ways of improving upon my organizational and time management skills, and I plan to continue to improve as I excel in my academic career.
Share it now!