Black Violin - Impossible is Possible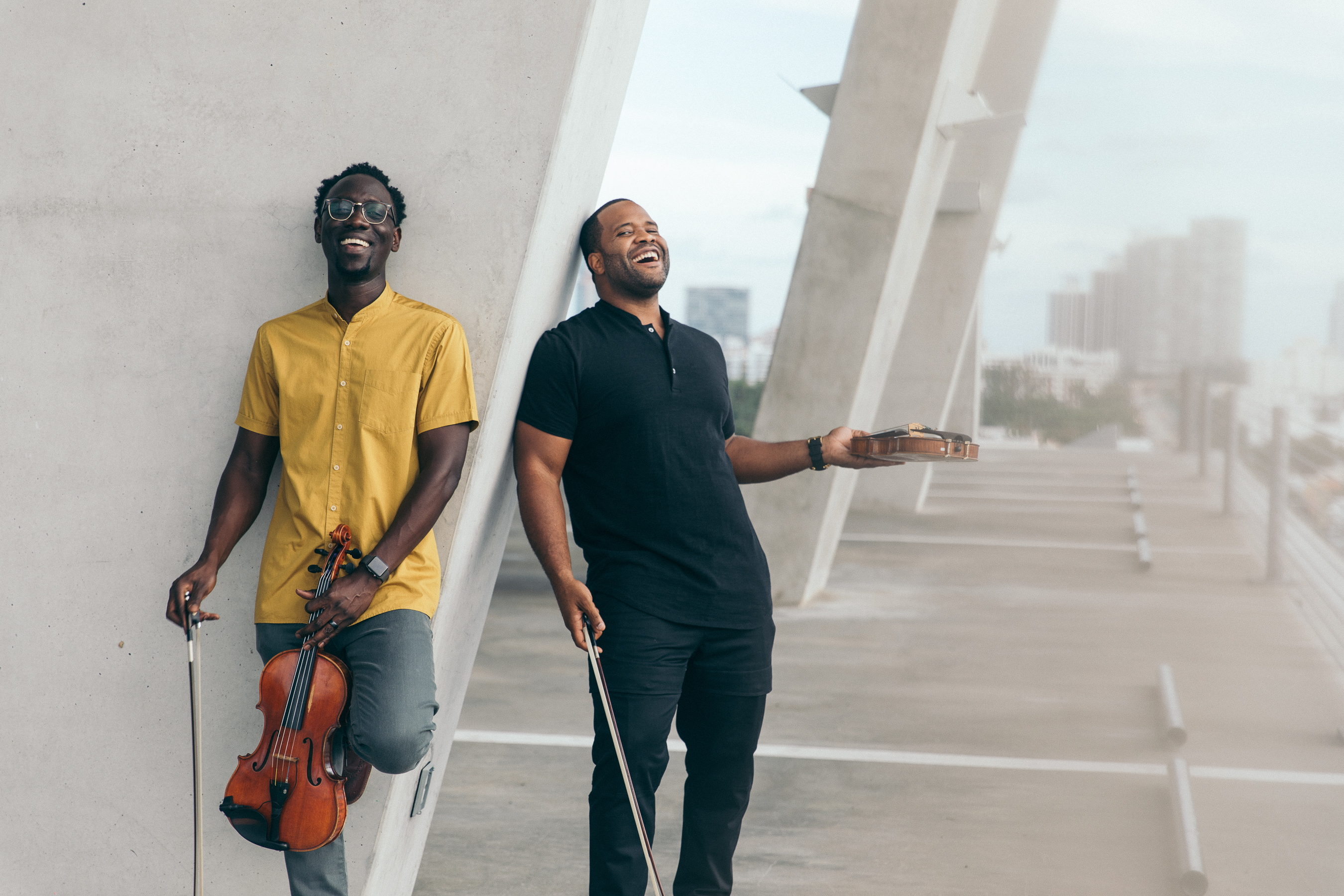 Wil Baptisite and Kev Marcus of Black Violin. Photo credit - Mark Clennon
Black Violin is a Grammy nominated musical duo based out of Fort Lauderdale, Florida. With Wil Baptiste on viola and Kev Marcus on violin, they are one part classical, one part hip-hop, and one hundred percent uniquely innovative sound.
Their 2019 album, "Take the Stairs," was nominated for a Grammy in the category of Contemporary Instrumental Music. Their most recent full length is a 2020 album called "Give Thanks," comprised of renditions of traditional Christmas music.
In 2019, Black Violin performed on The Today Show during their 3rd Hour Today Artist's Lounge segment with Al Roker; and in 2013, they performed at former President Barack Obama's "Kid's Inaugural Ball" in Washington, DC, alongside the Soul Children of Chicago youth choir at the Walter E. Washington Convention Center.
Black Violin's impressive professional accolades should not overshadow their important educational philanthropic work. Wil B speaks on what Black Violin considers to be a lucky position where they can do their part to enable the next generation of musicians, "Yes, we understand the level of the power that we have, and the influence that we have, and how kids see us, and they see themselves, and in turn they believe that they can achieve anything because of it, so it's a very special power to have. We try to be really appreciative of it, we also don't shy from it."
The Black Violin Foundation raises funds and donates scholarships to young musicians every year for things like private lessons, summer music camps, and college courses. It's a laudable effort from a guy who understands how life circumstances might prevent an otherwise interested young person from experiencing the pleasures of playing music. Wil B comments, "Honestly, a lot of people have not had the opportunity to be introduced to this instrument, which is often the case. So that's one thing, we'd like to see this art form equitable for all, so we try to help by giving out instruments and giving out scholarships to black kids and people of color who want to be included but just don't have the means."
Wil B's fortuitous introduction to the wonderful world of orchestral music is similar, "There I was, walking in the first day of orchestra class and I'm looking at these wood instruments, which I've honestly never really seen a violin up close before. So, I was stuck in the class for like two weeks, it was like a summer program, and I just embraced it. I picked up the viola and never really put it down, you know, 27 years later I'm still doing it."
Twenty-seven years is a long time to dedicate yourself to a passion, but he hasn't traveled the path alone. He speaks on meeting his Black Violin collaborator, Kev Marcus, "We met in high school in Fort Lauderdale, Florida. Our high school is called Dillard High School." And on Black Violin's humble beginnings, "So, after high school I went to college, I went to Florida State. After that I came back down and started working with Kev, we always kept in touch, and started just really producing creative music in a way that no one's ever heard. You know, incorporate classical music in a way that no one's ever heard."
Black Violin's most listened to song on Spotify is called "Stereotype," a social commentary on race relations in America with more than 2.5 million plays. "I think one of the things that we have to do as a society is just try not to judge individuals based on what we think, or what we were told, about a certain type of demographic of people. It's just the world we live in, unfortunately, particularly in this country. When people see me, they assume one thing, and that's kind of what I was talking about, you know, not judging a book by its cover. As far as me if you see me, then you can think whatever you want to think, it really doesn't affect me. If you would like to know me for me then ask questions, speak, don't assume."
"Stereotype" features spoken word to propel this message, but Black Violin is often instrumental music without lyrics. Wil B explains how sometimes the medium is the message, "I think for us it's just about the feeling of that music and our music is always evoking hope and inspiration even if it's lyrics or no lyrics. I think I guess the advantage of an instrumental is there are no words so you're free to kind of play however you want to play, but at the same time the notes will evoke a certain emotion that will tell a story. So regardless of if it's instrumental or if it's words it'll say whatever you want it to say."
Black Violin's song "Impossible is Possible" also compellingly conveys an empowering message. The picturesque music video depicts a young black man overcoming adversity to achieve extraordinary things. But sometimes, the farther from shore, the deeper the water, and it is not always safe being so far from home. Wil B talks about his experience being a young black man in the world of orchestral music, "You know, most of the time, being the only black kid in this orchestra or that orchestra, particularly when I went to college and started playing outside of high school. At the high school we went to, most of the kids looked like us, but when you kind of drifted away and started advancing, you started realizing how different it is outside of the school."
Black Violin by its mere existence stares societal expectations in the face and doesn't flinch. Their entire discography dares to ask the question, who claims to have the authority to say what a person who plays orchestral music is supposed to look like, and what that music is supposed to sound like? Wil B says, "there's not a lot of people that look like us that're playing these instruments. For us, we didn't think nothing of it, you know. I think it's the same thing as maybe someone that is of color that goes into an arena where there aren't a lot of people that look like them. There's just navigating those waters, you know, and it's not always a safe space to be in, you know, when people are just kind of looking at you or feeling a certain way about what you're trying to do, and what you're doing. But, we didn't allow that to affect us, we didn't put the instrument down because of it, we pressed on and kept playing."
As for the future, Black Violin's is looking bright. They're back on the road after many postponements due to the COVID-19 pandemic and commented on finally embarking on their "Impossible Tour": "it feels good to be back on the road again. It's almost like, you know, someone who you were really really close to that you haven't seen in about a year and a half. So, it feels good." Wil B teases about future projects, and dream collaborations, "I think one of the dream collaborations is probably someone like Stevie Wonder." And about what we might expect from them next year, "Maybe next year a song or two, a single or two, we'll see. We're going to just keep pressing on and keep doing what we do."
Black Violin will be performing on Saturday, October 30th, 2021, at the Ford Community & Performing Arts Center in Dearborn, Michigan. Tickets are available at www.blackviolin.net.
Share it now!