Shang-Chi and The Legend of The Ten Rings: Hollywood Asians of a Different Color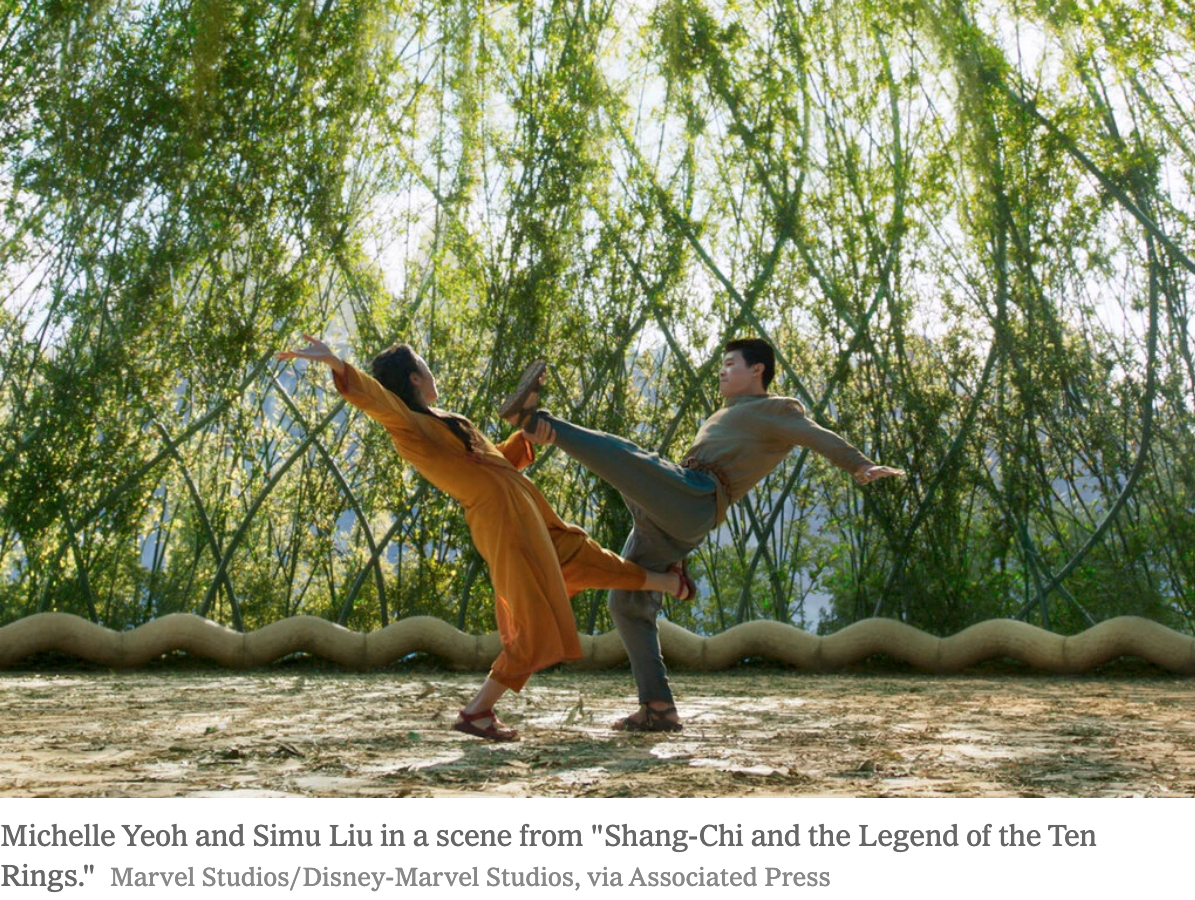 The newest entry to the Marvel Cinematic Universe, "Shang-Chi and The Legend of The Ten Rings" is another delight from Marvel Studios. Fantastic cinematography and an emphasis on beautiful visuals make this film stand out. While it does feel like it's trying to live up to the success of other Marvel films, it is far from disappointing.
"Shang-Chi and The Legend of The Ten Rings," directed by Destin Daniel Cretton, follows the story of Shaun, a Chinese immigrant who performs valet services with his best friend Katy. After being attacked by a group of men from an organization known as The Ten Rings, Shaun is suddenly forced to face his past in his old home in China. Revealing the danger to Katy, she decides to come with him, and the two leave for China.
The film follows the same general Marvel movie format, which there is no shame in, because it absolutely works here. It does seem to have less fighting sequences and heavy action scenes than its predecessors. This, however, is a welcome change, as Cretton uses the time to focus on creating beautiful visuals that just wouldn't work in other Marvel movies. The Chinese setting and background allows for lush, memorable imagery. The fighting sequences are precise, acrobatic and ballet-like while being just as dramatic and intense as expected.
The film features an almost all Asian cast with Simu Liu as Shang-Chi, Awkwafina as Katy, Tony Leung Chiu-Wai as Wenwu, Meng'er Zhang as Xialing. Leung's Wenwu is a study in subtle complex emotional acting. Awkwafina's performance stands out throughout the movie, being one of the best comedic reliefs in not just this film, but possibly the Marvel franchise. Zhang's performance is quite notable as well, taking control of the role, she refuses to let Xialing simply be a sidekick. Liu's performance as Shang-Chi, while notable, was not quite as memorable as the performance of the previously mentioned actors, but that's hardly an insult.
It's worth noting that the Asian cast has sparked a similar fire that the black cast of Black Panther (2018) did. Raking in $71.4 million in its opening weekend, it's clear that the world is looking for more Asian representation on screen. Initially, when it was released there was a fear among studio executives that "Black Panther" would not perform well globally due to the majority black cast. Its widespread success showed that the world craves more black entertainment.
Shang-Chi is positioned to have the same lasting effect in Hollywood. The film has already made a mark and is shaping the future of how Hollywood portrays Asians. Compounded by the fact that this cast is in a Marvel superhero film, one of the most popular genres at the moment, things are starting to look up in terms of Asian representation on screen. While there may still be a long way to go, it's a good start.
"Shang-Chi" also attempts to address the comic book characters' racist origins. Most notably, Shang-Chi's father, Wenwu. Wenwu is a combination of characters throughout Marvel comics. Though different in the film, Wenwu revises the stock Asian villain, Fu Man Chu, a racist representation of Chinese culture licensed by Marvel in 1973. Fu Man Chu was presented as a power-hungry villain with dreams of conquering the west, all paired with inhuman yellow skin. "Shang-Chi" thus functions as a story of not only honor and family, but of reclamation.
Wenwu is not the stereotypical villain, and his memories of family life are some of the most touching in the film. "Shang-Chi" helps make audiences aware of the racist depiction of whites in yellow face. In one scene, Wenwu takes a dig at the casting of the Mandarin as a white man. Later, the Mandarin (Ben Kingsley) from Marvel Studio's "Iron Man 3," a white male charlatan in that film, makes a cameo appearance that is worth looking for.
In terms of pacing, the film holds its own, which is a pleasant change from earlier Marvel films. Most can agree that Marvel is an excellent studio and has put out many very successful films, but pacing tends to be an issue throughout the franchise. It is nice to see another film in the franchise that does not seem to struggle as hard with the issue. The scenes make sense and they flow well into one another, telling a deep and cohesive story that will definitely be remembered.
"Shang-Chi and the Legend of the Ten Rings" was released only in theaters without a streaming option, unlike the summer release of "Black Widow," with the hope that audiences would want to return to theaters.
The box office success of "Shang-Chi" suggests going out to the movies seems to once again be an American pastime. Lines were a bit longer than usual. Understaffing remains a large problem in the industry. Most did not seem to mind. Many in line just seemed eager to get back to watching movies in the theater. The multiplex theater where I saw the movie was packed, with most viewers at the time coming for "Shang-Chi." All in all, it really did feel like how things were before the pandemic had started.
Marvel Studio's "Shang-Chi and The Legend of The Ten Rings" is an important step forward for Asian representation in the media, and it is a wonderfully done one at that. Focusing on Chinese and East Asian culture makes the film stand out from the other Marvel films. While still containing the same feel as earlier films in the franchise, it tells a meaningful story with a majority Asian cast without relying on the usual stereotypes, giving the Marvel universe a much needed stir.
Share it now!