"WandaVision" Kicks off Next Phase of the Marvel Cinematic Universe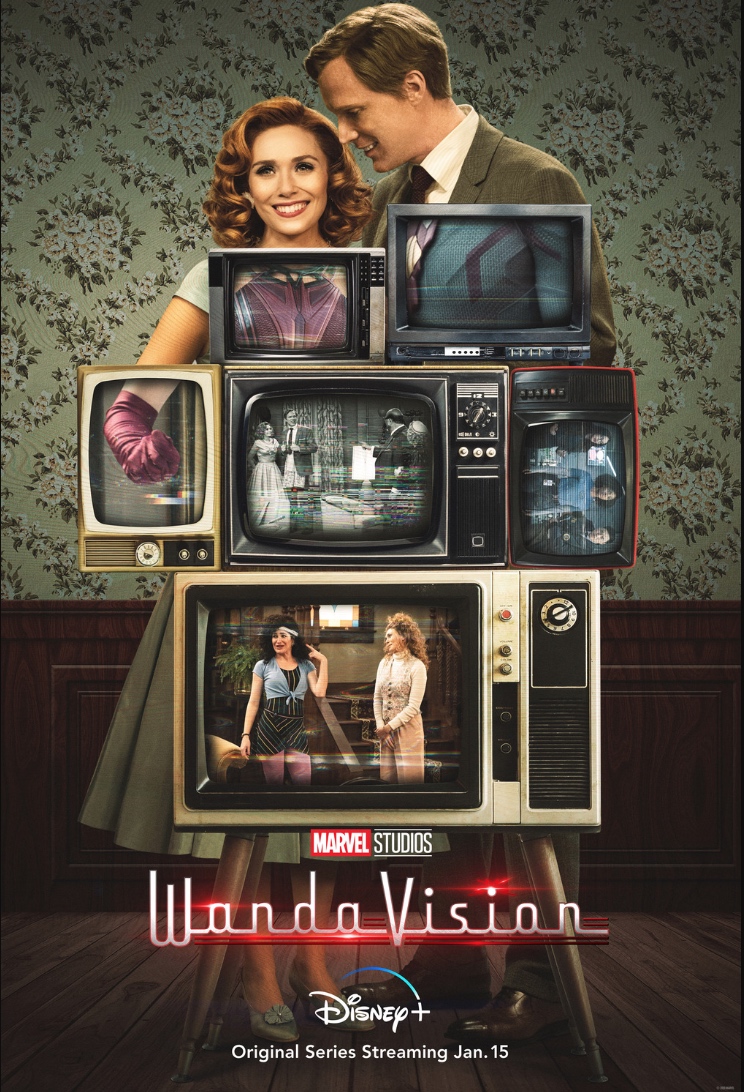 WandaVision courtesy Disney Plus
SPOILER ALERT! This review will contain spoilers for some aspects of WandaVision, so read at your own risk.
"WandaVision! WandaVision! WandaVision, Wa-WandaVision!" The start of Disney Plus's Marvel multitude of mini-series is "WandaVision." Where two of the Avengers, Wanda (Elizabeth Olson "Godzilla," "Red Lights") and Vision (Paul Bettany "A Knight's Tale" "The Da Vinci Code"), seemingly wake up in an idealistic world, but not everything is as it seems. This show is maybe one of the best shows that has been produced for television in a long time.
The series (9-episodes long) takes place only weeks after the end of the Marvel blockbuster movie, "Avengers: Endgame." Every episode is full of intrigue, magic, and "Easter eggs" (carefully placed Marvel universe and comic book references). The series is meant to be watched over and over again. Like a seven-inning stretch, episode 7 raises questions about what was seen in all previous six episodes. Starting with episode 7, there is an after-credit-scene, which fans of Marvel movies have come to expect.
"WandaVision" follows the characters of Wanda and Vision living through different eras of television sitcoms. They go through shows like: "Dick Van Dyke," "BeWitched," "The Brady Bunch," "Full House," "Malcolm in the Middle," and "Modern Family." In addition to Wanda and Vision starring in these spoofs of sitcoms, there are notable supporting characters, such as Anges, the nosy neighbor, who played by Katheryn Hahns ("Spiderman: Into the Spiderverse," "Parks and Recreation"); Jimmy Woo who was first introduced in "Ant-Man and the Wasp," played by Randall Park ("Fresh off the Boat," "Aquaman"); and, Darcy Lewis, formerly Jane Foster's assistant in the "Thor" movies, played by Kat Dennings ("2 Broke Girls," "Big Mouth").
WandaVision" makes particular reference to the comic book series"House of M."
"WandaVision" takes place in a variety of decades, from the 1950's all the way up to 2023. The actors not only wore the fashion from every decade, but their acting styles also mimicked what appeared in each sitcom that was being referenced.
There were also a variety of special effects, but not all of them in the way that people expect from a modern show. There was filming done from multiple still shot cameras, a style of filming popularized in the early days of the sitcom; there were objects hung from thin black wires to make them appear floating, how it used to be done before computerization. They even shot the full first episode in one take in front of a live studio audience, before switching the rest of filming to laugh tracks.
The Covid-19 pandemic created challenges with both filming and the editing of the special effects. Luckily before the pandemic hit and shut down much of the production, the cast and crew had filmed the first two thirds and some of the final scenes. However that still left a third of the filming and all of the editing and post-production left to do. The teams immediately began to work on post production of what was already there. The head writer, Jac Schaeffer, was able to fine tune and rework some scenes so that they not only fit the story better, but could work with the restrictions of the pandemic. This did mean that some scenes got cut or changed but over all the feel and the story stayed the same.
"WandaVision" has been the biggest change for Marvel. It's not like all the other superhero movies and shows where every scene is fight and drama. It was about growth and grief. But it was also a big transition for Marvel. "WandaVision" is the kick off for the next phase of Marvel's Cinematic Universe, laying the groundwork of what the rest of movies and possibly upcoming shows will entail.
Marvel announced that what happens in "WandaVision" leads directly into what happens in the upcoming Marvel movie, "Dr. Strange in the Multiverse of Madness." Those who don't have Disney Plus and so didn't get to watch "WandaVision" will not be left out. Director of Dr. Strange 2, Sam Raimi, has said that viewers will be able to enjoy it without seeing "WandaVision." While currently there are no plans for a season two of "WandaVision," Marvel has been known to find a way to bring back what fans want to see again.
Share it now!