Utopi-uhhh?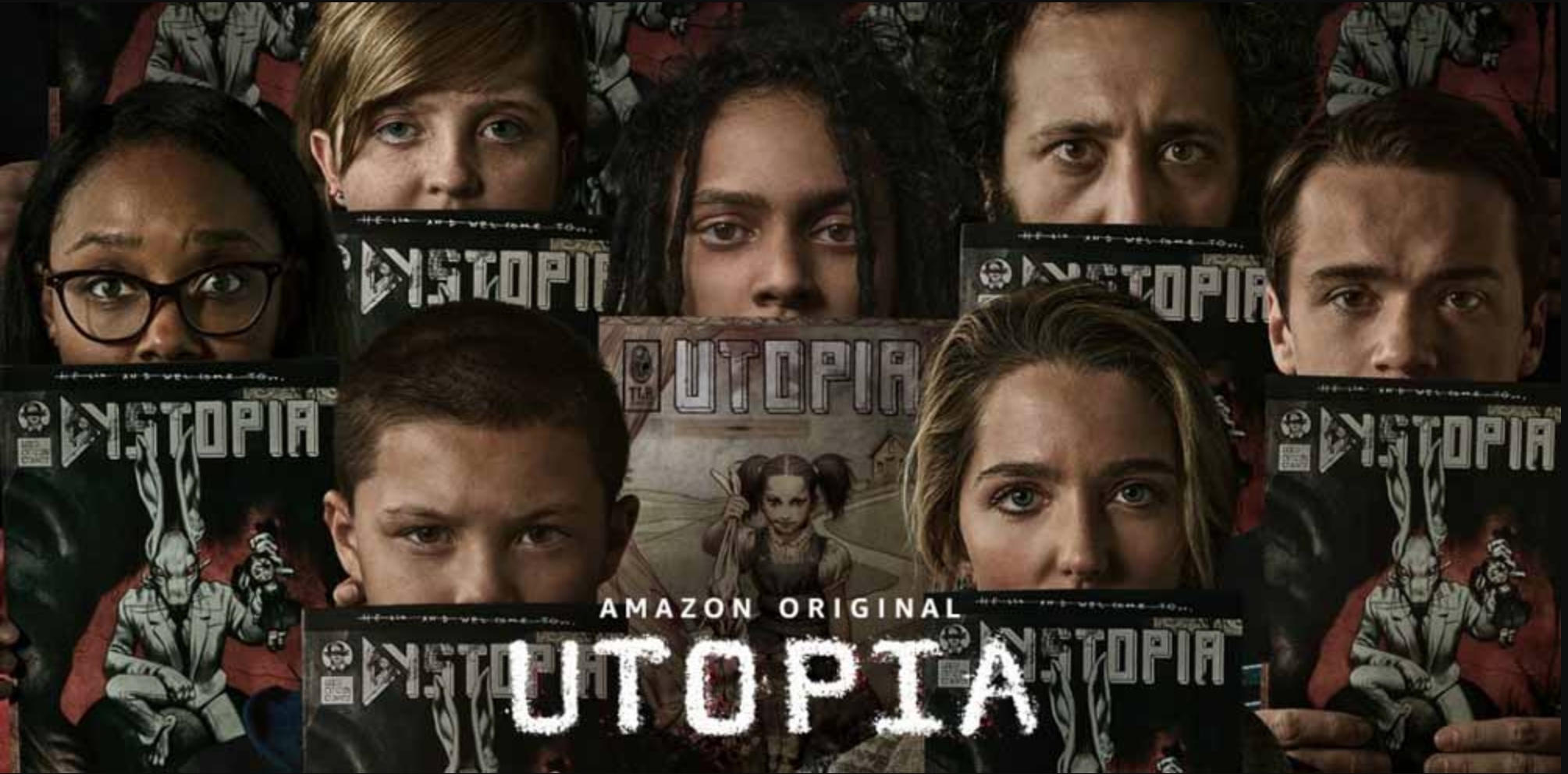 Utopia courtesy Amazon Prime
Amazon Prime's "Utopia" (2020) is an intense power ride from beginning to end. The quick pacing of the plot with even more sinister underlying issues looming beneath work in its favor. It also features various twists that, unlike many shows these days, are rather creative and unforeseen. However, the show has been criticized for being far too timely, and not in the good way. Strange acting and bad character development throughout makes it a bit tricky to stick with, but the action could be enough to have some viewers watching until the end.
"Utopia" is an American remake of the 2013 British show. The main plot of the show centers around a comic book that many believe has predicted various disease outbreaks in the past. A rumored sequel may contain the key to understanding an outbreak of "Russian Flu," a deadly disease taking the world by storm. What begins as a fun conspiracy theory among friends turns very real when they begin to be hunted by others who want to understand its secrets just as bad as they do.
Unfortunately, the show could not have come at a worse time; at the time of its release, the coronavirus pandemic had already taken the lives of over 700,000 people. This left a bad taste in many viewers' mouths. This was a massive oversight that the show was not able to recover from, as Season 2 has already been cancelled. The show also greatly emphasizes mistrust in one's government and the medical field in general. This was deemed too much by many viewers, many of them saying that it mirrored what we were seeing in reality too closely, only not in the way the show portrayed it. In fact, many found it to be fearmongering, pandering to the conspiracy theorists that continue to push misinformation surrounding the virus.
From the entertainment standpoint, it actually holds up quite well. As mentioned before, the pacing of the plot is quick on the surface, with darker, more lingering things swirling beneath. Each episode felt like it definitively ended that part of the story, leading into more questions to be answered in the next. There were a few hiccups in pacing here and there, especially between episodes six through eight, but overall it felt paced like a normal action series, which worked well. Several twists were well executed as well, coming seemingly out of left field. They were not really cliché either, which is definitely a bonus.
The cast is a bit hit or miss. Performances from the villains of the show were pretty exciting and fun to watch. The performance of the protagonists, however, was a bit shaky. The acting seems a bit campy and comedic, like it was meant to be a bit of a joke. Perhaps the humor was meant to function as a sort of comedic relief, but here it just falls flat and seems out of place. Notable performances include John Cusack as "Dr. Kevin Christie" and Christopher Denham as "Arby."
When looking at the characterization of this show, we see again that it's all about the villains. They are just so much more interesting than the protagonists. The character of Jessica Hyde, played by Sasha Lane, is so flat it feels she is the same at the end as she was at the beginning. She also, unfortunately, happens to be our main character. Meanwhile, we just don't know anything else about the other protagonists, at least not anything important. However, Arby should have an entire book written about him.
Overall, while it had the makings of an average show that may have garnered a decent audience, "Utopia" failed to take into account how other people would react to something hitting so close to home, a mistake that would end in its cancellation. Whether the timing was intentional or not, this show struck the wrong chord with audiences. Even without the awful timing, the show suffers from characterization issues that are pretty glaring, as well as some strange acting decisions that maybe should have been left at the drawing board. Either way, the show is available to stream on Amazon Prime for paid subscribers.
Share it now!