Covid-19 Effects on Local Comic Shops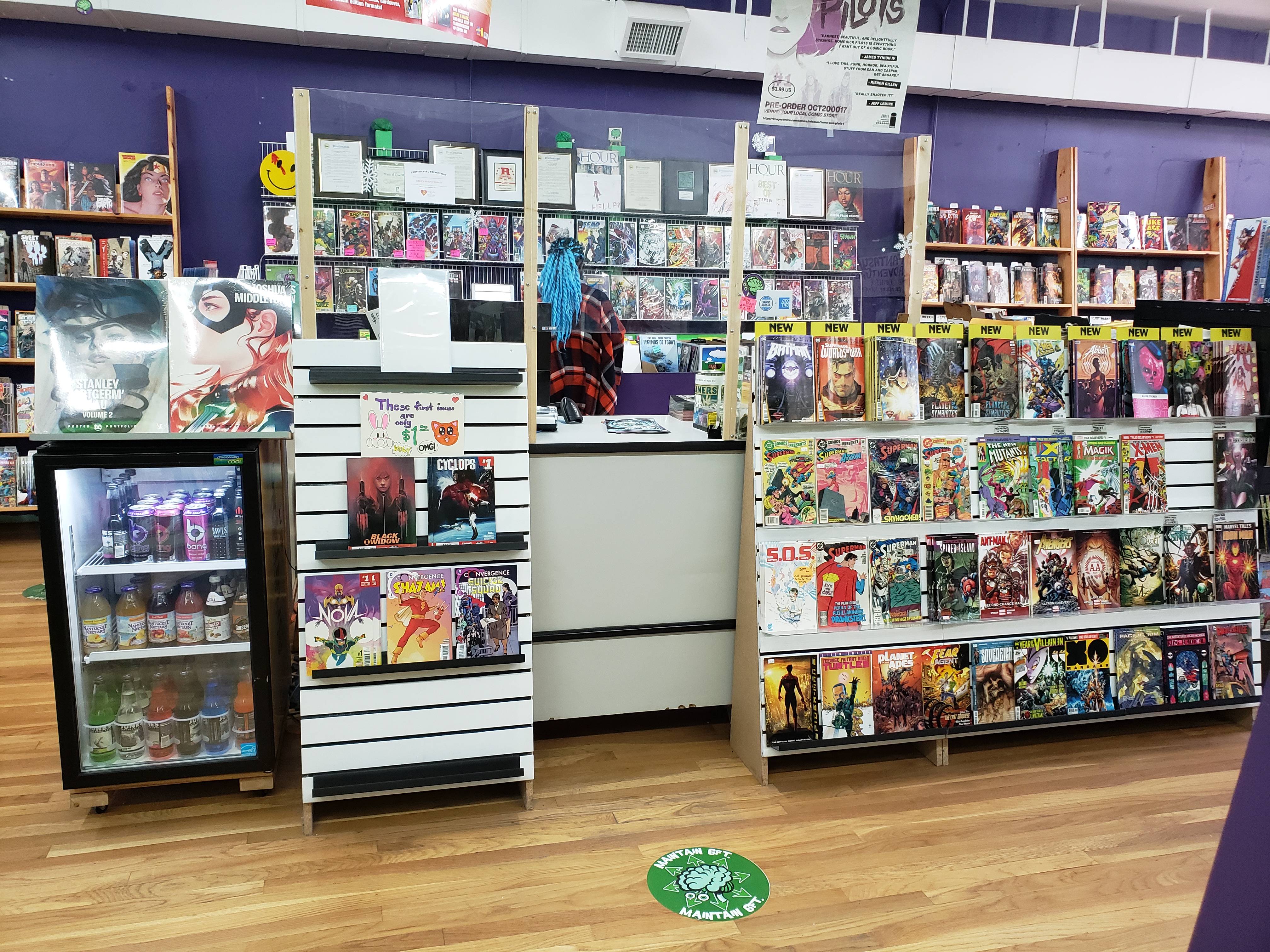 Plexiglass installed at Green Brain Comics, Dearborn, Michigan | Photo by Katherine Warden
When Covid-19 hit, many stores were forced to close down temporarily under Governor Gretchen Whitmer's stay-at-home orders. For some stores this may have been one of the hardest decisions they could be forced to make, though for others, like Dan Merritt, owner of Green Brain Comics, it was "a very easy decision to lock up of the store in the short term."
When the world shut down in March, it wasn't just shops and people who stopped, it was also the distributors for the shops. And the biggest, and in some cases sole, distributors of comics to these shops is Diamond Comic Distributors. Diamond works as an exclusive distributor, getting the comics shipped straight from printers to retailers for some of the biggest names like Marvel, DC, Dark Horse, and many others. On April 1, last year, a good portion of publishers stopped the release of comics, including digital and printed release, and suspended all upcoming titles.
This was, and continues to be, a struggle for comic book shops during reopening. Diamond in recent weeks has increased the payments. They've put in place a new policy that divides orders into multiple smaller shipments so that stores that were paying 6 percent wholesale prices are now paying up to 25 percent. While Diamond denies these allegations, it still stands that comic stores are paying more now than ever before for comics, including the local comic book shops.
Two of the most well-known comic book shops in Wayne County are Green Brain Comics in Dearborn and Vault of Midnight in Detroit. Each of these stores have responded to Covid-19 in unique ways.
Green Brain Comics has been part of the community for 36 years. Even before the stay-at-home order was put into place Merritt had already asked his staff to stay-at-home. Once there was enough safety to bring in some staff, they spent most of their time during the shutdown reworking how the store was laid out to comply with CDC safety guidelines. When they reopened in May, they slowly began to regain their customer base. However, like most small businesses, the bills didn't stop even though most of the country was shut down, and instead of using confusing the somewhat unreliable Federal Small Business Loan system, Merritt turned to the Michigan Economic Development Corporation's crowdfunding service Patronicity which matched up to 10 thousand dollars after the "loyal Brainiacs" helped and donated. And, with the help of a relatively new website, the matching grant from Patronicity was a huge help in giving local customers access to products and to keep the store afloat.
Plexiglass installed at Vault of Midnight, Detroit, Michigan | Photo by Katherine Warden
Comic book shop Vault of Midnight has been around for 25 years as a whole, but only five years in Detroit, and has swiftly become one of Michigan's most acclaimed comic book stores with three separate locations. Speaking on behalf of Vault of Midnight Detroit, Amada Reye Aquino says, they went to a curbside pickup system until the stay-at-home order was put in place. They kept the staff full and kept all the pay the same for those staffers, allowing them to work from home to help plan for what 2021 will hold. They also are following CDC guidelines on how to keep themselves and their customers safe, limiting only 8 people in the shop at a time, which can cause lines. Vault had been in the process of opening an online shop, which opened during the stay-at-home order. Vault has taken to doing a lot of virtual events through Instagram, Facebook, and Discord. They're hosting virtual signings; Vault of Knowledge, a quiz like show based around different fandoms, a virtual draw-along over Discord; a comic of the month club; and more exciting events. Some are paid but most are free.
One thing that all comic book readers, as well as comic book shops, look forward to every year is Free Comic Book Day (FCBD). Normally a one day only event held on the first Saturday of May, last year due to Covid-19 it was done as a series of releases spreading over a series of months. However with the hope that a majority of people will be vaccinated by the middle of the year, the creators of FCBD are planning on hosting this as a single-day event on Saturday, August 14, 2021. This event helps small and large comic book stores by bringing in people who are not only getting the free comics, but will also inevitably buy other items boosting the business for these shops.
This is a struggling time for everyone. It's full of hardship, uncertainties, and grief. And these small businesses are striving to be there for us during these hard times, and the communities have to be there alongside them just as much. However this year brings hope for normality to these local shops, with FCBD fast approaching and distributors getting comics out to shops as best they can.
Both Merritt and Aquino had final parting thoughts for readers:
Merritt says, "All of us at Green Brain Comics want to thank all of our Brainiacs, locally in Dearborn, throughout Metro Detroit, and around the world. We wouldn't be here today without your generosity, and your support, throughout the last year, and over the last 35 years."
Aquino says, "To keep an eye out for us online. You're more than welcome to come into the store as often as you like as long as we're within our limit. And thanks to everybody in the community for supporting us and helping us get through this tough year. We're all in this together."