Christmas Movies to Watch from a Non-Traditional Christmas Movie Watcher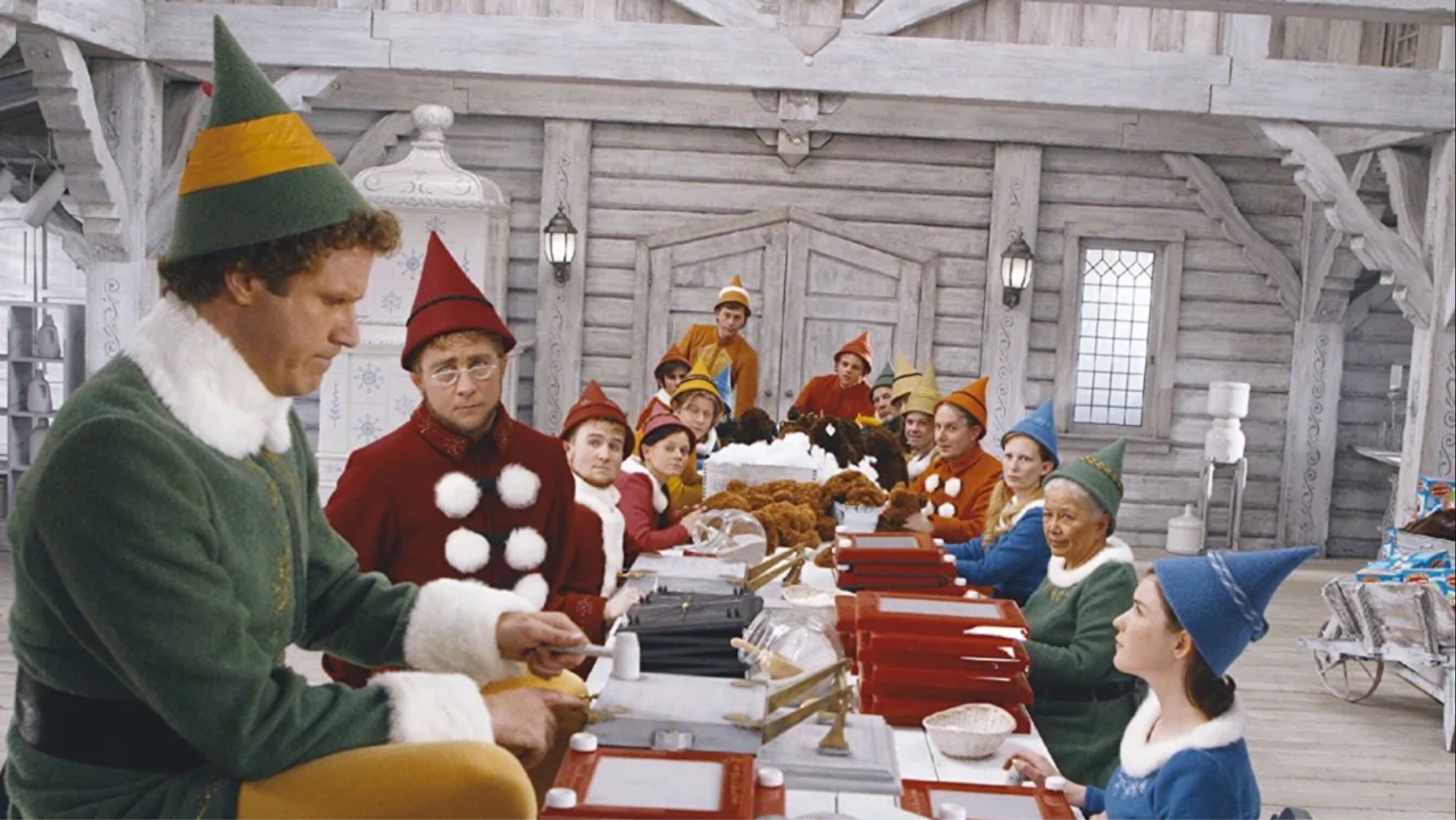 Scene from "Elf" courtesy New Line Cinema
Every year right after the strike of midnight on Halloween, a good portion of channels start to play the same Christmas movies (and songs), over and over again. Till the point where I don't even want to put anything on for fear of seeing another channel replaying movies like "Elf," or "It's a Wonderful Life" or songs like "All I Want for Christmas is You." This is not say that I hate Christmas. I just have a viewpoint that may be different from others. But luckily there are enough movies that break the mold of the repeated films that are shown each year. Going from the least focused on Christmas to the most sugar-coated Christmas theme, these are the ten films to watch from someone who doesn't watch a lot of Christmas movies.
But before I get to the list, let's talk with Henry Ford College's chair of Telecommunication Media who teaches film history, Susan McGraw, who weighed in about why we love Christmas movies, and why there are so many of them.
Mirror News: What are your thoughts on Christmas Movies?
McGraw: I absolutely LOVE Christmas movies, especially the ones that make viewers feel all the beautiful emotions of the season. They never go out of style. We tend to pick and choose ones based on how we're feeling and our life experiences in a particular holiday season. But they're always there for us when we need them -- like a warm, fuzzy sweater!
MN: Why are we so drawn to these movies?
McGraw: Christmas movies are the ultimate pick-me-up. They can help us forget the challenges we're facing at a given time and see things from a positive and wholesome perspective. In these movies, the narrative is usually filled with holiday cheer, and an ending sweet enough to give us a cavity. But in small doses, it feels good and allows us to recollect the joys of our Christmases past and imagine our desired Christmases of the future.
MN: Why is there such a saturation of Christmas movies?
McGraw: Holiday movies, especially Christmas ones, are among the types of films that we unapologetically choose to watch from year to year. So, while it seems as if there are more films in the Christmas genre, they actually just tend to stick around for a long time. The best ones resurface year after year and become ingrained in our Christmas traditions, such as A Christmas Story or It's a Wonderful Life.
MN: And why do all of them follow the same format?
McGraw: It's a formula that works, simple as that. The beauty of Christmas movies is that they have something for everyone; comedy, family values, romance, drama, a good wholesome mystery, and lots and lots of heart. We know the story is going to end well, with the characters that work hard and are kind finding love, peace, and joy. What else in life is guaranteed in this way? We can count on what these films will bring us. We trust them and the reward of watching is truly satisfying. This formula wouldn't necessarily work year-round. But for the holiday season, with stress levels high, these films are a magical way to decompress and feel the warmth of the tradition, ideals, and comfort that they so willingly provide.
MN: What is your favorite Christmas movie?
McGraw: Such a tough question! My favorite changes from year to year. This year, I have to go with Elf. It's got just the right mix of sweetness, hope and magic.
Now, here's a list of movies from least focused on Christmas to most Christmas themed from someone who is not much of a Christmas movie watcher:

"Die Hard" poster courtesy 20th Century Fox
Die Hard (Rated R) brings you all the joy of hearing Christmas orchestral songs, the joy of a Christmas party, mixed with explosions and gunfire. The movie is about NYPD officer John McClane (Bruce Willis) visiting his wife, Holly Gennaro McClane (Bonnie Bedelia) at her company Christmas party, where a terrorist group storms the building and takes everyone at the party hostage. McClane takes it into his own hands to free the hostages and stop the terrorist group. This movie is filled with quotable one liners, amazing action scenes, and clever use of Christmas music.

"Die Hard 2" poster courtesy 20th Century Fox
Die Hard 2 (Rated R) brings back the same joy of explosions, and brief bursts of Christmas carols, as well four of the original cast members reprising their original roles. In this box-office sequel, Officer McClane (Willis) is meeting Holly (Bedelia) on Christmas Eve at an airport. But in what tongue-in-cheek seems to be a McClane family Christmas tradition, the airport is threatened by a terrorist group, this time holding planes in the sky hostage. Like its predecessor, Die Hard 2 is very quotable and doesn't let the Christmas songs go to waste.
"Batman Returns" poster courtesy Warner Bros.
Batman Returns (PG-13) isn't something that everyone would think of being a Christmas movie. But it has everything to do with Christmas: tree lightings, penguins, and the hope of a family for an orphan. Batman deals with the Penguin (Danny DeVito), and a businessman (Christopher Walken) vying for the mayor-ship of Gotham. Bruce Wayne/Batman (Michael Keaton) is having a Christmas time romance with a secretary/Catwoman (Michelle Pfeiffer). But this is also 1990's Batman, so it's done in a campy way that arcs back to the DC comics instead of the darker interpretations of the modern day Dark Knight. The whimsy of Tim Burton's direction brings in a Christmas feel, while not making it the main focus.
"Trading Places" poster courtesy Paramount Pictures
Trading Places (R) is an adult comedy based around an almost caricature of a one percenter investor (Dan Aykroyd) and a street con artist, with an overactive imagination (Eddie Murphy), whose roles in life and society are reversed due to a bet made by millionaire brothers (Ralph Bellamy and Don Ameche). This movie is raunchy comedy with both Murphy and Aykroyd at some of the highest points in their careers. It does have more than its fair share of drug, alcohol, and sexual scenes in it. But it is hilarious. With quick wit, an actual sense of who that audience is that's watching, and one of the best (worst) takes on a Santa, long before "Bad Santa."
"Nightmare Before Christmas" (1993) courtesy Disney+
Nightmare Before Christmas (PG) is one of the only Christmas movies that I can absolutely say can be played from October through Christmas. Following the journey of Jack Skellington (Danny Elfman) King of HalloweenTown. Through his discovery of Christmas, and ghoulish happenstances that go with it, the film brings the wonder of a child's first Christmas into a semi-adult viewpoint as well as making it a perfect Halloween film. The songs are incredible, it's a masterpiece of clay animation. Just enough romance is spread over the course of the movie, it's funny, and thoughtful, as well as brings out a sense of wonder.
"Desk Set" poster (1957) courtesy 20th Century Fox
Desk Set (approved by MPA) is not a strictly Christmas movie. It's a movie that takes place before, during, and after Christmas. But it is a delightful movie to watch during or after Christmas. It is about the Reference department for Federal Broadcasting Network, run by Bunny Watson (Katherine Hepburn), being computerized by Richard Sumner (Spencer Tracy) and the reactions of everyone around it. With strong characters, a strong feminist view point, as well as the man over machine thought process, Desk Set still rings true with today's viewers. But it also harks back to the delights of 1950's fashion and an old fashion Christmas party, and the leading up to. It's strongly cast, making the romance portion of the film funny and feel real.
Scene from "Auntie Mame" (1958) courtesy Warner Bros.
Auntie Mame (approved by MPA) is another not so strictly Christmas movie that still has a lot of Christmas scenes. An orphan heir to his father's fortune, Patrick Dennis (Jan Handzlik, Roger Smith), goes to live with his free-spirited, eccentric, socialite Mame Dennis (Rosalind Russell) right before the Great Depression. The movie shows Christmas during the Great Depression as well as how some who were once rich took to working after the Depression. But it's not all doom and gloom, it shows how after the Depression, people got back up. And throughout this is just mayhem, chaos, and showing the lengths that family will go for each other. It is also a strong women-centered movie.
"Home Alone" (1990) poster courtesy 20th Century Fox
Home Alone (PG) is a quaint essential Christmas movie. Kevin McCallister (Macaulay Culkin) is left at home by accident by his family, days before Christmas. At first it's a joy to be home by himself, until he finds out his house is going to be robbed by two incompetent burglars (Joe Pesci and Daniel Stern). What follows is a series of, somehow not deadly, shenanigans. It's funny, it's all about the spirit of Christmas and how it involves family, as well as watching two men be savagely tormented by a small child.
Scene from "Scrooged" (1988) courtesy Paramount Pictures
Scrooged (PG-13) is a great take on the Charles Dickens immortal classic, "A Christmas Carol," Starring Bill Murry as a cruel television network executive who's faced with the ghosts of Christmas Past, Present and Future, during the live network showing of "A Christmas Carol." While imparting the morals of the original story, it does it with a funny yet morbid twist, but with Bill Murry as the lead, it never gets out of balance.

Scene from "White Christmas" (1954) courtesy Paramount Pictures
White Christmas (Not Rated) is the all essential, must-see Christmas movie. Starting in World War II, it follows the rise of fame of Bob Wallace (Bing Crosby) and Phil Davis (Danny Kaye). During Christmas they go to a failing inn in Vermont owned by their former General (Dean Jagger). With the help of the Haynes Sisters (Rosemary Clooney and Vera-Ellen), they help to save it. This movie shows all the best parts of Christmas: parties, togetherness, forgiveness and charity. It also shows what happens behind the scenes of any type of theater production. It brings in what would soon become classic songs that we all think of when we think Christmas.
There are movies not on this list that may be as or more popular around Christmas. There are movies I know I have not heard about, including some that just came out this year. As the definition of a Christmas movie broadens, so too have the cinematic delights that may even please the Grinch.