Governor Gretchen Whitmer and Representative Debbie Dingell Visit HFC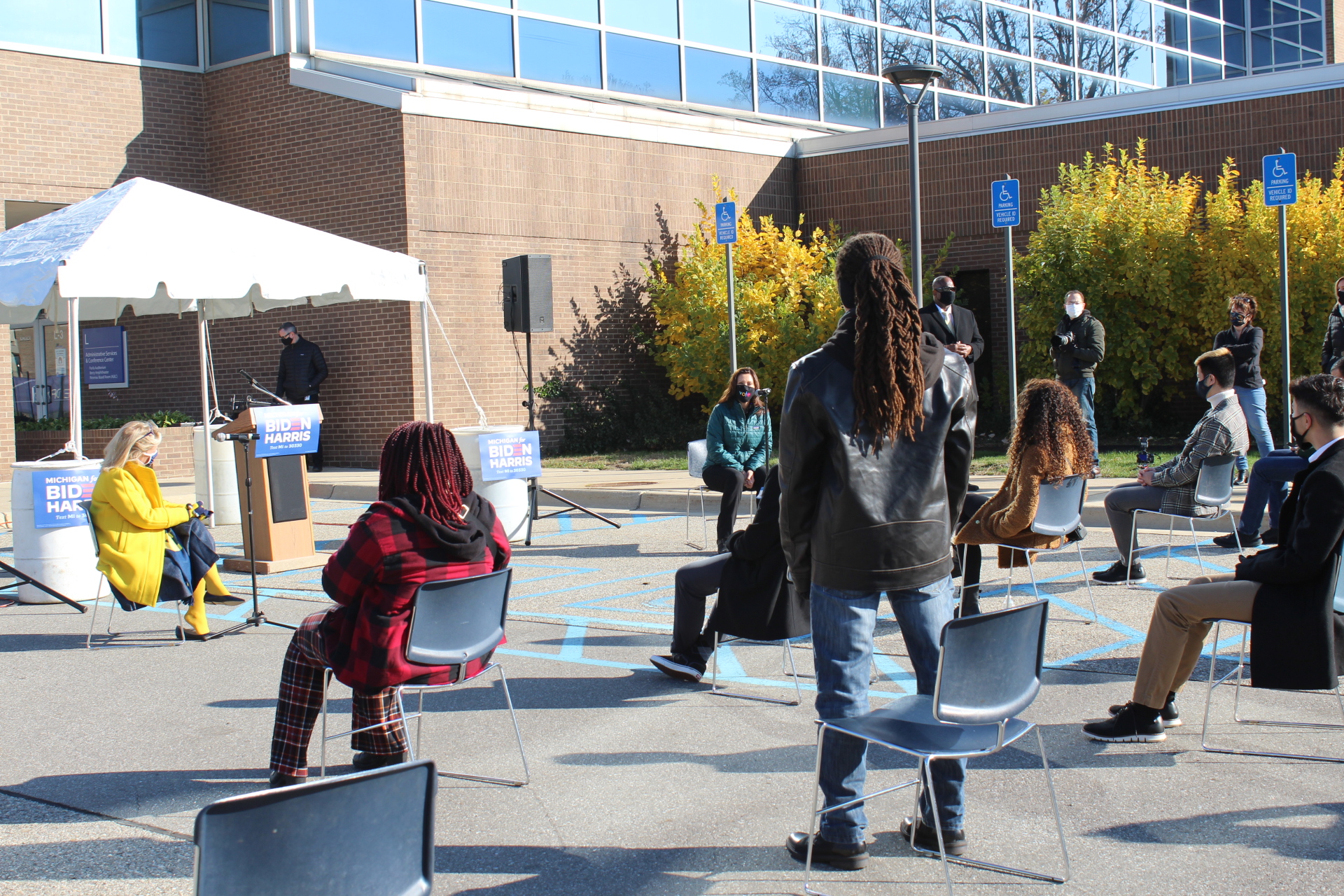 A student asks Gov. Whitmer and Rep. Dingell a question, Oct. 31, Henry Ford College, Dearborn, MI
On Oct. 31 Governor Gretchen Whitmer and U.S. Representative Debbie Dingell visited Henry Ford College to meet with young and first-time voters from both Henry Ford College and Michigan State University. The rally was held outdoors with everyone wearing masks and practicing social distancing. This exclusive event was hosted by Henry Ford College President, Russell Kavalhuna.
Dingell joined the Governor in encouraging and promoting young students to vote. "You're 20 percent of the population and 100 percent of our future," Dingell said. On Nov. 3, Debbie Dingell (D) was re-elected to her fourth term as state representative by winning with 66.4 percent of the votes against Jeff Jones (R).
CNBC reported that this year was a record turnout of voters in the U.S. with at least 159.8 million Americans — 66.8 percent of eligible citizens — the highest since 1900. In Michigan, more than 5.5 million people, or 71 percent of eligible voters, cast their vote, the highest number of voters in Michigan history according to data on the Michigan Secretary of State website. With that, 2,804,040 Michigan votes went to Joseph R. Biden (D) and 2,649,852 to Donald J. Trump (R). Despite Biden winning by 154,188 votes these counts aren't official yet. Although the counts have been certified on a county level, the Board of State Canvassers is still struggling to certify the 16 Michigan electoral college votes due to Michigan and national Republican party leaders asking for a delay in order to investigate "anomalies and irregularities." The deadline to certify votes is Nov. 23.
"If they're going to undermine the results of this election and to disenfranchise Michigan voters and embarrass Michigan, what they are doing runs against our law, and they should be very careful because it's dangerous," Gov. Whitmer said in an interview with CNN.
This isn't Gov. Whitmer's first visit to HFC. The Governor made a stop at the college last year to speak about the future of Michigan and address the skills gap. Since then and because of the nature of the Covid-19 pandemic, Gov. Whitmer and HFC President Kavalhuna have partnered together in September to allow essential workers to complete an associate degree or a skills certificate tuition-free in a program called Futures for Frontliners. "This is the first program of its kind in the United States, and I'm hopeful that other states will see the wisdom and follow Michigan's lead to create pathways to opportunity for people who've been on the front lines," Whitmer said during the press conference on Sept. 10.
During the rally, Gov. Whitmer spoke on the importance of this year's election and the impact of Michigan's voters. "We in Michigan are going to decide the nation's fate. We in Michigan are gonna have an impact internationally when we decide who is our president and vice president," Whitmer said. She encouraged students to get others involved in voting for this election. Whitmer and Dingell also answered important questions from students in the crowd, tackling tough questions such as how to handle attacks on future female leaders, education in low-income areas, and the environment.
Wayne County Commissioner Sam Baydoun began by introducing MSU Trustee Brian Mossallam: Listen to audio
The first question Whitmer and Dingell addressed was by a student who asked for advice for future female leaders facing attacks for doing what they believe is right. Listen to audio
Whitmer and Dingell were asked about preventing inequity in K-12 education in Michigan. Listen to audio
Whitmer and Dingell then responded to a student who asked what was being done about pollution in Michigan. Listen to audio