Engelhardt Social Justice Fellowship: Changing Lives and Making a Difference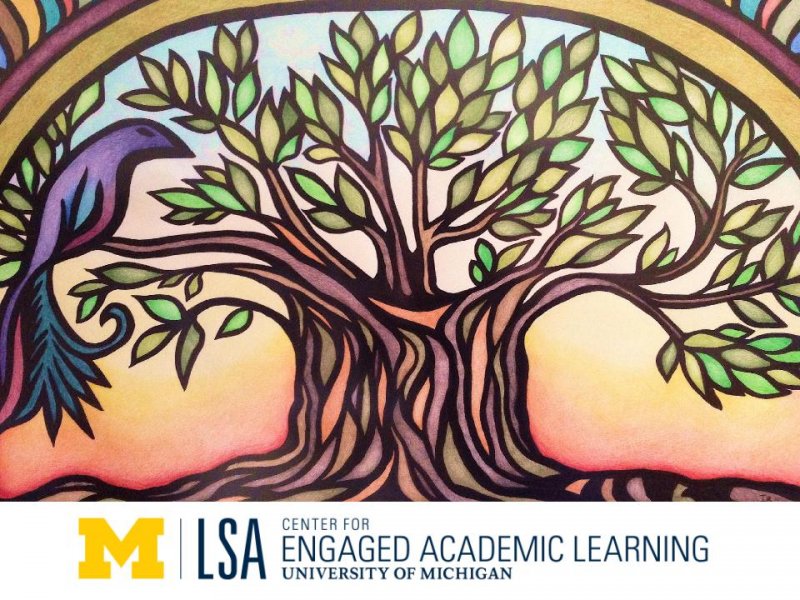 Image courtesy of the University of Michigan's Center for Engaged Academic Learning
Have you ever wanted to work at a job that was deeply and personally meaningful to you and get paid? Do you want to make a difference in your community and are unsure how to do so? Are you concerned with a social justice issue that moves your heart?
You can apply today to the Engelhardt Fellowship to spend this spring in a joint partnership in which HFC and U-M Ann Arbor students work in a non-profit of their own choosing. The best part is that the Fellowship pays a generous stipend of $5,000 to allow you to financially be able to spend your hours over eight weeks, while helping a cause that you care about. The non-profit organization you help are benefitted by not having to pay a staff member.
The Fellowship also involves weekly sessions that deepen your understanding and compassion towards those you are working with. Sometimes, we come to an organization with ideas of how to help and we instead need to be sensitive to learn.
I was able to be a part of the 2019 Engelhardt Fellowship. The group of students that also participated worked with causes ranging from the environment, prison justice, food insecurity, and others. My internship was with ABC Youth in Flint, MI. I was thankful for the opportunity to help them plan and implement a summer program that taught 70 young people job skills in carpentry, electrical, plumbing, and cooking. I also learned to write grants and was able to secure a huge grant to help their program continue.
Justin Randles, another HFC student, was also a part of the 2019 Fellowship. Justin said, "I worked with the Mirror News and several low-key non-profits in Detroit with the intent to shine a light and bring community attention to be able to extend partnerships with HFC. The biggest benefit (to the non-profits) was creating partnership for future pathways for HFC students that did not have experience in doing this kind of work before. The personal benefit was that I gained a lot of self-worth and confidence with education in my ability as a writer and interviewer and social justice warrior."
The Engelhardt Social Justice Fellowship (ESJF) offers an opportunity for students and organizations to propose a mutually beneficial summer project. Students whose projects are selected will be paid $5,000 for ~300 hours of work with the sponsoring organization. Interns and organizations create their own work schedule, but the required hours must be completed by August 30, 2021.
Fellowship recipients must be available from Monday, May 10th, 2021 through Friday, July 9th, 2021 . During this period, fellows will meet weekly for seminars on topics like professional skills, social justice activism, community-university partnerships, and potential career paths in the non-profit sector. The specific seminar dates will be determined at a later date, based on selected fellows' work schedules and up-to-date public health guidelines.
Eligible Students Must
● Be an enrolled undergraduate in good academic standing in a degree program in either Henry Ford College or UM-LSA
● Co-create a project with a community organization within southeast Michigan that focuses on social justice, broadly defined.
● Have an existing connection to that partnering community organization.
● Be available for the full duration of the Fellowship (May 10th to July 9th) and able to participate in weekly training at the U-M Ann Arbor and/or HFC campus (workshops will be held in both locations with transportation opportunities made available as needed). If in-person gatherings are restricted, the fellowship will proceed in an online format.
Weekly Seminars
In addition to being paid for your work, fellows will gain valuable work experience, receive professional development training, and expand their professional networks. Engelhardt Fellows meet once a week as a cohort to participate in trainings and workshops, to reflect on their experiences, and explore differences and commonalities in each organization's approach to social justice. Weekly seminar sessions focus on the expertise of community partners, place-based research methods, the ethics of community-centered collaborations, and the principles and practice of critical reflection.
The deadline for all applications is 11:59pm on Friday, March 5th, 2021. Apply here or visit the LSA website.