2020: The Crustiest Year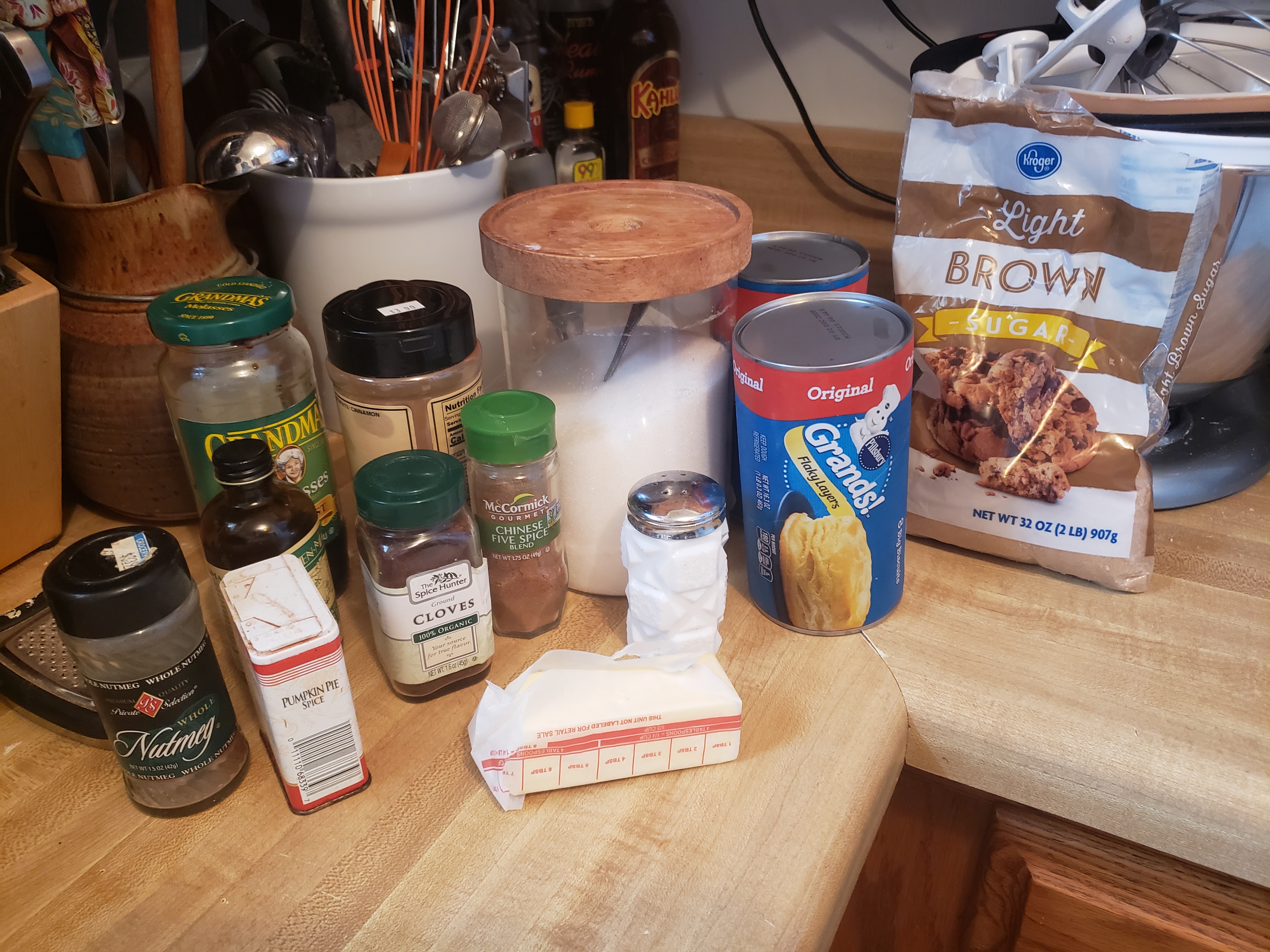 Simple ingredients to make Monkey bread - Photos by Katherine Warden
This year has been an especially stressful year. And I'm not sure if this applies to some of those who are reading this, but when I'm stressed I end up baking. Facebook and YouTube became filled for me with people posting videos, images, and posts about how they made bread. Some were more successful than others. People were even giving up their non-medical Gluten Free diets in wake of the bread rising. And some celebrities like Quyen Tran (@Qgar on Instagram), cinematographer for shows like FX's "A Teacher," has even started a bake sale drive where she and another cinematographer are selling off their breads to help the LA Food Bank known as the @DoughrectorsofPhotography, which has provided over 100,000 meals.
Now why bread? You can take your frustrations out on bread without causing any damage. One of the main steps in making bread is to punch out all the air after the first rise. Or depending on your kneading technique, you could be slapping the bread on to your work surface. To just be able to work with something that can handle having some rough handling can really relax the mind. And then there's the all-important reason, because what is better on a crappy day than to have a warm slice of bread, with a nice crunchy crust and a soft pillow like center.
However the rise of bread got so bad that within the first months most stores had completely run out of instant-dry-active yeast. But now a couple of months have passed and the stores are restocked with yeast and it's time for those who didn't get their hands dirty, and those who did, with bread to make a loaf of bread. And now is the perfect time to do it with the holidays coming up, to make a loaf for you and a loaf for those who you can't be with.
Through some stress baking to cope with 2020, I decided to try my hand at some different types of breads at varying levels of difficulty ranking them from the easiest to hardest, though staying away from the all so trendy Cloud Bread, since reviews had said it just tastes like egg whites and food coloring. I've tried to make bread that would go with the meals that I had planned or the day of stress that I had going. Some of my recipes came from easily found websites, cookbooks, or I would try something without much thought.
The first bread I made, though it is not necessarily a bread, is Monkey Bread. It is honestly the easiest thing you can possibly make. All you'll really need is between one and two cans of biscuits cut up into quarters, some butter, sugar, salt, molasses, brown sugar, and spices. I used Nutmeg, clove, cinnamon, and Chinese five spices. Mix the spices, both sugars, and the cut up pieces, in a bowl or bag. Then place the biscuit pieces into a sprayed bundt pan, or whatever kind of pan you feel like using, and if you want to, layer in banana or walnuts. Mix the leftover spiced sugar with molasses. You can pour melted butter over the biscuits. Bake at 350 for 45 minutes to an hour then let set for 15 minutes and dig in. It's a warm comforting dessert.

The second easiest bread for anyone to make is Beer Bread. There are a couple of major benefits of this type of bread. First, it's a quick, non-yeasted bread, meaning it takes less time and effort to make than a yeasted bread. The second is if you're of drinking age, you can do a little beer tasting to go with your bread making, only if you drink responsibly and are staying home for the day while doing it. It normally takes like one beer, depending on the size of the beer being used, and about an hour of your day to make. I normally use the beer bread recipe from food.com. Though be prepared to need a little more beer than what your recipe calls for. And, don't feel like you need to use the recommended beers from the recipes. If you have a favorite beer, lager, or, my personal favorite to use, hard cider, that you like to drink, then use that. These breads are yeasty, and go great with apple butter and plain butter. It is a little bit crumbly so be weary and don't try to make a sandwich out of it, or try to toast it unless you want a mess to clean up.

Flat bread is just as easy as beer bread, depending on what recipe you use. I personally chose to use the recipe out of the Dungeons and Dragons Official Cookbook, "Heroes' Feast." Look for the Dwarven Flatbread. The nice thing about flatbreads is that you can either add spices, like what this calls for, or you can leave them plain to suit your meal or needs. I personally used Herbes De Provence. Another great thing about flatbreads is that you can grill them outside, grill them inside, or pan fry them, and they may only take half an hour to make. Using the recipe from "Heroe's Feast," I got a crusty exterior and a soft pillow like interior. Though if it gets rolled too thin, it becomes very crunchy, which can also be delicious if that's what you're craving. You can't really mess up a flat bread, unless it's burnt.

Next is Corn Bread, which really isn't too terribly hard, but it is a bit more difficult than the previous recipes. I used the Cornmeal Jalapeno Biscuits from Bon Appetit, but instead of using the full recipe, I just turned the recipe for cornmeal biscuits into muffins. I doubled the recipe, then did half the batch without the cheese and jalapeños, just to have some variety. The nice thing about changing the biscuits to muffins is each one gets a nice crunchy exterior, as well as giving people the ability to have any amount they want without having to worry about someone cutting a larger piece to offset the amount of cornbread for each person.

The last, and possibly most difficult, recipe I did was Garlic Knots, from Cook's Magazine. Now the reason I say that this is the most difficult bread that I made is because of two factors: the first is that it is a yeasted dough and the second that it is a braided dough. But that being said, it's really not too terribly hard. You need to just be aware of your proofing times, or how long you let the yeast in the dough release the gases that it makes naturally, how long you kneed it, and how much garlic you really need. If you have things like a stand mixer with a bread hook, use it, if not just use the old fashioned hand methods. Also some ovens come with a bread proofing setting, but if yours doesn't just heat the oven to two hundred degrees then turn it off and place your bread in to rise it. The recipe calls for ten cloves of minced garlic, but I had pre-minced garlic in a jar, they don't necessarily have the same potentancy and it became extremely garlicky. They were still good, and smelled amazing, but definitely did not leave good breath behind. Tying the garlic knots into their classic knotted shape was not all that hard. The magazine I used was able to give an easy breakdown of the steps.

Bread has always seemed to me like a daunting task to undertake. It can be a tedious, annoying, and fussy thing to make. But it, like everything in life, takes an understanding, a little patience, and a belief that even if you mess it up you'll learn something. So go find a recipe. Get something that fits your time, your meal requirements, and most of all that sounds delicious. Don't let your fear of bread dictate you, because with a little bit of hard work and patience you'll find that bread isn't as hard as it once seemed, unless you leave it in the oven too long.
Share it now!