"Marvel Universe of Superheroes" at The Henry Ford Museum of Innovation: A Conversation with Exhibits Manager Kate Morland
Gallery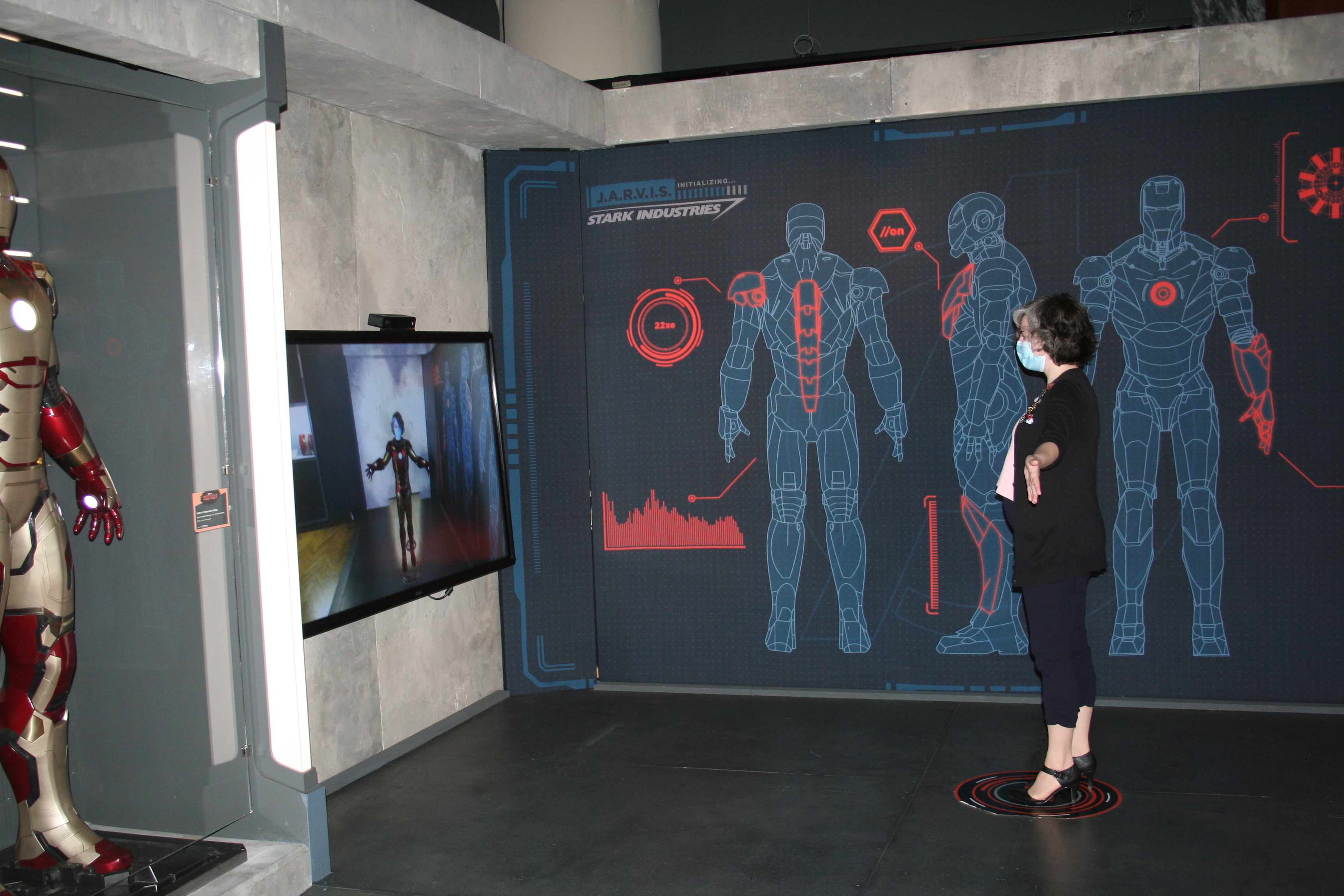 Katherine Warden tries virtual Iron Man exhibit Henry Ford Museum of Innovation Dearborn MI
The Henry Ford Museum of Innovation reopened at the end of June after having been closed since March due to the pandemic. I spoke with exhibits manager Kate Morland, about the museum's reopening while she took me on a private tour of their latest exhibit, the "Marvel Universe of Superheroes."
KATE MORLAND: We have 300 artifacts that take you all the way from the early days of Marvel comics, issue #1 from 1939 all the way through the newer Netflix series. It was brought to us by SC Exhibitions and created by MO Pop, and it's been traveling around the country and in Canada for a while now. When it was brought here they did a whole new backdrop for the Ms. Marvel section. Amulet is a new superhero within the MS. Marvel cohort; he's actually from Dearborn. So they set Dearborn's own Amulet on the new backdrop. So I really appreciate that. They try to keep it up to date venue to venue.
WARDEN: Right. And I was just hearing not too long ago that the creator of Amulet was in Dearborn at Green Brain Comics doing a signing for his comics.
MORLAND: Yes he was!
WARDEN: So I was wondering if there would be a tie in to him and I'm glad to hear there was in this exhibit. Because it's exciting to hear these new comics and to know that there's one from the local area.
MORLAND: Yeah! Anytime we can feature someone local that's great! We were supposed to have Saladin Ahmed at the opening. But of course this has been a non-traditional year with exhibit openings. We've had to shy away from some of that larger scale programming. But we're also really happy to open this exhibit, and get guests to see it.
WARDEN: I know that must be exciting, but also slightly worrying. I know you were supposed to open a couple of weeks before Michigan went into full closure.
MORLAND: Yup we were supposed to open March 28th to the public and it was an interesting installation. It was a very large one, it has a large foot print; its 10,000 square feet and most of the installation crew that doesn't work for the Henry Ford Museum was actually from Germany, so we had an international team. So when it became apparent this was becoming more of a crisis, more of a pandemic, they were trying to hurry up and be able to finish enough to get home so that our crew could finish the exhibit. We were able to do that while working up until the Stay-At-Home Order which was able to get enough done so that when we came back we started to get back to work on it in late June and get it open mid-July. I'm just glad we were able to open it at all. There was a time when we thought that wouldn't be possible. So just to see it standing here and see people enjoying it is really fulfilling for us.
WARDEN: Has the numbers of people attending been what you've predicted since the shut down?
MORLAND: We had to set a certain number of people we felt comfortable being in the space. And we'll certainly be hoping to be able to have larger numbers than we can yet this year. We started by doing some studies of how many people could be in our space and still maintain social distancing guidelines. So we have 50 tickets available every half hour. We were hoping for many more than that so we had to readjust our expectations, like any guest serving institution. But within that capacity we had a really strong summer. We had a lot of days of selling out that have since waned a bit during this season of the year, which is typical of September. So if anyone is looking to visit and have the exhibit to themselves, coming during the weekday would be a great day to do that.
WARDEN: So it's more than likely a good time if you're a college student to come in if you have a free moment in between your classes. How long does it normally take to walk the full exhibit?
MORLAND: Well people can spend as long as they like but it is timed to get in. And there's a five minute film at the start of the exhibit. But after that they have taken as much time as they like. Typically what we're seeing is a little over an hour. But that also depends on how big a fan you are, are you a fan of the comics, just the movies, do you want to look at all the original art we have? So it's really a rich experience. So we would love it if college students come to visit us. Student memberships are actually our best deal, they're only $55 for a one year membership and come to the village and museum regularly. And Marvel is $10 for members and non-members, but if you're a member then you don't have to pay to get into the museum, you just have to pay to get into the exhibit.
WARDEN: And you talked earlier about how big this exhibit is and I see that it's much larger than some of the exhibits that I've come to before here. Has that affected the museum?
MORLAND: We have had this increased foot print for some other exhibits in the past ten years: the Titanic exhibit and the science behind Pixar. So it's typical for us every few years to do a larger blockbuster exhibit. And it's been okay this time around; it does take up a foot print that some other programming might normally use, and our catered events in the evenings. But we haven't been having those so having this exhibit at this time, it being larger is a perfect time to do an exhibit like that.
WARDEN: So it seems like some of this has worked out.
MORLAND: We're always trying to look on the positive end of things, that's what innovation is all about, looking to what something can become. Guests come to visit this exhibition, they're going to be doing so with fewer people so it's not going to feel crowded and we're hoping people are going to feel safer when they come to see us.
WARDEN: That's great! Has any of the other exhibits been affected?
MORLAND: Yes, "Racing in America" was supposed to open May 29th, at least around then. And it was going to be a huge gala and the Grand Prix Detroit was going to happen; however, all of that got called off, the exhibit itself is still in the installation phase. We've made really great progress, but it doesn't look like we'll be able to open it for a while now. We don't have an opening date set. But I can guarantee you that behind the walls progress is being made. The exhibit looks great and we can't wait to open it.
WARDEN: That's great to hear, because I know that was going to be a really big attraction that everyone was looking forward to.
MORLAND: Yeah it is. I know it's hard to wait. We don't want to wait either, but do it in a way that we need to do it, a little bit more time is beneficial.
WARDEN: And it's better to take your time, then to try and open something when it's maybe not appropriate time to open.
MORLAND: Exactly.
WARDEN: With Holiday Nights and Halloween Nights coming up, I see that the village is closing down during that time. Are you expecting that to push more people towards Marvel?
MORLAND: Possibly. For Halloween we have the plans set. For Holiday Nights, it's still a little in the future where we're thinking more in the mid-term than we normally do because we want to be sensitive to current safety practices. For Halloween we are hoping having tickets start at 4 pm instead of at 6 pm will draw some younger families. So, again we're trying to make the best of things. We have some new program elements that we hope people will like. We have a haunted train ride. Well, maybe not haunted but definitely Halloween themed. And it will be more of a free flowing experience. October is typically one of our busiest times in terms of staffing. This will allow us to fully dedicate more people to that Halloween program and we'll still have the Museum open 7 days a week. So people can come visit everything we have with the Museum as well as Marvel at that time. And in November we will be open Thursday through Sunday in the village.
The "Marvel Universe of Superheroes" exhibit continues through Jan. 31, 2021. Holiday Nights will be open every weekend in December. Visit the Henry Ford Museum of Innovation website for ticket information and hours: thehenryford.org.
Listen to the full interview: Interview with Kate Morland, Exhibits Director, Henry Ford Museum of Innovation, Dearborn MI