Chef Max Hardy: Sustaining Detroit's Culinary Boom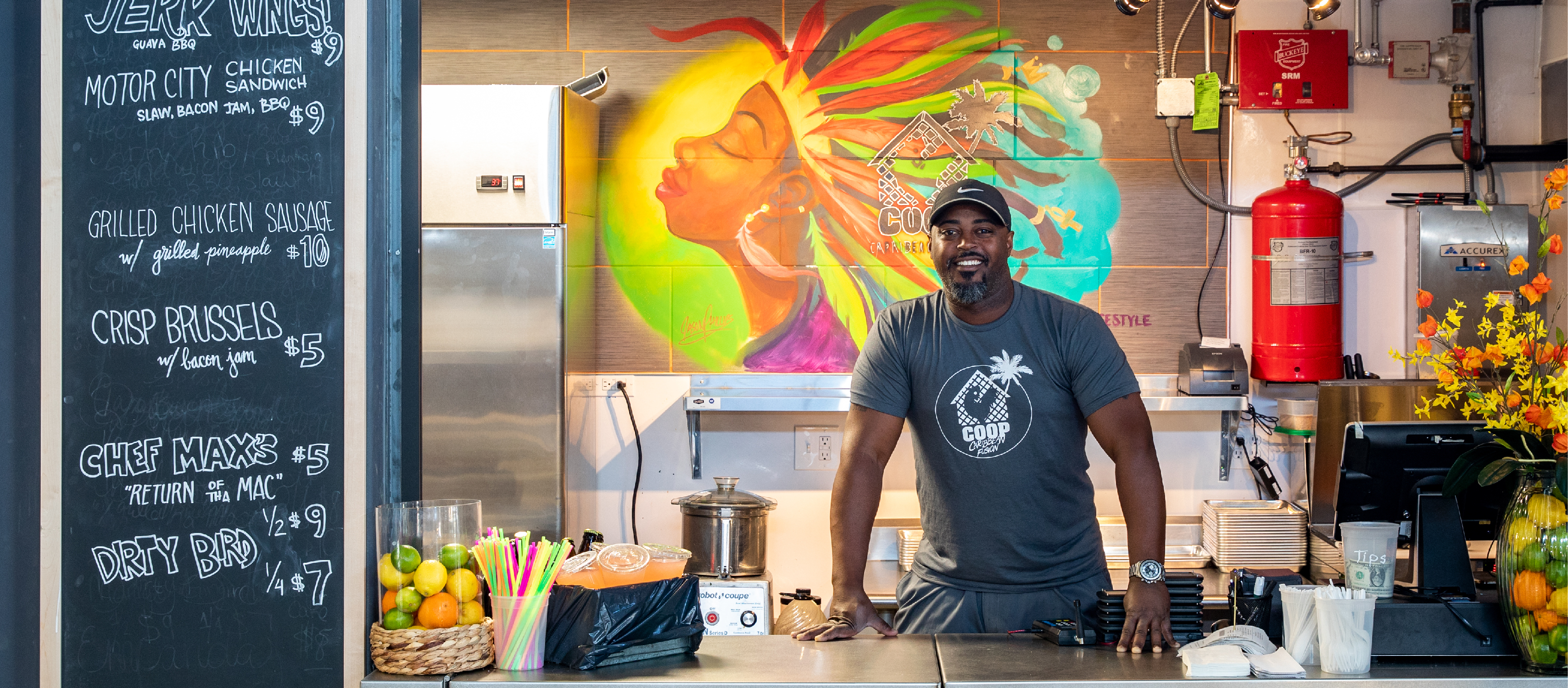 Chef Maxcel Hardy at Coop restaurant, Detroit Shipping Company photo courtesy Chef Max
As restaurant owners in Detroit and across the country navigate through the challenges of the impact of the COVID-19 pandemic on the food industry, restaurant owner Maxcel Hardy, professionally known as Chef Max, wants to ensure that the culinary boom that has sprouted in the Motor City over the past three years is sustained while mitigating the impact of the pandemic on the local community.
A native Detroiter, Chef Max began his culinary experience in the Culinary Arts Program at Wharton High School in Tampa, Florida. He went on to work in the Tampa, Miami, New York, and Los Angeles culinary scenes, making a name for himself cooking for professional athletes, award winning Hip Hop and R&B artists, actors, as well as foreign dignitaries. Chef Max appeared as a contestant on the Food Network's hit reality show "Chopped" in 2014 where he finished runner up. Prior to his appearance on "Chopped," he spent five years as personal chef to former NBA player Amar'e Stoudemire with whom he co-authored a cookbook. He has been featured in Bon Appétit, Essence Magazine, New York Post, and several other publications, and also has another cookbook- "The Marley Cookbook"- which he co-authored with Rohan Marley.
Chef Max returned to Detroit in 2017 with the intention of establishing a number of restaurants in the city. Since he has been back, Hardy opened two restaurants, River Bistro which he shut down last year, two years after opening, and Coop Detroit, a Caribbean fusion restaurant located within the Detroit Shipping Company food court in the Cass Corridor neighborhood on the West end of Midtown Detroit.
At the onset of the pandemic, Chef Max closed Coop Detroit in compliance with Governor Whitmer's order to close bars and restaurants. Not wanting the food stock he had in his restaurant at the time of the closure to go to waste, he gave some of it away to his employees and also set out preparing meals for the homeless as well as for Black Lives Matter protesters with the support of World Central Kitchen.
Chef Max was also part of the "Too Many Cooks in The Kitchen for Good" program where together with fellow chefs, utilizing donated food, with the help of volunteers, they made and distributed over 2000 meals for the homeless and others with food insecurities. The "Too Many Cooks in The Kitchen for Good" program ran for a few months during the statewide shutdown until the food donations started to dry up and restaurants started to reopen.
The programs that Chef Max has been involved in during the pandemic have thus far collectively provided over 50 thousand meals to the local community.
When Coop Detroit reopened in May, like restaurant owners everywhere, Chef Max had to adapt to the reality of not operating at full capacity. He adjusted his menu to ensure that items included were suitable for takeout and delivery; he removed menu items that come at a high cost because of the hike in price of certain produce; and he changed portion sizes to keep cost in line with his patrons pockets. The Detroit Shipping Company made things a little easier for Chef Max and his fellow restaurant owners by converting their parking lot into a summer oasis and an outdoor dining area to accommodate COVID-19 local ordinances.
As winter approaches and the option of outdoor dining is no longer on the table, Chef Max worries that the restaurant business will be hard hit. However, he hopes to keep his kitchen open for takeout and delivery. Chef Max is currently in the process of opening a new restaurant called Jeds, and he is also focusing on expanding his line of signature spices which his customers can order online and recreate a taste of Coop Detroit in their own homes in the months ahead. Chef Max's signature spices as well as his cookbooks are available on his website, chefmaxcelhardy.com.
Share it now!