Nostalgia Galore: "Cobra Kai"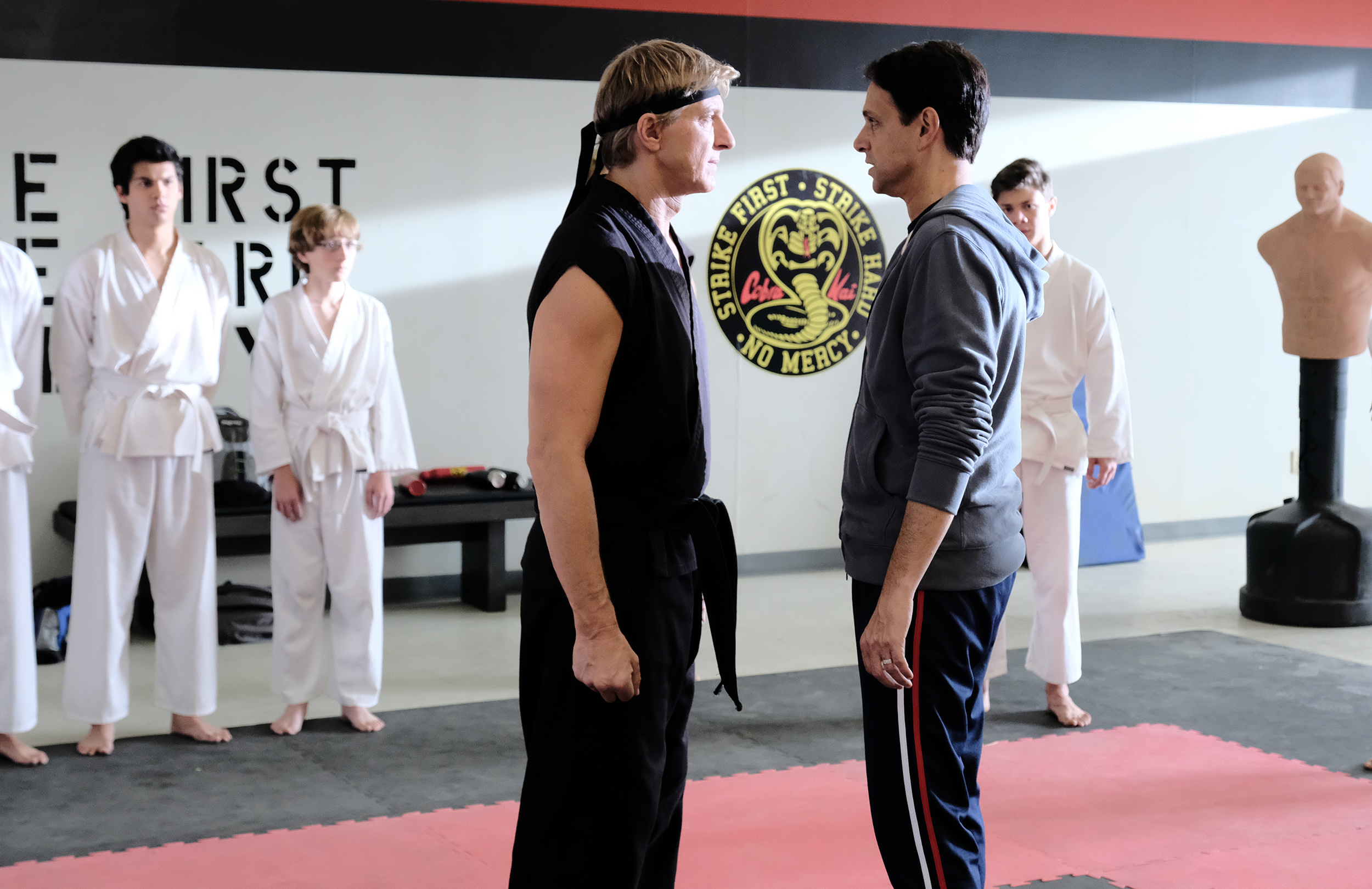 Photo credit: William Zabka as Johnny Lawrence faces off against Ralph Macchio as Daniel LaRusso in "Cobra Kai" courtesy Sony Pictures Television.
Co-created by Hayden Schlossberg, Jon Hurwitz, and Josh Heald, "Cobra Kai," the Karate Kid sequel, is a comedy/drama series currently streaming on Netflix, which brings back Daniel LaRusso (Ralph Macchio) and Johnny Lawrence (William Zabka) thirty-four years after the events of the original Karate Kid film.
Opening with a flashback to the under-18 All Valley Karate Championship Tournament of the original "Karate Kid," the first episode of "Cobra Kai" sets the tone: nostalgia galore. However, far from simply delivering a dose of nostalgia for 80's underdog films, "Cobra Kai" stands on its own as a great show appealing to both viewers who were kids in the 80s as well as a new generation of fans.
LaRusso, former punching bag and underdog who went on to become all state champion after taking out defending champion and antagonist Lawrence with the famous crane kick is now the owner of the LaRusso Auto Group, a chain of upscale car dealerships in the San Fernando Valley area. He is successful, he has a lovely mansion, a beautiful wife and two children.
Lawrence on the other hand is a down on his luck recluse living in a dingy apartment in the poor part of town. He does odd jobs for rich people who treat him like trash. His ex-wife has a drug and alcohol problem, his relationship with his son is strained, he is mostly hungover and is depressed about how his life turned out. He is still stuck in the 80s, he has not gotten over losing the championship to LaRusso, and is constantly taunted and reminded of that loss by LaRusso's success.
Lawrence decides to turn his life around and seeks redemption by reopening Cobra Kai, the karate dojo under which he trained back in the 80s. LaRusso is not too pleased to see Cobra Kai reopened which leads him to reopen Miyagi Do to counter the "strike first, no mercy" teachings of Cobra Kai. As fate would have it, the rivalry between LaRusso and Lawrence is re-ignited and becomes the central theme of the show.
While staying true to the Karate Kid formula and referencing familiar themes from the films, the show flips the script and gives us a whole new perspective on the characters we once knew and loved.
Lawrence, the original bad guy, has his heart in the right place; he is trying to unlearn everything he was taught as a young boy. He seeks to use the Cobra Kai teachings that turned him into the antagonist of the original film for good. However, he still makes poor choices at times. His first student is his teenage neighbor, Miguel, who has a run in with a bunch of bullies. Lawrence teaches Miguel to stand up for himself and fight back the bullies with no mercy.
From a nice kid who was incessantly bullied, Miguel turns into an aggressive Karate champion who made his former bullies afraid to be around him. It is not lost on Lawrence that the "strike first, no mercy" philosophy of Cobra Kai needs to be reformed. However, his efforts are threatened by the reappearance of his old sensei.
Through Lawrence's eyes and flashbacks to the original film we also learn that young LaRusso was not the sweet innocent protagonist we thought him to be. He was actually an instigator of the incidents that led to him being attacked by Lawrence and his Cobra Kai comrades. Through this revelation, we begin to understand and like Lawrence a little more than LaRusso.
LaRusso takes on a student of his own and teaches him Miyagi Do Karate which is to be used only in self defense and to defend others. The student happens to be Lawrence's estranged son, Robby. He too becomes a formidable fighter.
More students sign up for classes at both Cobra Kai dojo and Miyagi Do dojo, and the two dojos are pitted against each other in the sport as well as the complexities of the relationships between their respective students. While the developing story revolves around these primary relationships, the conflicts that follow are ultimately the product of LaRusso and Lawrence's inability to move away from the past. The rivalry between members of the two dojos grows and culminates into an incident that leaves Miguel with a serious injury at the end of the second season.
Whether LaRusso and Lawrence will be able to finally squash their rivalry and move away from their past remains to be seen. Season Three is currently set for release in 2021.
"Cobra Kai" was originally launched on YouTube Red in 2018 and pretty much remained obscure until Netflix bought it in June 2020. It is currently one of the most popular shows on the platform.