Fifty-One O One open during Pandemic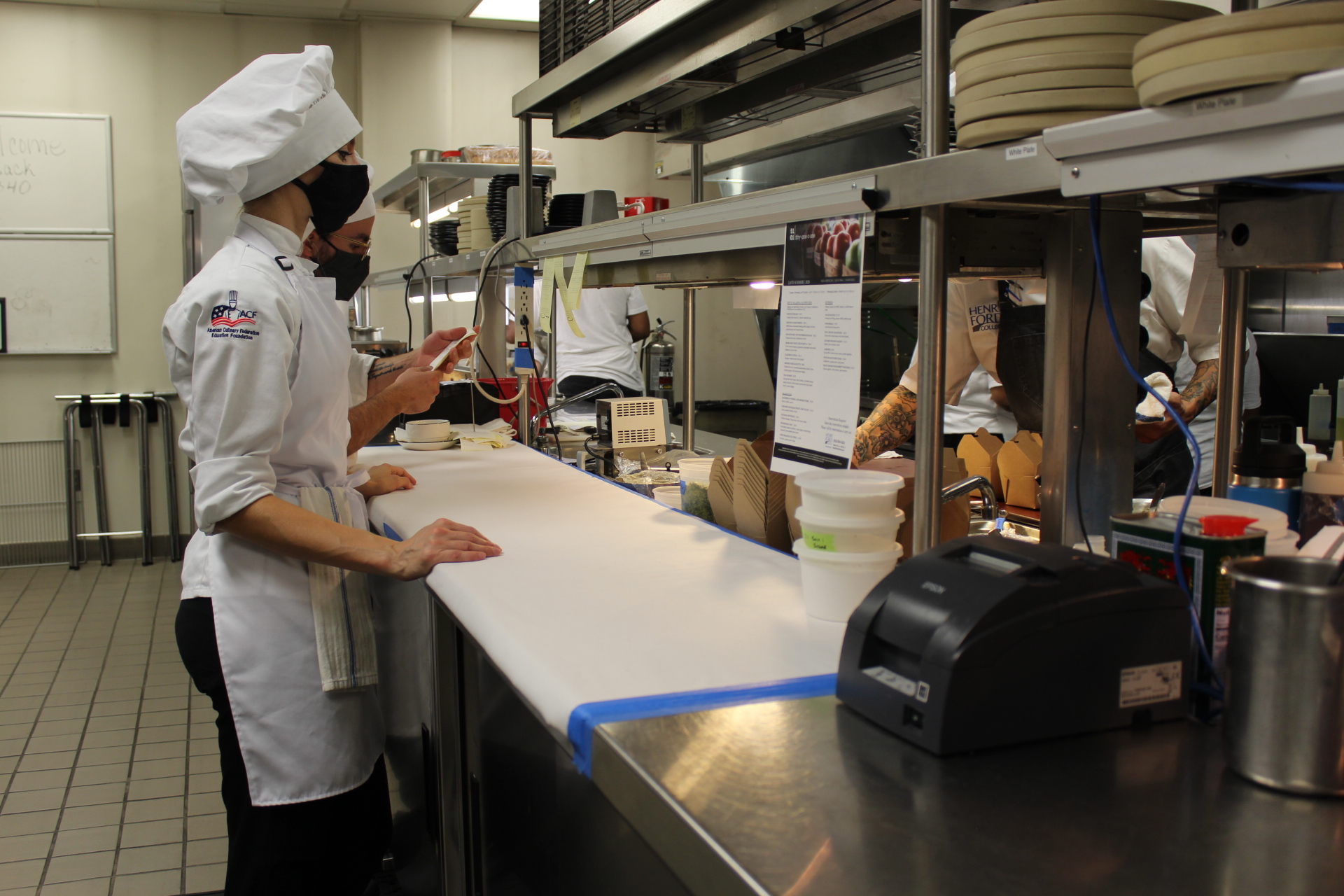 Culinary Arts students in Fifty-One O One kitchen this month | Photo by Muna Saleh
Campus this fall has been very quiet. With in-person classes reduced to approximately 25 percent of all classes, and all student gathering areas removed, it's not a surprise how eerie the campus feels. The Student and Culinary Arts Center, once a festive gathering and refuel site, has been cleared out and emptied- all except for the Fifty-One O One student-run restaurant which has kept its lights on since July.
Although the restaurant has been running since July it's only been open to a very limited amount of individuals on campus. They've only recently begun offering take out meals to staff and faculty in August. Lauren Wallace of hospitality and Chef Joseph Cosenza have been working very hard to make the restaurant menu available to more individuals, but preventing a COVID-19 outbreak is the most important issue to tackle.
Chef Cosenza and Wallace have ensured everyone in the kitchen and everyone serving food stays just as clean and healthy as they've always been. "We've always been focused on sanitation, we've always been focused on making sure we're cooking clean, wholesome, safe food. And those sanitation practices include continuous hand washing, even if you just scratch your face, you know that's a requirement in order for us to touch food again," Cosenza said. "One of the things that all of our students are required to do is to pass a food safe exam before they come into the kitchen and their lab classes, that is an industry standard."
"So all we've really done is tighten up some COVID precautions. Keeping people 6 feet apart, making sure we're seating guests far away from each other using every other table, and then limiting our capacity to about 25 percent." With a strong emphasis on cleanliness, the restaurant has been negotiating plans to open up safely to more individuals without risking an outbreak.
So far dining in is restricted only to students with class within the culinary building and take out is only available to staff and faculty members. Holiday meal kits for Oktoberfest and the December holiday season will be available via curbside pick up. The November bake sale will also be available through curbside pickup. Both meal kits and the bake sale will be available for purchase to the community. More information will be available soon on hfcc.edu/5101.
Rest assured that when Fifty-One O One opens to the community, you'll be receiving the best care and quality possible. The staff is eager to serve you their delicious and carefully crafted fall menu.
Unfortunately with the college being closed for months, the community garden outside of the student center has withered away. "We just weren't able to get on campus to work on it this year so we're pretty limited. We had some herbs come back up a second time which was great, but we have still been sourcing food from local farms like we always do."
Chef Cosenza also had the exciting opportunity to partner up with Eastern Market to do a cooking livestream over the summer. He shows how to create a delicious spring vegetable and potato soup using common household ingredients. Cosenza hopes to be able to do more of these cooking live streams at least once a month, featuring a menu item and promoting the amazing HFC culinary program.