"Birds of Prey (and the Fantabulous Emancipation of One Harley Quinn)": A Feminist Approach to the Superhero Genre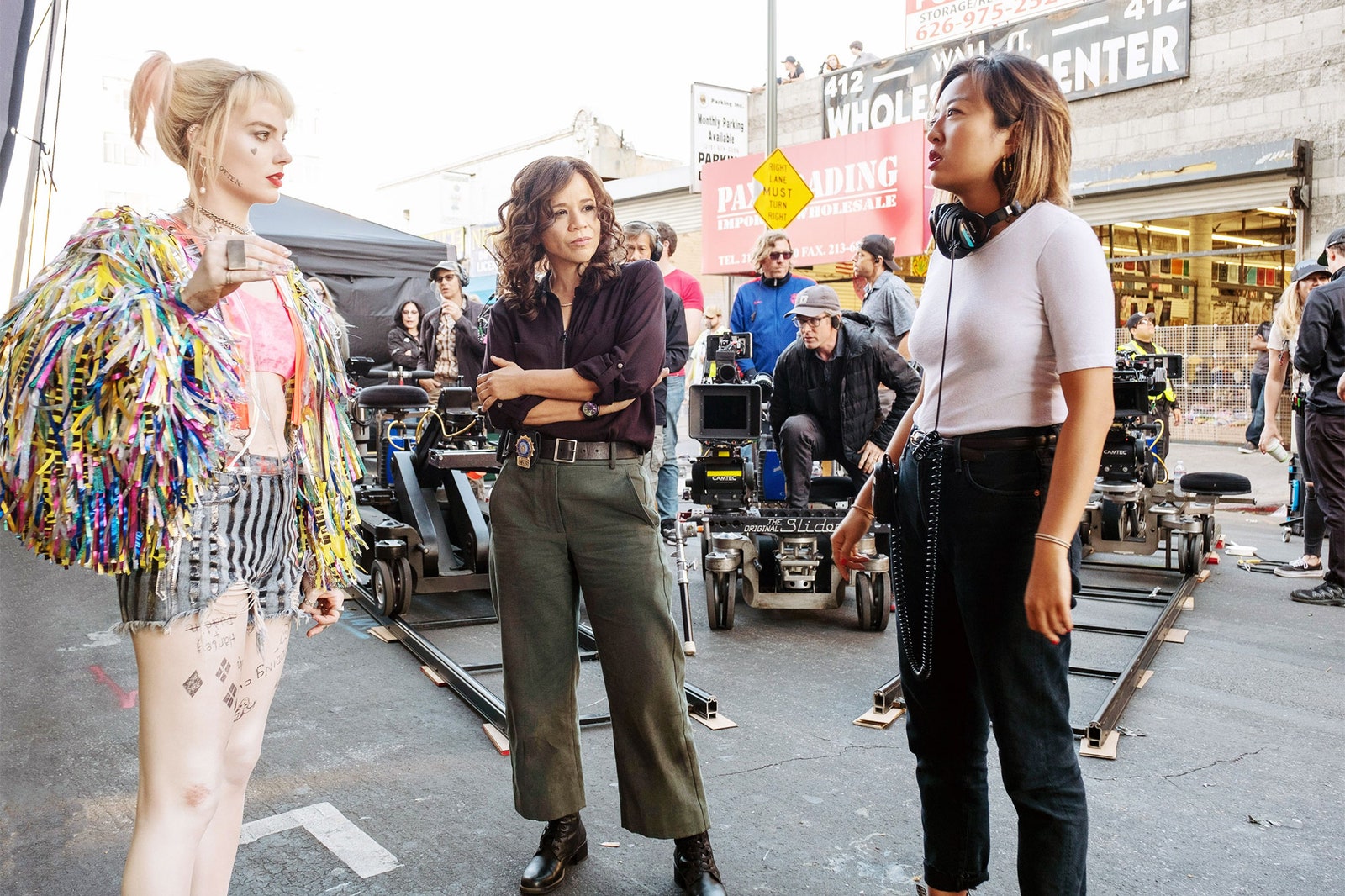 Margot Robbie, Rosie Perez and Cathy Yan | Photo courtesy of Warner Bros
After director Cathy Yan's 2018 independent feature film "Dead Pigs" gained positive critical attention at the Sundance film festival, this year's "Birds of Prey" makes Yan the first Asian-American woman and second woman in general to lead and direct a big budget comic book movie. In a phone interview, Yan said, "It helped my case that this was a movie specifically about the female experience."
Starring Margot Robbie, reprising her role from "Suicide Squad," Harley Quinn strikes out on her own and forms an alliance with fellow female antiheroes who later go by the "Birds of Prey." The twisted story is told from Quinn's perspective. Now that she's vulnerable and unprotected from her former boyfriend, the Joker, every thug in Gotham City is after her. When narcissistic villain Roman Sionis and his right-hand man Zsasz put a half-million dollar target on a teenage girl, the whole city starts looking for her, resulting in Harley, Canary, Renee Montoya and Huntress teaming up to fight back Roman Sionis and save the girl. Harley Quinn hopscotches through flashbacks and places to tell the backstory of her new squad.
To make the movie different and more interesting, Yan included her love of old-fashioned Hong Kong action movies and her dancing experience to the fight sequences. When asked what she wanted Quinn's character to do that we haven't already seen in "Suicide Squad," Yan explained that Quinn was only the Joker's girlfriend and that she was part of the ensemble. However, in "Birds of Prey," Yan says, "the movie is Harley — it's implanted in Harley's brain and seen through Harley-vision. Basically, she could do anything, she could say anything. She gets to be her own hero and savior. The whole movie's about these women emancipating themselves — it doesn't have to just be from a relationship. It could be from their own self-doubt. It could be from a system that they don't feel really sees them. All of the Birds go through that in some way."
On a different note, "Birds of Prey" symbolizes a new beginning for Harley Quinn. For the majority of "Suicide Squad," Quinn wears a shredded T-shirt and shorts that are cosplayed as underwear. However, her wardrobe gets an upgrade. Yan explains to Vanity Fair the sudden change in Quinn's wardrobe. She said, "We wanted to make sure there was a visual departure from the way she looked in Suicide Squad because she's different." Yan went on to say, "She's without the Joker, she's no longer the girlfriend, and what does that say? What does that mean? If she's just on her own, what clothes did she choose to wear?"
Written, directed and produced by three talented women, "Birds of Prey" is a superhero movie that presents a female perspective. Warner Bros. supported Yan's movie with a strong and witty script by Christina Hodson. Margot Robbie produced the film in addition to starring in it. Hodson told Variety about Robbie's vision for "Birds of Prey": "She really wanted to see Harley with girlfriends, Harley in a girl gang. Harley is such a naturally sociable character. And I think there was just a general longing to see girls together on screen — women being friends."
As Yan said, "It's meant to be a fun, empowering, crazy, laugh-out-loud ride." And, like Yan, I found that,"It lets you disengage from the world for a little bit."
Share it now!