Psi Beta Loneliness Survey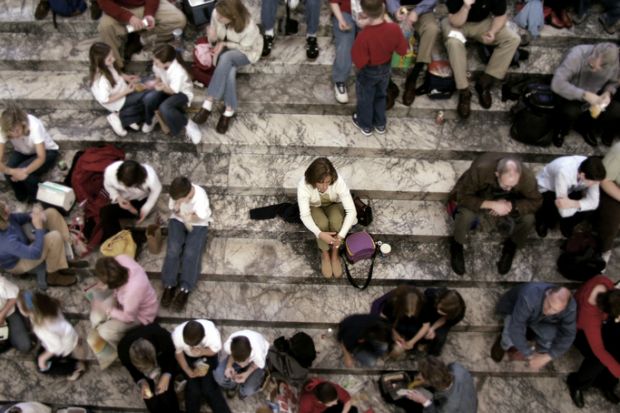 Image courtesy of Times Higher Education
Psi Beta is a psychology honors society that gives students in the field of psychology the opportunity to conduct research with their peers, and then organize that research into a presentation for a convention in Chicago. Even though Henry Ford College's Psi Beta student club will not be joining them this year, they still conducted a survey on loneliness for students at HFC to complete.
The inspiration for this survey happened during a club meeting, where they discussed important mental health issues faced by college students. The club decided to raise awareness of depression and anxiety, particularly loneliness.
Psi Beta members expected to find that community college students would be more lonely in comparison to university students for a couple reasons. One observation is that community college students tend to be less involved in campus activities. Some common community college student demographics are lower income families, first generation college students, single parents, and post-military students who may have experienced trauma from violence both domestic and abroad, including U.S. veterans. It makes sense that these groups wouldn't want to spend much time on campus because many are heading to work after class, have a child at home, and/or could be focusing on their mental health, particularly for post-military members.
However, another main reason that students may not stick around campus is because they commute. The majority of students at a community college travel to and from school, so they may not feel invested enough on campus to stay after class. Not only do many students have other obligations that keep them from staying on campus, the lack of activities and student connections can contribute to isolation and a sense of loneliness.
Psi Beta's Loneliness Survey first asked questions about the students' demographic, like gender, race, sexual orientation, religion, first language, disability, current/former military member, whether they are full-time or part-time, and whether or not they belonged to a student organization/program on campus. The goal of these questions was to see which demographic is typically more lonely. At the end of the survey, students rated themselves on a loneliness scale.
The loneliness scale used by Psi Beta was inspired by a handful of published surveys, mainly conducted in the university setting. Psi Beta decided on appropriate questions for HFC students with the guidance of their advisor. Each question was rated on a scale of one to four, one being never and four being often. Questions ranged from asking if students have a sense of belonging to directly asking students about how lonely they feel. For example, one question asked whether professors encouraged your involvement with others, whereas another question asked how often you feel alone on campus.
Henry Ford College's Student Connections sent a mass email advertising the survey, which resulted in over 600 participants. Psi Beta has not been able to review this data now that classes have moved online and the college has closed in response to the COVID-19 pandemic, but the data will be used for next year's Psi Beta students to analyze and from which recommendations may be drafted.
Psi Beta has been thinking of different ways to spread awareness of mental health on campus. After reviewing the data from the survey, the group will be able to do this more accurately.The survey data might help with developing ways to better provide resources to specific groups of people identified by the survey as needing more help, or help with determining guest speakers to bring to campus. The data from the survey might also help college counselors better meet the mental health needs of students who need help. If you or someone you know may be interested in becoming a member of Psi Beta, email faculty advisor, Elaine Louisell: delouisell@hfcc.edu. Motivated students are needed to lead Psi Beta next year when some of the club's officers graduate from HFC. Requirements to join include passing a psychology course with a B or higher, a cumulative GPA of 3.25 or higher, a one time $50 fee, and an interest in psychology. If you meet those requirements, you are encouraged to email Dr. Louisell for more information on how to join. For further information about the psychology honors society, visit psibeta.org.