Marvel Signing with Creator of Amulet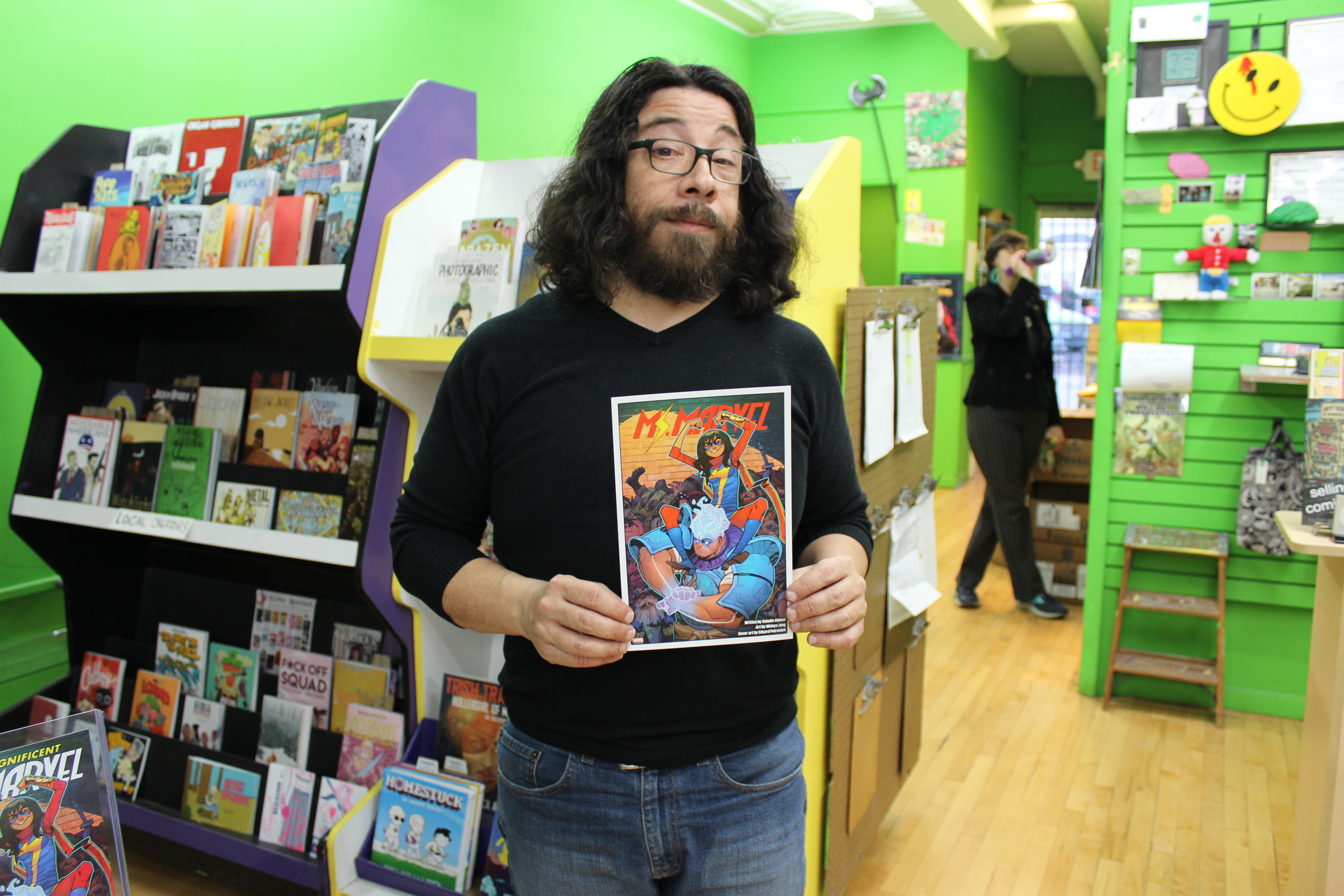 Saladin Ahmed | Photo by Muna Saleh
On March 4, Saladin Ahmed, HFC alumnus who currently works for Marvel, stopped by Green Brain Comics in Dearborn to sign his new release of "The Magnificent Ms. Marvel" that features the new hero, Amulet.
Saladin Ahmed has been writing for Marvel for about 3 years. His works for Marvel include Ms. Marvel, Blackbolt, and Miles Morales. Ahmed has won the Will Eisner Comic Industry Awards for best American comic book and has been nominated for the Hugo and Nebula awards.
"From the beginning, I knew I would like to introduce characters there," Ahmed said. "After I'd been working on Ms. Marvel for a while, it was a natural place to introduce an Arab American character and I started to think about the design and I had a specific artist in mind that I knew I wanted to work with on it." Ahmed worked with artist Sara Alfageeh to create Amulet, a hero born and raised in Dearborn.
Amulet appears for the first time in Issue 13 of "The Magnificent Ms. Marvel." Amulet, aka Fadi Fadlalah, is an ex-football player. He helps Ms. Marvel, aka Kamala Khan. Although he doesn't show up very much in this issue you can expect to see more of Amulet in coming issues.
Saladin Ahmed seeks to promote diversity in comics. "For me, it's been very important to make it part of my job as a writer to make those things look different than they have in the past and make different kinds of people heroes that haven't been allowed to be in the past," said Ahmed.
Ahmed encourages HFC students not to limit their prospects. "Have an open sense of how you can make your way into the world, especially creative people."
You can find Saladin Ahmed on Twitter @saladinahmed. Issue 13 of "The Magnificent Ms. Marvel" featuring Amulet is out now at Green Brain Comics, located on Michigan Ave. in Dearborn and at other outlets where "The Magnificent Ms. Marvel" is sold.