Fifty-One O One Restaurant Updates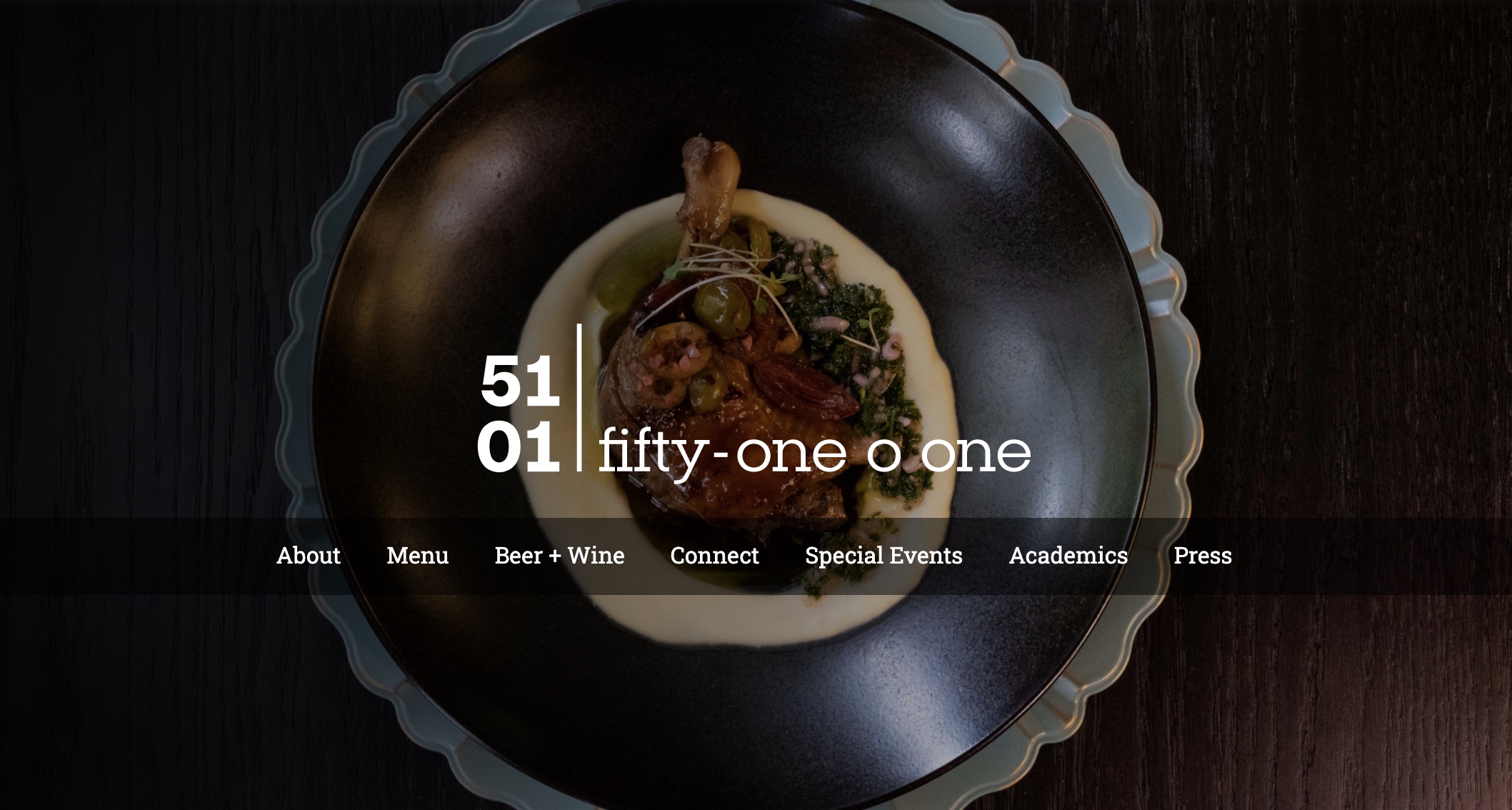 Fifty-One O One's website menu
Henry Ford College's student-run restaurant reopened Feb. 5 with a few changes.
The restaurant has been running for about 15 years. Chef Joseph Cosenza has been working and teaching at Fifty-One O One since fall 2012. "We've got some pretty amazing food. We get to work with some of the best ingredients that we can find," said Cosenza.
Chef Joseph Cosenza has a history of working with big chefs and restaurants in Chicago, San Francisco, Las Vegas, Italy, and France. His focus was always high end cuisine. He then fell into teaching and has stuck with it since.
Chef Cosenza tells us that all the ingredients from the restaurant have been sourced from local farms five hours away or less. The goal is to get the best, healthiest, safest local ingredients possible. The restaurant works with several organizations such as Grow Eastern Market, Cherry Capital Foods, and Kalamazoo VallyHUB that connects them with farmers and gets the ingredients to the kitchen. Chef Cosenza tells us that the restaurant has also developed relationships with individual farmers that will grow specific produce just for the restaurant.
Last year the restaurant held eleven different regional menus. Each week of the semester would offer a different menu from a region such as France, Italy, Germany, or the southwest United States. Chef Cosenza has been working on this menu change for about 2 years and in fall 2019 it rolled out. "We looked at the menu and said we wanna be vegetable-driven," Chef Cosenza explains, "Half to a quarter of our menu will highlight produce from Michigan."
Now the menu will change every three weeks and food prepared will correlate with the season's harvests. It also allows guests time to experience the different menu options offered.
Cosenza explains what being "vegetable-driven" means: "Currently we have a carrot dish that's roasted carrots with a carrot puree and then we do a Vadouvan curry butter on top of it. And then we garnish the dish with carrot tops, the little greens. And so now we've used the entire plant. We've used the plant a couple of different ways. The student learns that you don't just have to steam, or bake, or roast, or boil carrots. Well now there's a ton of different things you can do to it. Then they understand the different textures that it can drive, the different ways we can enhance different tastes of the carrot through different cooking techniques."
Although it is a more sustainable way to cook food, the new menu change has required returning customers some adjustment. For customers who see the menu and think "oh it's too fancy," Chef Cosenza says, "It's really just vegetables, and grains, and salads, and meats, and pastas that are all made by hand and all made from scratch and just presented in really nice, elegant, flavorful ways."
Cosenza explains how the menu now follows the seasons: "We changed the way we source products, we changed the way we use products, we now follow the season. In following the season, that doesn't just mean changing the produce we use and the meats we use; it also changes the cooking techniques. So in the wintertime we crave that warm, comforting, hearty, food. And that a lot of times means braised meats, stews, and things like that. And so now on our menu, because it's so cold outside, that's the kind of cooking techniques we're using."
Cosenza continues, "As we get closer to spring what we'll see is our dishes will start to get a little bit more colorful, we'll see a lot more green stuff on the plates, because green vegetables will start to come back in. And then our cooking techniques will get a little bit lighter. We'll start to saute a little bit more, maybe we'll use the grill a little bit more. And then what we'll want to do is use delicate cooking techniques to enhance the delicate flavor of those very delicate vegetables."
Chef Cosenza has confirmed that comfort food will always be a part of the menu, "The idea is to look at those flavors everybody understands and recognizes and then just present them in a way that is kinda unique to us."
Chef Cosenza's biggest advice to diners is "order something you wouldn't cook at home."
Cosenza stresses the learning environment that the restaurant provides: "Remember that when you walk into the dining room that you're actually walking into a classroom. And the students that are working as servers are in a class and they're learning. And the students that are in the kitchen are in the same deal. They're in a class, in a lab setting essentially, learning how to cook, how to prepare food properly. Our servers are learning how to serve food properly, how to poor water properly, poor wine, all that stuff. There will be bumps and there will be mistakes when it comes to service. We just ask to embrace it. Be a part of the education process because they're all learning. They're all ambitious, they all want to be the next generation of great chefs in Detroit. Our guests can be a part of that educational process and that's pretty cool because not a lot of times you get to participate in education and this is a way to do it."
Fifty-One O One is located in the Student and Culinary Arts Center, Building M on HFC's main campus. In compliance with Gov. Whitmer's "Stay Home, Stay Safe" executive order, the restaurant is closed until further notice. Please visit www.hfcc.edu/5101 for updates regarding scheduled events and when the restaurant will reopen.