evPons Partners with City of Dearborn and helps local businesses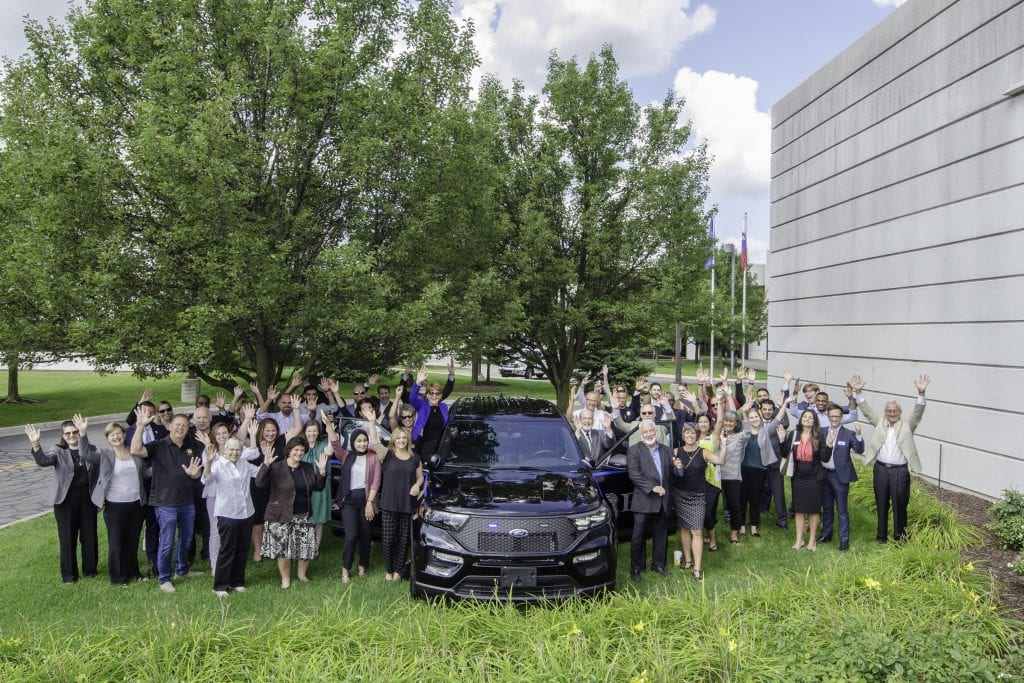 EV-Mobility kickoff ceremony Aug. 7 at the Dearborn Administrative Center. Photo by Tracy Besek
Last summer, Dearborn began a partnership with AAW Infrastructure Partners, L3C to fund electric vehicles and electric vehicle charging stations.
AAW Infrastructure Partners, L3C is a Low Profit, Limited Liability Corporation that raises donated funds for community projects. Since its inception, they have donated (292) energy efficient lighting systems and (4) EV charging stations to the cities of Dearborn and Royal Oak. This has saved the cities approximately, $200,000 in equipment costs, $250,000 in operating costs, and eliminated 1,800 tons of CO2.
Pons is the Latin for "bridge." AAW is creating the bridge for cities to easily have access to electric vehicles and charging stations.
The AAW evPons program is organized to support local businesses while simultaneously making the cost of converting from internal combustion engine vehicles to electric vehicles much easier. Over 50 sponsors in Dearborn are supporting this program including Henry Ford Health System, ACCESS, and Brome Modern Eatery. Many of these sponsors also offer coupons to their businesses at aawcoupons.com.
"This innovative program is structured to provide us the money to buy electric vehicles, which cost more than traditional gas-powered vehicles. The funds we receive from the program will mean that we can promote energy-efficiency in our fleet, but without any additional cost to our taxpayers," said Mayor O'Reilly in the city's press release. "It is in line with our commitment to sustainability."
The way the program works is customers make a purchase at participating sponsor businesses and a percentage of the sales go towards the infrastructure funds. AAW Infrastructure Partners, L3C then matches the fund total. The sponsors get increased brand recognition and the city gets funding for electric vehicles.
Mayor O'Reilly and Tom Wither, founder and CEO of AAW Infrastructure Partners, L3C, hope to see many people taking advantage of the evPons sponsor coupons.
HFC students were encouraged earlier this year to participate in the free to enter Treasure Hunt 'advergame.' However, due to COVID-19 and social distancing guidelines, the $3,000 Treasure Hunt game will be temporarily canceled until deemed safe to continue. In the meantime the $3,000 and 50 percent of the funding raised from the program will be used to "pay for dinners from 'struggling' Dearborn restaurants and bakeries to provide free meals/baked goods for Dearborn 'challenged' residents," said Tom Wither.
Some of the restaurants Wither is supporting and working with are Al-Ameer Restaurant, Brome-Modern Eatery, Cedarland Restaurant, Cedar's Bakery, Express Poultry and Fish, Golden Bakery, Hamido Restaurant, La Pita Restaurant, La Shish Restaurant, Lebon Sweets, MINT 29, Pizza Kitchen, Roman Village Cucina Italiana, Shatila Bakery, Toramina's Pizza, and many more. "We are initially providing approximately 50 Dearborn STEP consumers with disabilities and staff with free meals and baked goods. We are also working on helping Dearborn seniors (currently in lock-down) living in Hubbard Manor East and Hubbard Manor West apartments with 50% discounted meals and baked goods from the mentioned restaurants and bakeries," Wither adds.
"We hope we can expand our efforts, to other Dearborn challenged residents, funding permitting," Wither said.
To support this program simply make a purchase at any of the sponsors' businesses listed at aawcoupons.com.
Share it now!