HFC Students Meet the Social Venture Challenge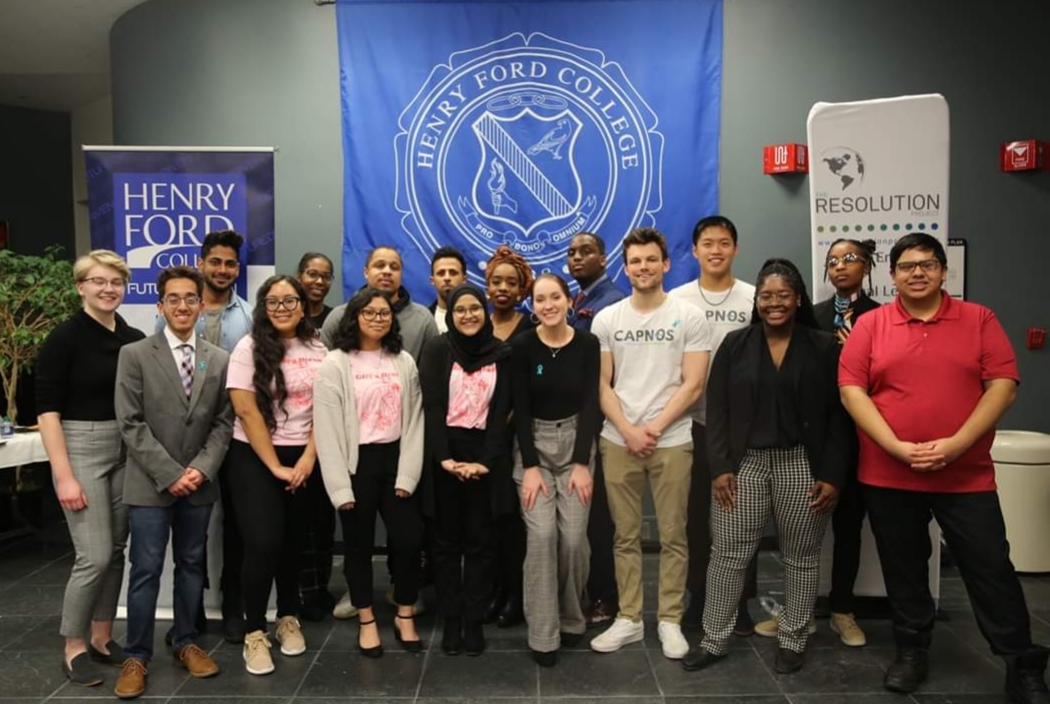 Contestants for the Social Venture Challenge photo courtesy Jessica Schrader
On Feb. 6 and 7, Henry Ford College hosted its first ever Social Venture Challenge, inviting the Resolution Project, a global non-profit, as well as challenge competitors, and some special guests.
The Resolution Project was founded in 2007 to develop and empower young leaders so they can pursue socially responsible solutions to issues affecting communities around the world. The Resolution's founders believe that college students have the energy, idealism and will to solve some of the world's most persistent and challenging problems, and should be leading today.
The main goal for this convention was to give young adults, particularly undergraduates, the chance to right some wrongs that they see in their community by raising funding for a club or new program or invention. Thursday started the night with three hours of presentations, lasting from 6:00- 9:00 p.m., that gave the judges and other guests the chance to rotate between stands and hear everyone's pitch. With almost 15 applications, the presentations were board and diverse, ranging from providing resources to sexual assault victims to creating a placebo for vaping, but only eight groups ended up making it to the final Shark Tank style interview on Friday morning.
During the three hour process on Thursday, guests had the opportunity to listen in to different panels with various speakers. For the first roughly 35 minutes, Michigan Secretary of State Jocelyn Benson, answered questions with Henry Ford College President Russel Kavalhuna. The next 35 minutes were dedicated to the My Vote Counts panel, which consisted of Michigan vice president of Voter Services Betsy Cushman, voting rights strategist Sharon Dolente, Director of voter services Joyce Dallas, and lastly, University of Michigan political science and public policy professor Edie Goldenberg. At 7:20 p.m., competitors broke into two groups where Group A joined the Community Service panel and Group B joined the Student Service panel, and then they switched.
During the Community Service panel, students had the opportunity to hear from Doug Ferrick, the Development Officer for Children's Foundation, Ginna Holmes, Executive Director of the Michigan Community Service Commission, Isra Daraiseha, Advocacy and Civic Engagement Coordinator for ACCESS, Fatima Hassan, from NextGen Michigan, and Zaineb Hussein, the Director for Diversity and Inclusion. This panel gave students the opportunity to ask questions to the people who can answer them best. The main objective of this panel was to give students the chance to learn more about all the resources available to them and see if they are interested.
The Student Engagement panel consisted of Fatima Nkata and Demetria Dawson from Henry Ford College, Adam Abusalah from Central Michigan University, Sarah Noon from Oakland Community College, and Elyas Perry from University of Michigan-Ann Arbor. They offered ways for students to become politically engaged. One way is for students to participate in Student Lobby Day in March, where the Michigan Democracy Institute for Civic Engagement is going to Lansing to meet with State Representatives regarding pressing issues like Higher Education Funding, Sensible Drug Policy, and Sexual Assault.
Judges would let contestants know about midnight who made it to the next round.
Friday morning at 9:00 a.m., the contestants give their last pitch to the judges and other contestants for the first five minutes, leaving the last 15 minutes for the judges to ask their final questions. While the final questions were the most difficult, they determined which groups did the research and developed a solid plan.
After the two hour finals, guests had the option to sit in on a Census Panel with President Kavalhuna, Michigan State Representative Abdullah Hammoud, President of Truscott Rossman Ron Fournier, and Wayne County Executive Warren C. Evans. The second Census Panel introduced Hayg Oshagan, Associate Professor of Media Studies at Wayne State University, Victoria Kovari, Executive Director, Detroit 2020 Census Campaign, City of Detroit Mayor's office, Daniel Baxter, Director of External Affairs, and Kerry Ebersole, Executive Director at 2020 Census, State of Michigan, where they further explained why it is so important to fill out the Census.
State Representative Hammoud made a final heartwarming speech to engage the audience and introduce some of the topics that MDICE will be taking to Lobby Day. Members of MDICE prepared three individual sessions to further explain their main issues- Higher Education Funding, Sensible Drug Policy, and Sexual Assault- and how they will be tackling these issues with Michigan State Representatives.
There were four winning groups announced, after almost five hours of the judges deliberation. The first group called to the stage was Olatola Ibrahim with Feso Jaiye Art, which is dedicated to bringing Art Therapy to Detroit. She plans on bringing African culture to the Detroit school systems as well as women's shelters. The next winning team was Candice Williams, Jessica Schrader, Anil Bansal with SAVA, the Sexual Assault Victims Alliance. They planned on bringing four main resources to victims in predominantly university settings, which include therapy, academic counseling, legal advice, and activism events, like a vigil that they organized in Ann Arbor last week. The third group was Brendan Wang and Jake Roach with their business, CAPNOS, a safe alternative to vaping. Wang and Roach created a prototype with a flavored tip, where users are only inhaling pressurized air. Last, but certainly not least, Tyren Chandler, Slyvester Tyler, and Kenyun Pittman with Fix my Finance where they created a financial literacy workshop for underrepresented communities. Their target age range is 13- 17 because they believe that is the best time to impact and shape young adults and their finance habits.
A second annual Social Venture Challenge at Henry Ford College is currently being considered.