Toss a Coin to "The Witcher"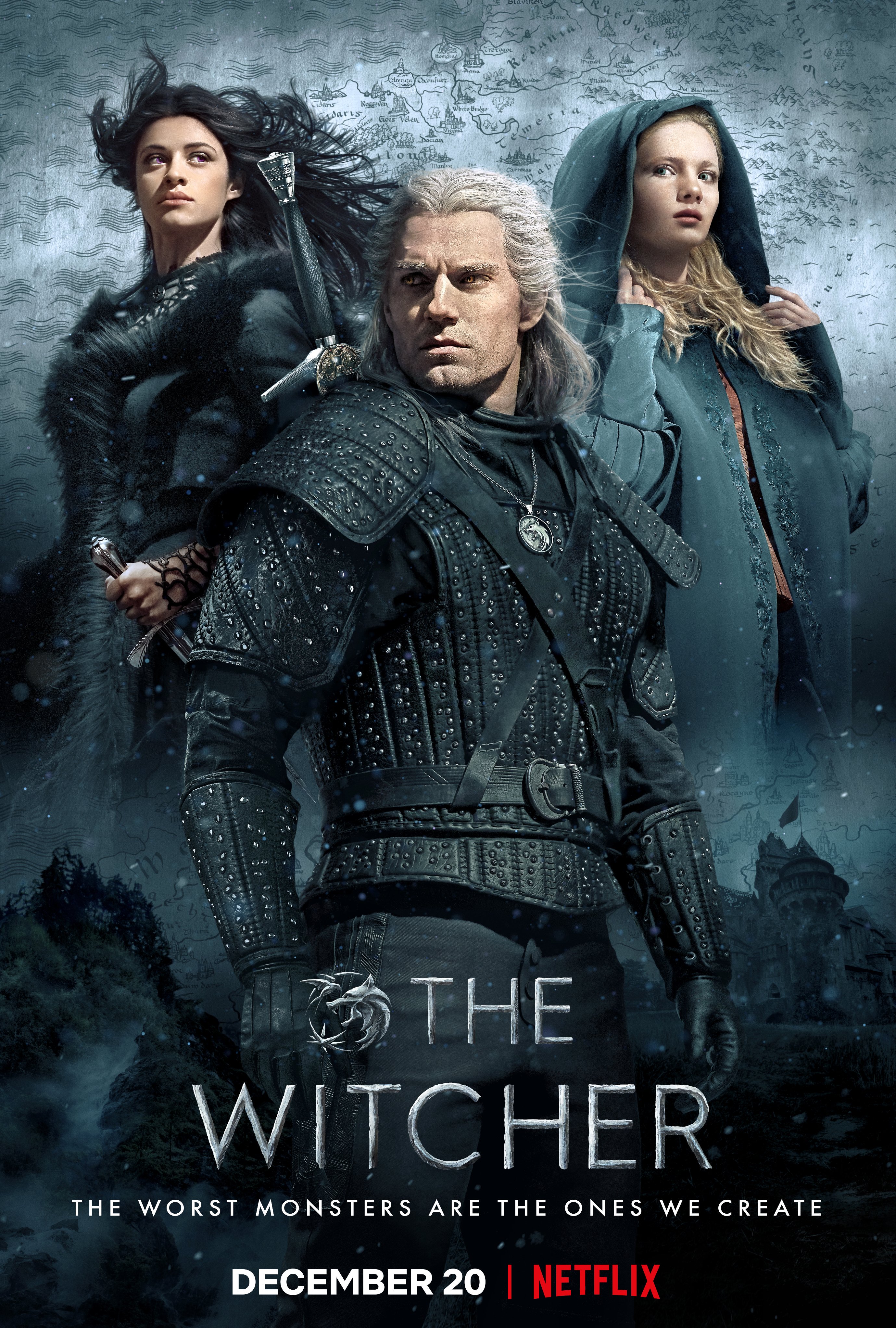 "The Witcher" promotional poster courtesy of Netflix
Like Jaskier the humble bard sings, you should grace a ride along with "The Witcher," the Netflix series based on the Polish books with the same name by Andrezej Sapkowski. The show follows Witcher, Geralt of Rivia (Henry Cavill), Cirilla of Cintra, (Freya Allan), Jaskier the bard (Joey Batey) and Yennefer of Vengerberg (Anya Chalotra).
For fans who miss "Game of Thrones," "The Witcher" fills the need for an adult-themed medieval fantasy action show. It is filled with nudity, blood, monsters, and violence. The fighting in "The Witcher" might seem familiar to fans of "Game of Thrones," since the fighting choreographer for "The Witcher" was "Game of Thrones" stuntman and The Night King himself, Vladimir 'Furdo' Furdik.
Show creator, producer and writer, Lauren Schmidt Hissrich ("The Umbrella Academy," "Daredevil," "West Wing"), has successfully built The Continent, the fictional world of "The Witcher," where monsters such as "kikimoras" and "rusalkas" exist. Witchers are men who have been mutated so that they have the ability to handle the monsters they are made to hunt. Witchers have immense strength, the ability to heal quickly, and longer life spans. They are trained since young to hunt.
Henry Cavill ("Mission: Impossible - Fallout," "Man of Steel"), a long time Witcher game fan, had his agents calling every day until he was able to audition for the lead role of Geralt. Cavill did many of his own stunts, staying in costume the entire time while filming as well as sometimes at home.
Geralt is a lone-wolf who was subjected to more mutagens than any other Witcher. Geralt is cunning and a man of few words, at least for humans, but never for his horse, Roach. The character of Cirilla, the grand-daughter of the Lioness of Cintra is played by 18-year-old British actress, Freya Allan. Cirilla, sometimes known as Ciri or the Lion Cub of Cintra, is the next in line for the royal throne of Cintra. Protected since birth, she is strong willed and has the same fierceness as her grandmother. However, she has a unique gift that separates her from others, which has been the reason for her constant protection. As strong willed as Cirilla is, Allan plays her with a sense of innocence, allowing viewers to see the harsh world of The Continent through the eyes of a child.
British-Indian 23-year-old actress Anya Chalotra ("Wanderlust," "Sherwood") plays Yennefer of Vengerberg, a sorceress and love interest of Geralt of Rivia. Yennefer is often shown as devious, scheming and contradictory. She undergoes one of the most drastic changes in the show, leading her to constantly want without ever finding the satisfaction of finding what she wants.
Jaskier, also known as Dandelion in the books, is played by Joey Batey ("Knightfall," "The White Queen"). Jaskier is a non-powered human and his humanity helps to ground Geralt's "monster."
Hissrich found that trying to tell "The Witcher" in a linear timeline following the eight books written by Sapkowski would have taken far too many episodes. Instead, Hissrich decided to use non-linear storytelling, cleverly and smoothly crossing the timelines of Geralt, Cirilla, and Yennefer. Yennefer's story spans the length of 70 years, Geralt's spans 20 years, and Cirilla spans about two weeks.
Hissrich's writing also tends to play around with parallels of scenes in the show. There are moments where phrases are said that are echoed in later episodes, which help viewers make connections.
To her credit, Hissrich can take a scene from the books that may have been several pages of dialog and condense it to a well-timed "Hmm." Some other notable changes include Cirilla being aged up around five years and Yennefer being changed from a Caucasian woman to British-Indian, which caused a stir with fans of the games and books.
The show is not all dark and serious. Jaskier the bard (Batey) seems to be the comic relief of the show, from how humorously scared he can be during a scene, but also from some of the witty songs he sings. Batey's Jaskier brings some whimsy to a world that is dark and harsh.
There is also something to be said about the ballads written for Jaskier, which re-convey happenings, themes, or developments within the show and, depending on how often you listen to them, may be difficult to get out of your head, like the insanely popular "Toss A Coin To Your Witcher," which is a retelling of the feats of Geralt from episode two, when Jaskier first met him.
Season One of "The Witcher" is currently streaming on Netflix. No release date has been announced yet for Season Two.
Share it now!