A Divorce Story with No Sides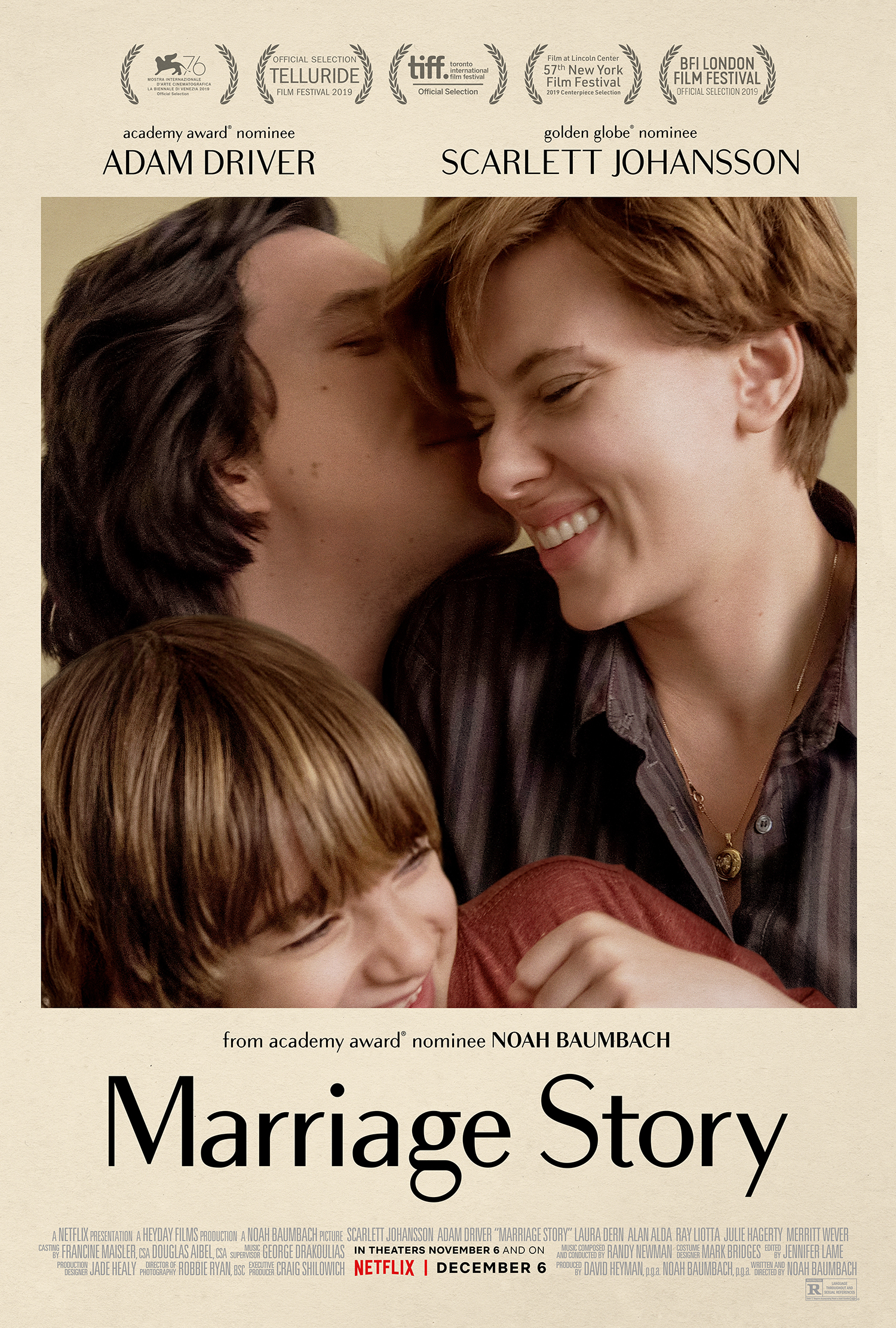 Promotional poster for "Marriage Story." | Courtesy of Netflix
As an aerial shot on a broad street with Charlie Barber (Adam Driver) carrying his exhausted son Henry Barber (Azhy Robertson) to the car closes Noah Baumbach's "Marriage Story," there is a faint discord in my mood. Only a moment before Nicole Ryder Barber (Scarlett Johansson) – perhaps simply 'Ryder' by the end – walking away from said two, steals a glance of Charlie's untied shoestring, and decides to tie it. The gesture is small, recondite but epitomizes that despite their tumultuous disunion, the two share something enduring. The mood may be a sense of belonging to this "something" confounded with a sense of loss. Some reviews mention how the narrative centers on Charlie's perspective, which certainly encounters loss yet belonging, whereas others have taken this as a connection between Baumbach's own life and Charlie's.
Noah Baumbach told Jeff Gordinier of Esquire, "The notion of people seeming the same but not being what they present themselves to be was very scary to me." This is the predicament we find in much of the film, but Baumbach explores the nuances of that idea through Charlie and Nicole.
The opening of "Marriage Story" shows Nicole and Charlie recounting the things they love about each other. These monologues reminisce on how their marriage has abided while fraying, while sharing their appreciation of one another as parents and individuals. These monologues, however, are soon revealed to be letters written at the request of a mediator, and never heard by one another; hence, never made into conversation for exchange. This is their attempt to have a legal dissolution, which fails in the same scene in which we are introduced to it.
Nicole moves to Los Angeles for a role in a TV series she is offered while Charlie remains in New York. Their son accompanies her. As Nicole says to her lawyer Nora Fanshaw (Laura Dern) when they first meet, "To be honest, all the problems were there in the beginning too." The tension of their separation is obvious. From the suspicion of extra marital affairs Nicole hints at when she, in annoyance, leaves a gathering after spotting the stage manager Mary Ann (Brooke Bloom) approach Charlie to the sober restraint in her demeanor towards Charlie, his presence strains her. Johansson portrays this mood with a pronounced manner of discomfort. However, this mood is temporary as Nicole, after being introduced to the cunning and legally acute Nora, becomes intent on having "an entirely different life" in Los Angeles.
Charlie, oblivious to it all, gradually acknowledges changes in their relationship. Nicole seems the same to Charlie, but only appears to be the same because she is 3,000 miles away from him. It is not until an awkwardly silly encounter with Nicole's sister, Cassie (Merritt Wever), that he finds he is being divorced. Reluctant to respond to "being served," he fluctuates between two lawyers: Bert Spitz (Alan Alda), who evokes a wise, patient contrast to the strategic Nora, and Jay (Ray Liotta). The severity of what divorce brings reaches Charlie in piecemeal development. Driver for many scenes is stuck in astonishment at how divorce is simply a game of building conflicting narratives as he assumes that what was once before will remain after the divorce – a family. Divorce could revoke his fatherhood, and this becomes the core drive of his subsequent frustration.
Their transition reveals something about Charlie, a sort of dependency he had relied on throughout their marriage. In each scene where Charlie learns that his assumptions about how their separation would transpire and what Nicole was intending to do are unreliable, we learn that he was domineering.
David Sims of The Atlantic describes the film as presenting the asymmetry of how the divorce impacts the two. The actual divorce, or the court proceedings mark the last third of the film and shows a curious limit to this asymmetry. Two-thirds of the film present this asymmetry while the last third presents symmetry. In an incisive scene, which is something of a preliminary climax, Jay and Nora represent in a tactical callous fashion each client's case. In stating the wide range of intimate facts between Charlie and Nicole, the camera depicts a stark visual of the shame which both feel. A close up of their sheepish faces as they tilt their heads show the embarrassment from what they have revealed to their lawyers, rarely, if ever, making eye contact with anyone. At this point, finally in the film, Charlie and Nicole are on equal footing. It is clear they have allowed the legal system to play out the status quo of divorce, that the father is being blind-sided by his wife and that the mother is being abused by her husband. At one point, Baumbach questions the legal system of divorce and its intricate ambivalence. In separate dialogues, lawyers Bert and Nora observe how divorce is designed and anticipates its subjects, how there is an intentional yet inevitable distance between a lawyer and client.
It is difficult to watch "Marriage Story" and not be tempted to choose a side. It is naively convenient to take Charlie's side. The divorce threatens his parenthood; Nicole seems to have disregarded their earlier agreements. Yet, it is emotionally convenient to side with Nicole; Charlie committed infidelity, and he seems to have been dismissive and suppressive. Perhaps there really is no side that the viewer can pick. As Baumbach puts it, "There's no side to take. It can still be a love story even if they don't end up together." Regardless of who one may sympathize with more in "Marriage Story," as a whole it shows how divorce temporarily effaces love for contempt through the legal system's brutalizing of a relationship albeit not beyond repair. In the end, the relationship does not exactly end, which may ultimately be the point.