Australia's Bushfire: A World Crisis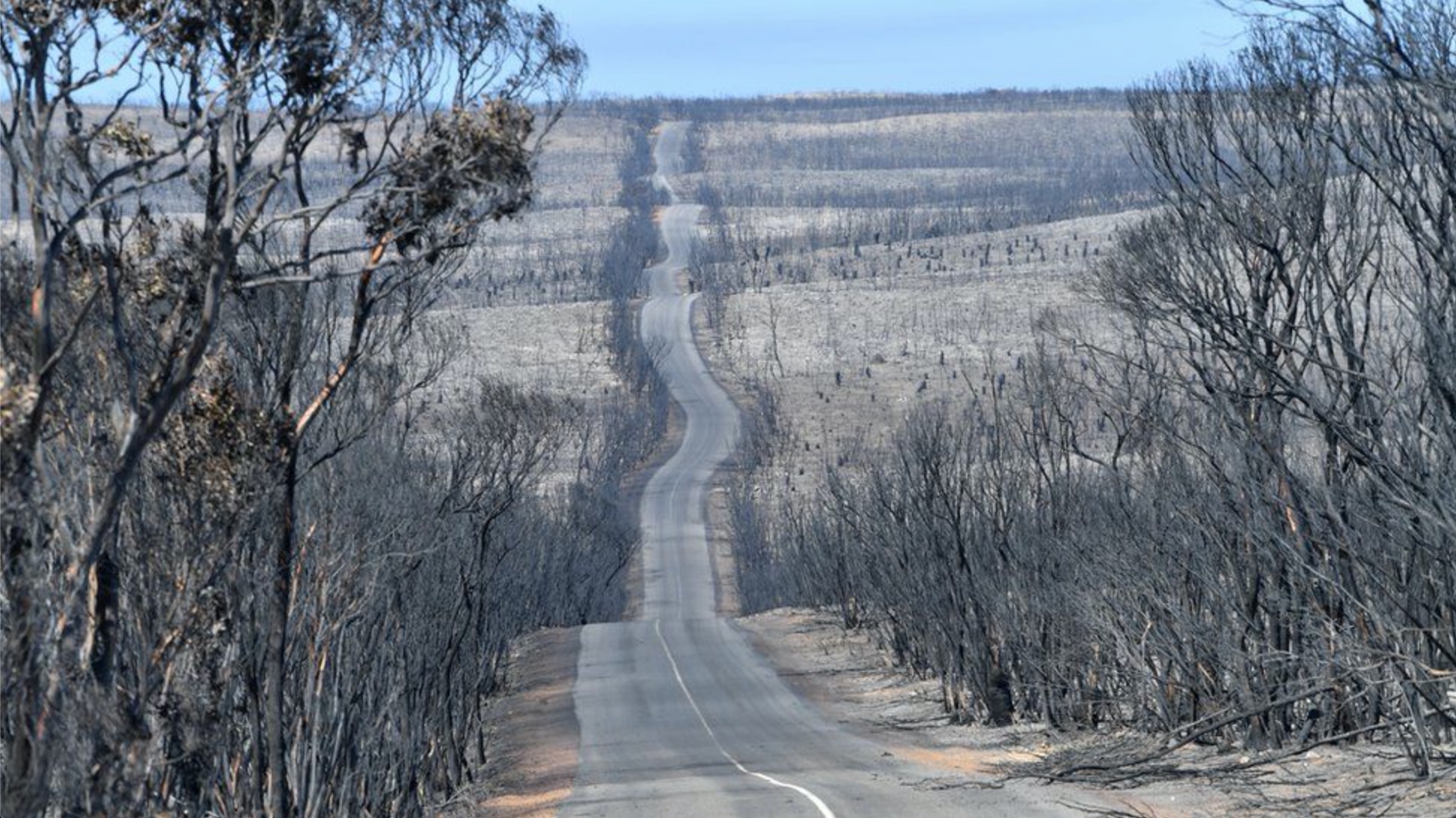 Kangaroo Island after the bushfires | Photo by Kayne Davis
The Australian bushfire crisis started back in September 2019. Australia's Prime Minister Scott Morrison has been criticized internationally for his inaction on climate change. Critics have suggested his policies have contributed to the conditions that allowed the fires to spread so quickly.
Seemingly oblivious to the criticism, on New Year's Eve, Morrison ordered Sydney to celebrate with fireworks while the rest of Australia was burning, "to show the nation's resiliency." Morrison then said the event showed how "optimistic and positive" Australia is.
One critic on Twitter wrote, "Dear Prime Minister, I hope you enjoyed the fireworks and your celebration while the rest of Australia burns. Enjoy your privilege." Tim Flannery, the chief councillor of the Australian Climate Council. told CNN, "This was predicted by climate scientists. First, in the early '80s. My own climate council has produced twelve reports warning the government and warning people of the escalating fire risk and danger in Australia."
Last year was the hottest and driest year in Australia, making it easy for fires to spread through the continent. These conditions are getting miserable because climate change is affecting the water cycle. Department head at the Potsdam Institute for Climate Impact Research in Germany Stefan Rahmstorf explained to Time magazine, global warming "leads to less rainfall in already dry parts of the world, and more rainfall in the already wet parts of the world."
To date, the Australian bush fires have claimed the lives of at least 28 people and more than 3,000 houses have been destroyed.
Many Australians have taken refuge in their boats or on beaches, trying to get as far away from the fire as possible. Fire clouds, fire-driven thunderstorms, dry lightning strikes, ember attacks, and fire tornadoes are all happening as a result of the bushfires. Lesley Hughes, who studied climate change's effect on Australia for years, said, "We have been getting a lot of dry lightning strikes, which potentially create fires that are really supercharged and really cannot be controlled." Dry lightning strikes happen when lightning hits the ground which causes friction that causes a spark of flame. In normal circumstances, a lightning strike happens when it is raining so the rain puts off the fire before it spreads. Unfortunately, due to several years of drought, Australia does not seem to be recovering from the bushfire anytime soon. Firefighters have been fighting the fires nonstop for five months, but it has been very hard to control where the fire is spreading. Volunteer firefighters from the U.S, Canada, New Zealand and Singapore flew to Australia to help fight the devastating bushfire.
New South Wales and Victoria are the most affected regions. An estimated 10 million hectares of parks, forests and bush has burned. To visualize how massive the fire is, imagine a little over three quarters of Michigan burning. Five million hectares out of the 10 million is in New South Wales.
New Zealand is about 1,200 miles away from Australia's eastern coastline but smoke from the raging bushfire in Australia is turning New Zealand's sky orange. One witness tweeted, "This the view from the top of the Tasman Glacier NZ today - whole South Island experiencing bushfire clouds. We can actually smell the burning here in Christchurch. Thinking of you guys."
The impact of the bushfire in Australia's wildlife is catastrophic. South Australia, where the Kangaroo Island is located, has been consumed by fire as well. The beautiful island that is known for its unique animal species and biodiversity is apocalyptic now. An estimated fifty thousand koalas were caught in the fire and killed. Kangaroo and koala carcasses line the side of the roads.
According to the BBC, scientists are concerned about many endangered animals such as black cockatoo, dunnart pygmy possums and the southern brown bandicoot: "They are likely to have perished in the flames and for those who've survived, their habitats are gone." With their habitats completely destroyed and lack of food and water, there is little hope for those animals to survive.
The Aussie spirit is filled with compassion. Over the past few weeks, Twitter has been filled with videos of parched animals approaching people for water or something to eat. Many Australians are working against the clock to help save and take care of those animals. In addition, Australia's wildlife officials have airdropped thousands of pounds of carrots and sweet potato across affected wildlife areas. Koalas are the hardest to deal with as they are picky and require big and specific amounts of vegetation. Veterinarian Oliver Funnell told National Geographic that what koalas "happily chewed yesterday they may reject today." NBC news also reports that volunteers have been searching for tree patches unaffected by the fires in hope to harvest some greens for the animals. Volunteers are also keeping water buckets around for animals to drink and stay hydrated. Many others turned their houses into mini sanctuaries for animals.
It is estimated that the bushfire has pumped 350 tons of CO2 into the atmosphere, which according to NASA data is roughly two-thirds of Australia's yearly emissions. This means it will take many years for forests to absorb the CO2 released into the air. This estimate was made about a month ago, but with Australia still burning and in what is only the beginning of their dry summer, this number will increase. The wildfire is not just an Australian problem; it is a world crisis. NASA has released a video showing how smoke is circling the whole globe. Yet, there are still some leaders who do not believe in the existence of climate change.
People blame climate change for what is happening, but we are responsible for climate change in the first place, and we are responsible for dealing with the effects of our actions on the planet. It is never too late to make some changes and make our Earth safe for future generations. If we do not take action now, the "new normal" will be bushfires, flooding, coastal cities disappearing, severe drought, loss of habitats and loss of life.
Share it now!