Turkey Trot Fundraiser at Henry Ford College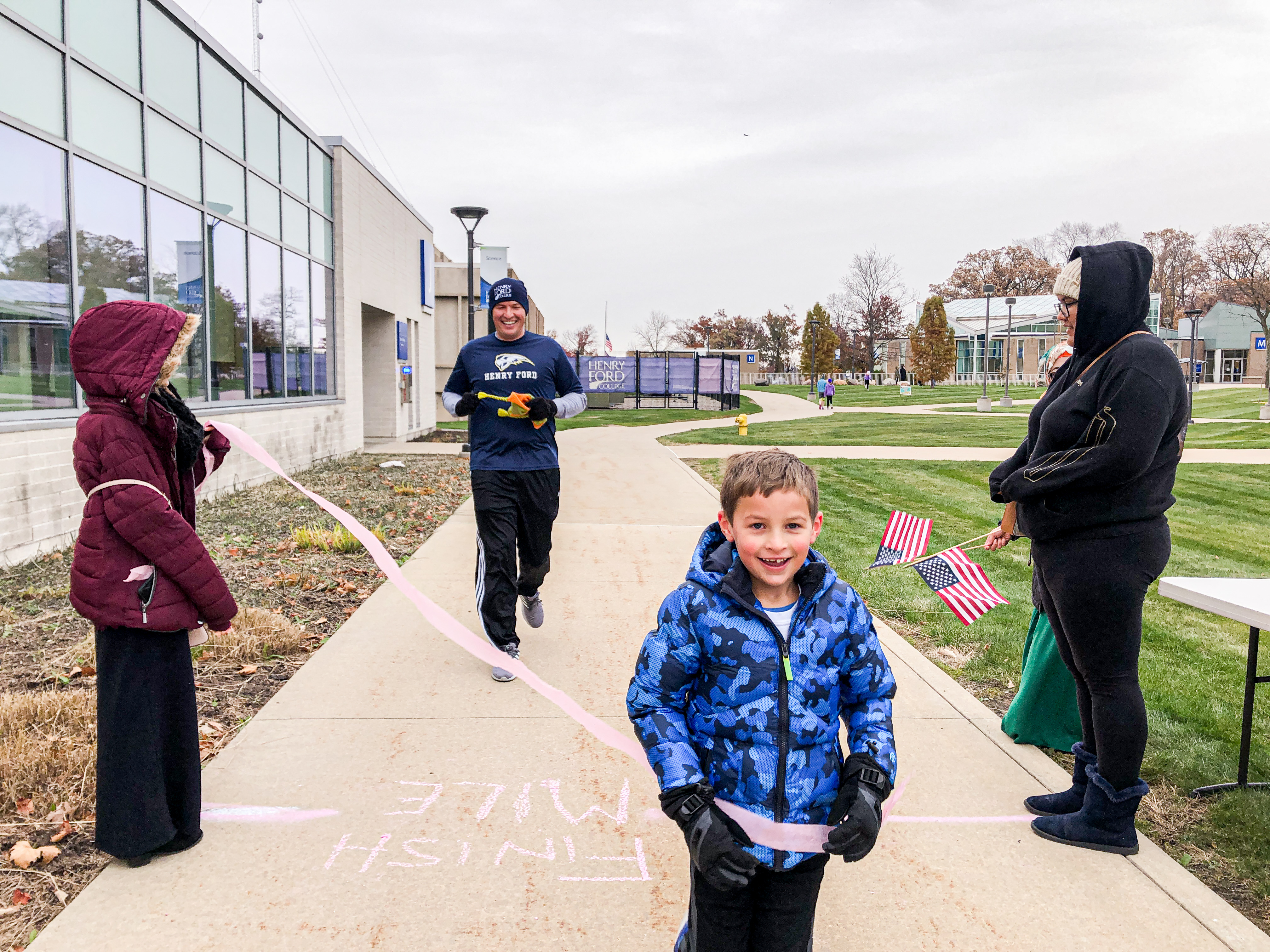 HFC President Russell Kavalhuna and his son Miles | Photo by Rose Albayat
Henry Ford College held a Turkey Trot fundraiser on Nov. 9 on its main campus in Dearborn. The run/walk included both a one mile race and 5K. Fellow members of the Michigan Democracy Institute for Civic Engagement, a student political activist group on campus, and I organized the event.
HFC President Kavalhuna made a guest appearance with his wife, son, and daughter, and impressed everyone with his running ability. Political science professor Dr. Anthony Perry and his three daughters, English professor Dr. Peter Kim with his daughter and son, and counselor Maureen Webster, all showed off their endurance and speed. Computer technician Jeremy Tabor surprised everyone with a funny turkey hat that he wore while running, and Spanish instructor Maggie Rutkowski even pushed a stroller in the one mile, so her whole family could participate. Right beside her was English department chair, Angela Hathikhanavala. A number of other faculty, administrators, staff, and students showed up to endorse physical education and give back to their community.
Dr. Perry shared his thoughts on the run, "Student driven events like this illustrate why HFC is such a great community. Students, faculty, staff and even the college president and his family showed up to support this important initiative. This is why I love coming to work everyday, as the HFC community consistently works together in very amazing ways!" The trail for the 1 mile circled around campus, starting at building J and then heading all the way across campus to parking lot 7, then along the pond, heading towards lot 6 and following the parking lot all the way to lot 1, and then back to building J for the finish line. While over 20 runners lined up at the finish line, there was only one winner, and it was HFC political science faculty Dr. Anthony Perry's daughter, Patricia. The first place runner was awarded a Henry Ford College mug with several items inside donated by the campus store.
The 5K trail also stayed on campus grounds, and at first followed the same path as the 1 mile, but instead of finishing at building J, runners went on the same path for a second time, but when they reached the back of campus, they ran through Hines Drive and under the first overpass, and then turned around to make their way back to the starting area, and completed their final lap around the Kingfisher Bluff pond, and back to and around building J for the finish line. Runners expressed that there was not a dull moment because in between uneasy breathing and wiping sweat and tears off your face, you could take in all the red and orange views of the beautiful Michigan fall trees. As a bonus, the water station was placed strategically between building B (library) and K (liberal arts building), which meant that runners had two opportunities to quench their thirst, which were both much needed.
While it was a close race, the three winners were well deserved. In first place, student, Brad Gonzalez, won an HFC to-go mug, an HFC filtered water bottle, and his choice of an HFC umbrella or blanket, all donated from the campus store as well as a $25 gift card to Panera which was donated by MDICE. The second place winner was English faculty Dr. Peter Kim's son, Peter Jr. "PJ," who was awarded the same HFC mug and water bottle, as well as three $10 Panera gift cards. Last, but not least, the third place winner for the 5K as well as the one and only winner from the one mile, was Patricia Perry, who was awarded the HFC mug, blanket, and water bottle.
The event went smoothly thanks to the many Honors Program volunteers that came for either volunteer hours or extra credit. The course was lined in chalk to guide the runners through each mile (each mile was a different color of chalk, so runners could keep track of which trail they should be following). Even though the course was pretty straight forward, it helped having volunteers to direct runners when needed, maintain the water stations, and hold up new finish line tape for each runner to cross.
HFC alumna, President of MDICE, and University of Michigan-Ann Arbor student Nesreen Ezzeddine, helped at the registration table and answered any questions that runners and volunteers had. She also contacted her old boss at Greenland Market who was able to donate several boxes of granola bars and about seven totes full of water bottles. "In addition to the faculty, students, and friends that pulled together to make this possible, I also want to thank Ronald Koussan, owner of Greenland Market, for sponsoring this event," Ezzeddine said.
The race raised approximately $1000 and two boxes of nonperishable food items that were donated evenly between the Hawks Nest food pantry and the Black Male and QUEENS Focus Group. To donate to the Hawks Nest, contact Mandy Earl at the Student Activities office: mlearl1@hfcc.edu. Contact Dr. Kalvin D. Harvell at kharvell@hfcc.edu to donate to the Black Male and QUEENS Focus Group.