The Spirits of Detroit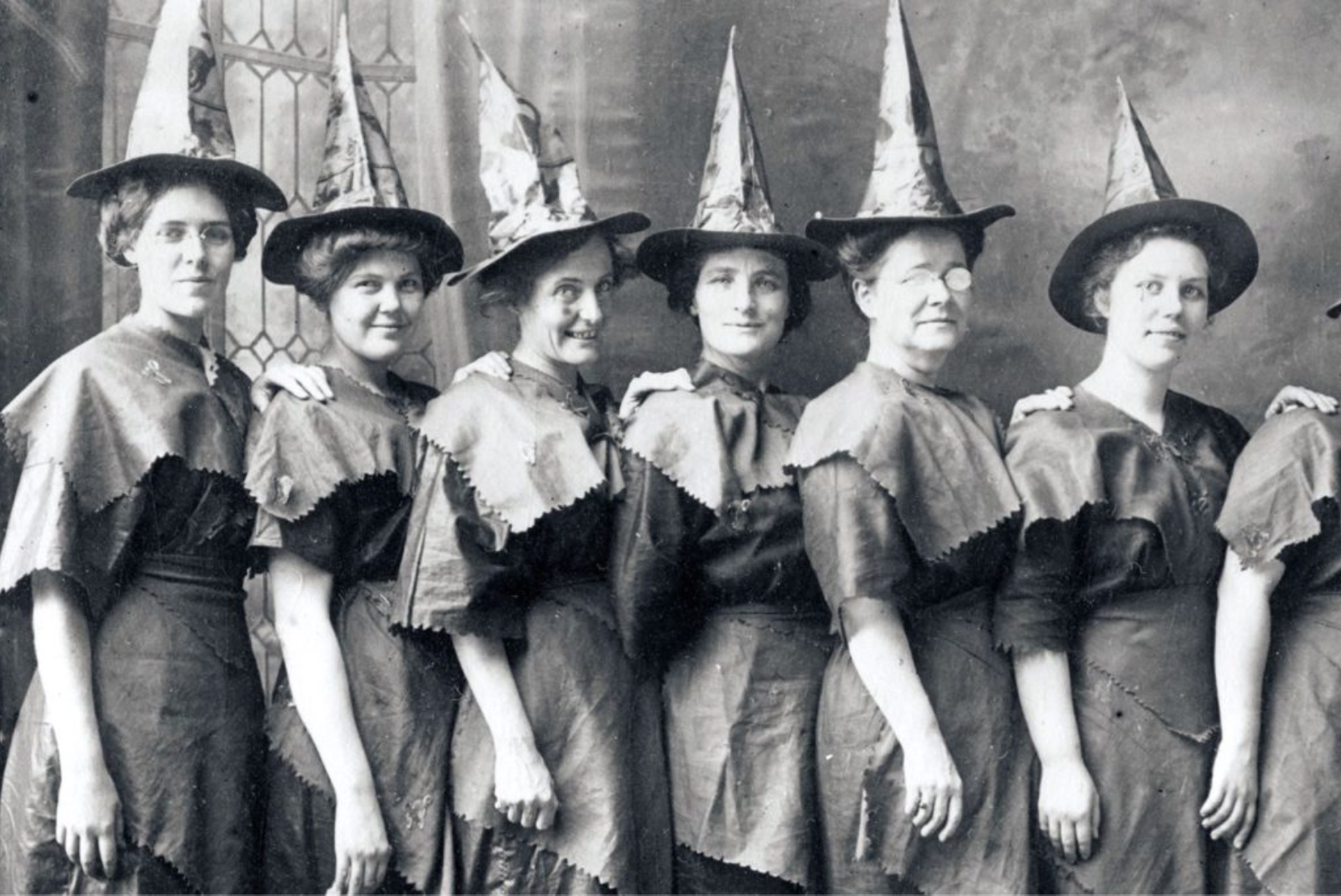 Historic black and white photo of women in witches clothes courtesy Detroit History Tours
Last November I discovered Detroit's haunted history.
Detroit "Haunted History Tour," conducted by the Detroit History Tours company, was founded in 2014 by Bailey Sisoy Isgro, who lives in a historic home in Highland Park that once operated as a brothel.
The tour I attended began at The Coolidge Inn Bar in River Rouge, just outside of Detroit. The bar is known by the locals for having much paranormal activity. One man claimed to have seen the spirit of the original owner's late wife, who is known for knocking over chairs.
After a brief overview of the itinerary, we boarded the elegant tour bus and headed to our next destination: Woodmere Cemetery. Isgro explained how it was created in 1867 and was one of the first non-denominational final-resting-places in Michigan. She said that the cemetery added a chapel to hold memorials at a flat rate of $200. The low cost of the chapel has made it popular for hosting weddings.
We moved deeper into Detroit, stopping by the controversial Labor Union Organizer, Jimmy Hoffa's childhood home on Toledo Street.
Next, we headed downtown to Capitol Park which is located near Campus Martius, just North of Michigan Avenue and west of Woodward Avenue. There we were able to view the large Stevens T. Mason statue. Isgro explained that he was the first governor of Michigan when it was a mere territory and how he was known to give back to his community and supported public education. Mason was very adamant about all children having a free education for the betterment of society as a whole. Isgro told the hilarious, yet macabre story of how Mason's body was moved from its original burial location but the body ended up being lost.
While on our drive through the heart of Detroit, Isgro described the very sad tale of when the city was plagued with cholera, which wiped out about 10 percent of Detroit's population in the 1830s. The city buried most of the bodies in mass graves under downtown Detroit and didn't map out where they were, so later when developers started building the downtown, they kept coming across bodies and construction was halted until they could properly remove and relocate the remains.
Another site we went to was one of the first "Negro-only" baseball fields in the area. She told us how it was moved from Mack Park probably because of the Ossian Sweet case, in which an African American doctor was harassed by white neighbors so badly that it ended in gunshots and a murder trial.
Another stop in Hamtramck was a bar called the Painted Lady, formerly known as Lili's 21 club. One of the bartenders explained that the old jukebox is known to start playing music by itself.
We were able to go inside of the Detroit Athletic Club, which is a members-only private organization. The historic building still has a lot of the original fixtures and furniture. The club normally has a formal dress code, but they made an exception for the tour-goers. The people who run the club were inviting and knowledgeable about the history of Detroit. The resident bartender prepared one of her signature mixed drinks for us along with a delightful dessert that was included as part of the tour.
We also visited the funeral home that held Harry Houdini's body after his untimely death. Isgro explained that a man without warning decided to test one of Houdini's tricks by punching him in the abdomen, which caused his appendix to burst. Houdini later died of the injury in a Detroit hospital.
The Detroit History Tours company puts on year-round tours. Most tours are strictly 21-years-old and up, due to stops at venues where alcohol is being served, but there are special packages for youth groups. Each tour has a specific theme and tickets can be purchased at detroithistorytours.com.