Shopping that Makes a Difference: A Community-Based Holiday Gift Guide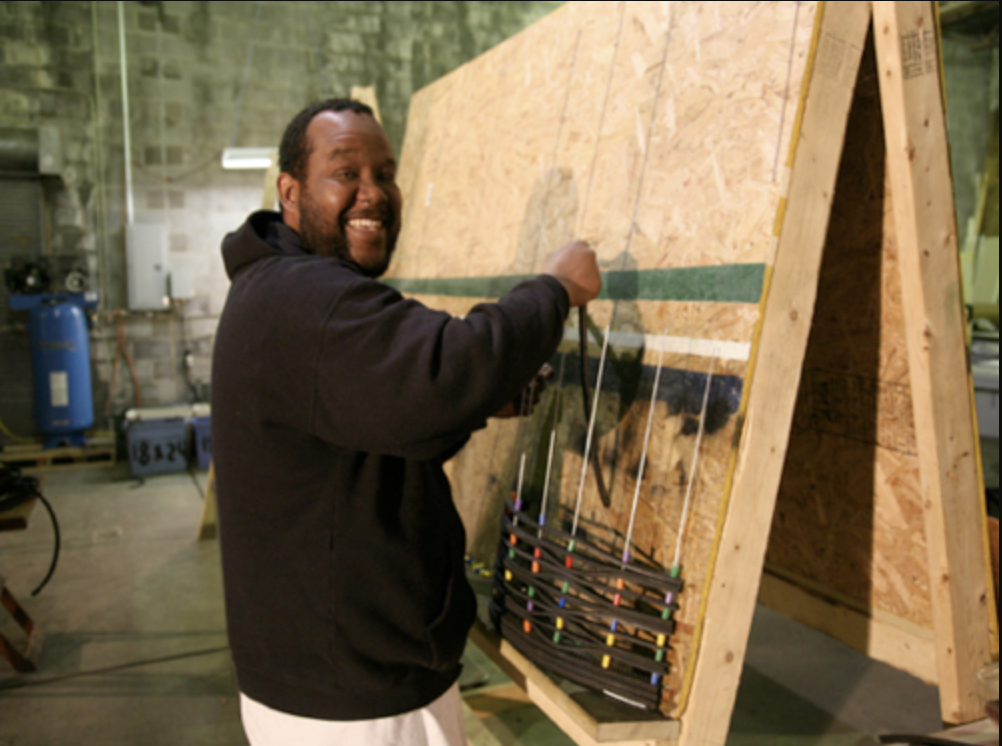 Photo Courtesy of Cass Community Social Services
A gift with a story behind it provides a more special, meaningful holiday experience.
Instead of purchasing holiday gifts from fast fashion retail outlets or ethically-questionable multi-billion dollar corporations, why not buy a gift from a local community business or organization that directly benefits those in need?
There are several local socially responsible businesses that place an emphasis on supporting their community by hiring those in need, providing living wages, offering training workshops, and so much more.
Initially started in 2013, jewelry designer Rebel Nell was founded by Amy Peterson and offers unique jewelry that empowers those who create it.
The jewelry offered by Rebel Nell is distinctly Detroit. All the items are created out of graffiti that has peeled and fallen off the walls in Detroit and nearby communities, including from Dequindre Cut, Michigan Central Station and the Alley Project.
Rebel Nell's most recent creation, "The Joe Collection," is made with paint from the recently-demolished Joe Louis Arena, allowing one to own a little piece of the arena, providing nostalgia for years to come.
Rebel Nell's remarkability, however, lies not only in its product, but in who makes the products.
The organization operates as a transitional employment opportunity, hiring homeless women from local shelters to work full-time, with the intention of providing them with a stable income, valuable workplace skills and an educational opportunity to assist them in transitioning into independent living.
In addition, Rebel Nell provides entrepreneurship and financial literacy training, and gives daily support for their employees by offering them wellness classes, housing assistance, legal aid and more.
The inspiration to start the organization, Peterson says, came from living near a homeless shelter. "After having conversations with the women, I was inspired by their perseverance," she said.
Formerly operating out of Ponyride—a nonprofit in Detroit which offers affordable space to entrepreneurs with social missions—Rebel Nell recently opened their first retail location on Holden Street, near Lincoln Street Art Park.
"Each piece is totally one of a kind because of the graffiti, but also because of the woman who made it," said Peterson.
Items can be purchased from Rebel Nell's retail location at 1314 Holden St., Detroit, 48202, or from their website: www.rebelnell.com.
Cass Community Social Services is a non-profit organization that provides a multitude of programs for homeless individuals, including shelters or supportive housing programs, free medical clinics and meal services.
The "Green Industries" program began in 2007. All the men employed by this program are either current or former residents of one of Cass Community Social Services' homeless shelters or supportive housing facilities.
"It was our reaction to the economic downturn," said Church and Community Relations Liaison Sue Pethoud. "Our people couldn't get jobs so we created some."
The products sold by the "Green Industries" program are all repurposed or recycled from items that will typically end up in a landfill. The organization collects illegally discarded tires from around the city and repurposes them into mud mats—mats placed inside a home to collect mud from shoes--and unique planters for your greenery.
In addition, the organization sells coasters produced from repurposed wood and recycled glass designed after graffiti featured on Detroit's "Wailing Wall," located near 8 Mile and Wyoming. The product is meant not only to provide jobs for formerly homeless individuals, but also encourages a conversation about race, as the Wailing Wall was constructed in 1941 with the intention of creating a barrier between white and Black communities.
The men employed by this program are provided with a stable income to support themselves, providing a stepping stone for further employment, or work while putting themselves through school.
"Some of our guys have been here for 5 years or longer. Others use it to build their resume for further employment," said Pethoud. "One of our current workers is a WSU student majoring in Social Work."
The organization also sells keychains, Christmas "trees" made out of pallet wood and more.
Items can be purchased from Cass Community Social Services' online store at www.ccpublishinghouse.org.
Founded in 2015, leather design company Pingree Boots is co-owned by veterans who handmake high-quality, sustainable accessories and footwear using leather recycled from the Detroit auto industry.
Named after former Detroit mayor Hazen S. Pingree, who once owned the second-largest shoe manufacturing business in the United States, Pingree Boots has a mission of employing Detroiters—especially veterans—and providing them with a living wage.
"In 2014, when I met driven, yet unemployed veterans living in my neighborhood in Detroit, I felt called to create work alongside them," said co-founder Jarrett Schlaff, "and determined the best way to do that was to make needs based products like footwear and bags and do it more sustainable and more equitable than anywhere else."
The Pingree team regularly conduct leather-crafting workshops in veterans shelters. This not only allows them to provide beneficial skills to the those in the shelters, but allows the veterans they employ to mentor other veterans.
Pingree considers themselves a worker-owned company, claiming to share 77 percent of their profits with the people on their team. Pingree offers employees opportunities to learn skills like shoemaking, leather crafting, advanced manufacturing and entrepreneurship.
The company also places a heavy emphasis on sustainability. In addition to using recycled leather, Pingree also uses 100 percent recycled packaging for shipping. Pingree currently has a goal that by 2023, the majority of their materials will be sourced from the Great Lakes region, creating zero waste and zero carbon emissions and offering military-grade, fossil-free plant-based alternatives to leather and plastic.
Pingree Boots will be doing several holiday pop-ups in December, including at Eastern Market, Holden Street Market, Birmingham Street Market and Twelve Oaks Mall.
Items can be purchased from Pingree Boots' website at https://pingreedetroit.com, or at one of several physical locations listed online.