Nifty Thrifty or Popping Tags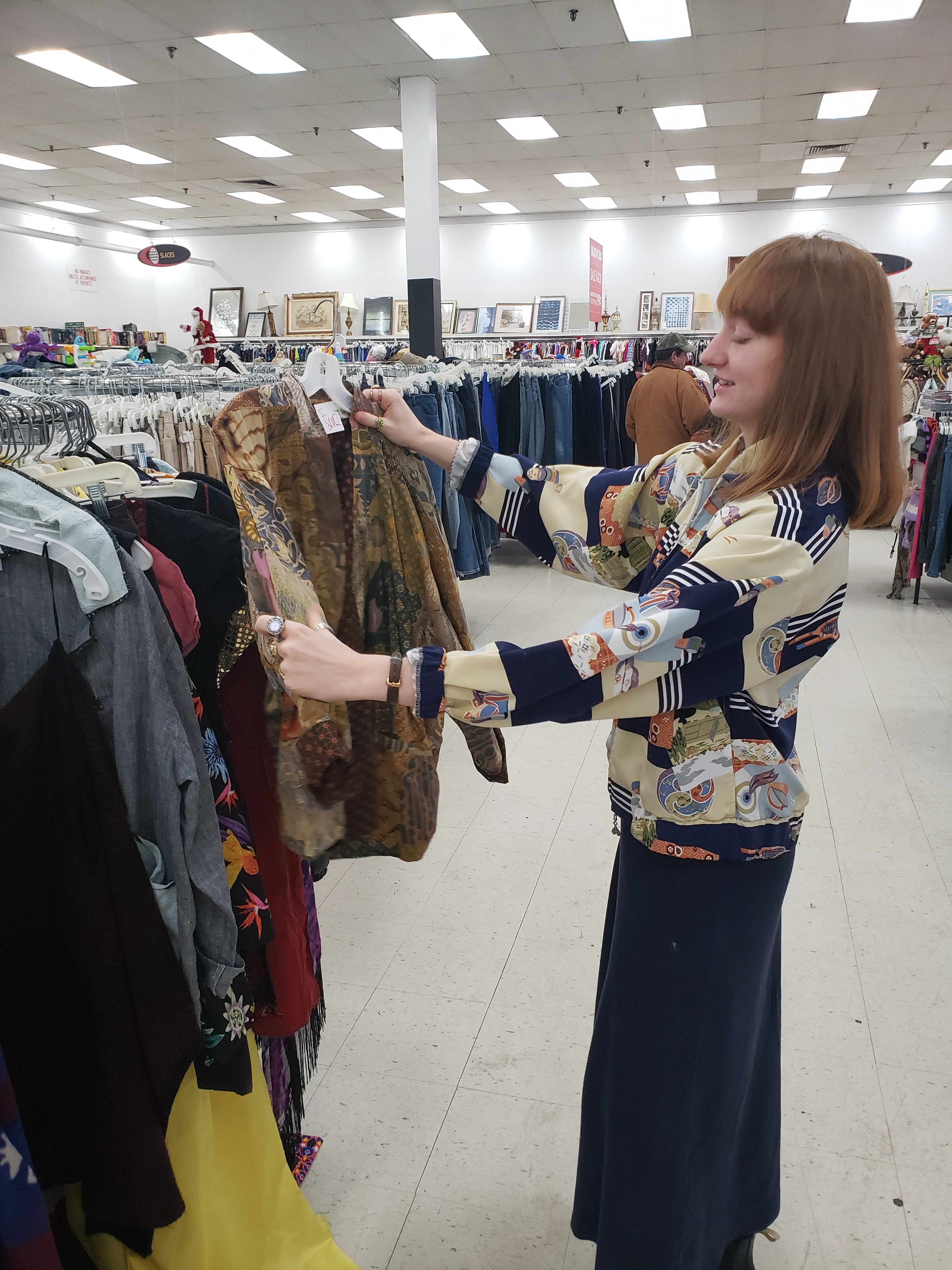 Olivia Grantham shops clothing racks at a thrift store | Photo by Justin Randles
Macklemore may have had a hand in reviving the modern "Thrift Store" but the act of donating or repurposing clothing and goods is nothing new. Humans have been donating clothes since Adam passed on his fig leaf to Cain.
Though giving and reusing clothing has been going on since the dawn of time, the first iteration of the thrift store started in the late 1800's during the Industrial Revolution. With the development of mass-production, clothing became more affordable and disposable. At the same time, America was experiencing the largest boom of immigration in history.
Improved waste management systems, pawnshops, and scrap materials sprang to life. Out of that, Jewish immigrants that couldn't work due to anti-Semtism, would sell used clothing from push carts. In 1884, The Saturday Night Post ran a satirical story about a girl who contracted smallpox from a dress bought at a Jewish owned resale shop.
Despite purchasing used clothing having the stigma of being considered poor, it wasn't long before people realized that there is money to be made in thrift shops. Christian ministries started looking to consignment shops as a source of funding for outreach programs. The Salvation Army and Goodwill offered legitimacy.
The Salvation Army's "salvation brigade" launched in 1897 out of the basement of a men's shelter and they offered food and lodging in exchange for donated items. Goodwill started similarly in 1902 and they hired poor and disabled people to collect donations and repair them.
By the 1920's thrift stores resembled department stores. Goodwill had grown to a fleet of trucks to collect donations from more than 1000 households. The terminology changed around this time from the disparaging "Junk Shops" to "Thrift Shops."
By 1935, there were nearly 100 Goodwill stores nationwide. Thrift stores produced more than half of the Salvation Army's annual budget. Everything seemed to be taking off for the consignment industry.
The Great Depression caused most Americans to stop donating and start shopping at thrift stores. That, coupled with World War II, the demand stripped supply. It wasn't until the post war prosperity that the resale clothing business boomed back to life.
The 21st century brought thrift shopping into our homes with companies like TheRealReal and thredUP.Now thrifters don't need to leave the house to get great deals and vintage items. Who doesn't want Gucci at an extremely reduced price?
Today, thrift stores are part of a $14.4 billion business. Millenials are falling in love with thrifting and as a struggling full-time student and single father, thrifting seemed like a great way to clothe my children. I wanted to learn more.
Enter Olivia Grantham, 19, Henry Ford College student. She is the quintessential expert on anything thrifting, at least for me. Grantham is an avid environmentalist and self-described shopping addict. Thrifting is her jam. It is her symphony.
We met at Henry Ford College's main campus in Dearborn. Grantham stepped out of her car in all of her thrifty glory. She was rocking an outfit that was glamorous. She had on huge sunglasses with a gold neck chain attached to the rim. Her hands are decked with 8 or 9 assorted rings, one is a functional clock, and she has hanging from her neck no-less-than three gold chains. She came prepared.
Arriving at Value World in Taylor, the store is popping. The sections are more full than Target, people are hungry for deals. They came to the right place.
"I start here," Grantham says at the two remaining shopping carts, "cause we're going to need it."
With our cart in hand we hit the racks. I'm overwhelmed. She is in her element. Grantham dashes from rack to rack like a professional running back weaves in and out of players to score the touchdown. Her first touchdown is a pair of dark purple cargo-khaki hybrid. She throws them in the cart with a smile.
In just a few short seconds she spots another gem and snatches it off the rack and holds it up with the pride of Mufasa showing off his heir, Simba.
"Oh my god," she says with a multi-patterned, multi-colored blazer-type top, "Obviously, I can't pass this up."
Grantham says she has not worn the same outfit twice since she was a child. Her closet would take her hours to clean out. Though it is well organized by clothing type. She also has a check out system established where friends seeking to bite her style must sign out an item of clothing before they can leave.
About an hour and a half into the first store she spotted it. The belle of the ball. The epic piece. A 90's powder blue Nike tracksuit. "With my red hair, I could gang this up. This is flex."
Asking what "gang up" and "flex" mean, I learn that gang up is to don a plethora of jewelry and complimenting the track suit with it. Flex is a term that means to feel confident.
Is there anything she won't wear? "If I like it, no. I had a friend say I could pull off any color but orange," Grantham interjects. "Since then I have made it a point to wear orange, and I kill it."
After two and a half hours we check out. My christmas decorations come to about $39 and I packed in eight ceramic decorations and a pair of gortex boots in excellent condition.
Grantham is checking out roughly 25-30 items, maybe more, and is anxiously awaiting the total. All said and done she spent $113 on clothing and jewelry. An amount, that if purchased brand new, would have been hundreds of dollars, maybe even a thousand. Impressive.